As an Amazon Associate, SelectSafety earns commissions from qualifying purchases made through links in this post.
Running a farm or ranch can be challenging, especially when faced with the need for constant repairs. To avoid spending a lot of money on repairs, you must have the best stick welder for your farm and ranch. With a reliable stick welding machine, you will be able to efficiently repair your heavy equipment, pipes, fences and gates for minimal cost.
Maintaining a proper running farm requires adequate care of your machinery and structures. Animals, weather and daily wear and tear can take a toll on these key assets. A stick welder is a great solution to these type of farm repairs regardless of how small or large. A stick arc welder gest the job done, rain, snow or shine. Ask any professional welder who does work on farms or ranches and they'll tell you they prefer a good stick welder.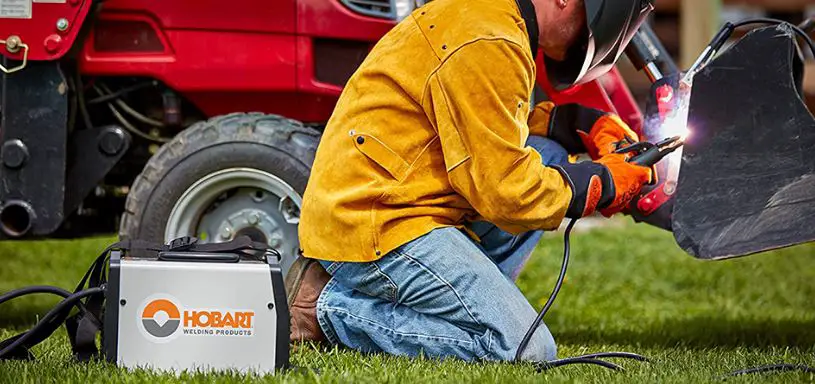 Heavy farm equipment has a habit of breaking just when you need it. A stick welder is a great solution for a quick welding job that will last a long time. Stick welders are small and portable, and pack enough punch to weld thick plate and pipes, cut through rust and grime, and maintain a strong arc in adverse weather.
Our Quick Picks: The Best Stick Welders For Farms & Ranches
In a hurry? Check out our quick welder comparison table below. If you see one you like, just click through to see the latest price. NOTE: Given global supply chain challenges, the price and inventory of these stick welders may vary. We advise that you start by checking out the links below and shop around to get the best deal.
Stick welder
Product
Quick Rating
More Details
Best AC/DC Stick Welder
Lincoln Electric Stick Welder (K1297) input 230V, output 225AC/125DC
4.2 / 5
Best Portable Stick Welder
Miller Electric Thunderbolt 160 DC Stick Welder (907721) dual input 120/240V, output 160DC
4.6 / 5
Editor's Choice
Hobart Stickmate 160i Stick Welder (500570) dual input 120/240V, output 160DC
4.8 / 5
Best Multifunction Welder
SUNGOLDPOWER MIG MAG ARC MMA Inverter Stick Welder (MIG200) dual input 110/220V, output 200A
4.3 / 5
Best Budget Stick Welder
HITBOX MMA ARC-200 Inverter Stick welder dual input 110/220V, ouput 190A
4.4 / 5
Best Light Duty Stick Welder
Forney Easy Weld 298 Arc Welder 100ST, input 120V, output 90A
4.7 / 5
Best Stick Welders for Farm and Ranch Use: In-Depth Reviews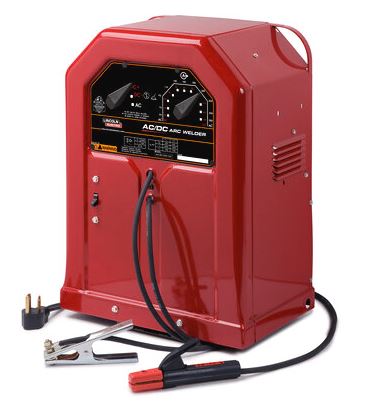 This stick welder ensures smooth performance and deep penetration on literally any type of welding job, fabrication, erection, construction, maintenance, repair, you name it. Having a stable DC arc, this product is our pick for the best AC/DC stick welder.
The Lincoln K1297 delivers a stable DC welding arc to produce clean, strong welds even on dirty and rusty equipment. This 225AC/125DC machine works perfectly on the farm, ranch or in the shop. It comes with an AC welding output range of between 40 – 225 amps plus a DC welding output ranging from 30 – 125 amps for outstanding performance.
The Lincoln K1297 isn't the smallest or lightest machine around — in fact it's a hefty beast at 114 pounds. You'll need to haul it around in the back of your truck or a trailer if you need to travel to make a fix. Due to it's heavy weight it's best used as a heavy stationary shop welder in your shed or workshop, or permanently mounted on the back of a truck. Lincoln sells a wheel kit (recommended) to help wheel it around the shop more easily. It's a heavy duty piece of equipment that will last a lifetime and has been proven for many years in punishing environments worldwide.
This stick welder has great flexibility. It can weld steel, iron, galvanized steel, stainless steel and aluminum. You can turn it down for thin metal down to 16 gauge or turn it up and weld 1/2 inch plate or pipe. Need to build up a backhoe blade or mend a trailer tongue? The Lincoln stick welder will do it.
Lincoln K1297 Specifications:
Overall Dimensions: 15 x 19 x 27 inches
Weight: 114 pounds
Input Voltage: AC 225, DC 115
Output Amperage: AC 40-225 amps, DC 30-125 amps
Welder Type: Stick welder
Duty Cycle: 20% at 220 amps
Welding Capacity: 16 gauge – 1/2 inch
DC Power Source: Yes
Warranty: 3 years
Lincoln K1297 Stick Welder Features:
Delivers exceptionally smooth DC arc-welding performance making it perfect for construction, maintenance repair, and fabrication.
Well-proven traditional stick welder that Lincoln has produced for 20+ years.
It can be used on various metals such as steel, galvanized steel, stainless steel, cast iron, aluminum, and alloys.
Excellent at cutting holes in thick steel without a torch or plasma cutter.
Can be convered into a scratch-start TIG welder with a simple adapter (not included)
What You Get:
Stick welding machine
Electrode holder with 7 foot cable
Ground clamp with 7 foot cable
7 foot power cord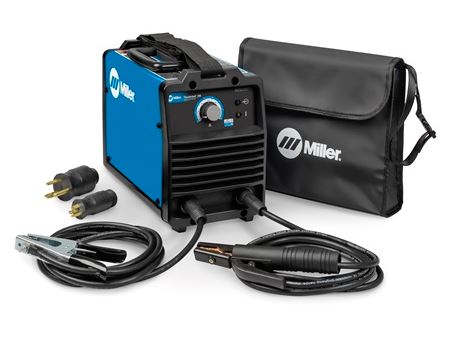 This lightweight stick welder is your friend for mobile work at several locations where you need to carry a welder. Perfect for outdoor use — just throw it in your truck or ATV and run it from a generator.
The Miller Thunderbolt 160 stick welder is light and portable, perfect for throwing on the back of an ATV to fix a distant gate or immobile tractor. At only 15 pounds you can easily carry it with the built-in handle or shoulder strap.
With 160 amps of output, this Miller welder is good enough for most small-to-medium size repairs, building gates or equipment fixes.  The dual voltage 120/240 volt input gives you options — you can run it from a small generator, off the back of the house, or on a larger input circuit. The DC ouput helps produce clean welds with less spatter and popping. Miller's Hot Start technology ensures a quick arc start every time.
The ground and electrode cables are 10 feet in length with a good quality electrode holder. You can buy extended cables if you need more reach.
Miller Thunderbolt 160 Specifications:
Overall Dimensions: 13.38 x 7.13 x 10.5 inches
Weight: 15 pounds
Input Voltage: 240V / 120V
Output Amperage: 160A
Welder Type: Stick welder
Duty Cycle: 30% at 160 amps
Welding Capacity: 16 gauge – 3/8 inch
DC Power Source: Yes
Warranty: 3 years
Miller Thunderbolt 160 Stick Welder Features:
15 pounds lightweight portable welder makes it easy to transport in the field
160 amp max output at 30% duty cycle on 240V input
Hot Start technology ensures quick and reliable arc starts every time
120 / 240 volt dual start capability gives you unlimited location flexibility
Welds steel or stainless steel
Comes with a built-in carrying handle and strap for ease of use
10-foot ground and electrode cables
Miller's True Blue Warranty is 3 years long
What you get:
Stick welding machine
Electrode holder with 10 foot cable
Ground clamp with 10 foot cable
6 foot power cord
Carrying strap
Bag for straps, cables and electrodes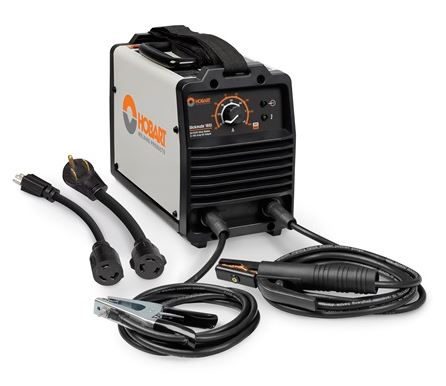 This product is a dream come true for those who are looking for a portable stick welder with incredible performance. The powerful features at a cheaper price make this one arguably the best deal in the market.
If you have been looking for a reliable high-performing portable stick welder, the Hobart 500570 should be on your list. It is very lightweight and easy to move around, with its built-in carrying handle, shoulder strap and mere 15 pound weight.  Need to drive out and fix a broken gate hinge? This Hobart stick welder is perfect for the job.
The Stickmate 160i features hot start technology that lights up the arc easily every time. No scratching and creating a mess. Just turn the machine on and scratch the arc so it lights, then weld.
It has dual input 120 / 240 volt, and outputs 160 amps of power. It can weld up to 3/8 inch steel reliably.
What we love about the Hobart Stickmate 160i is its quality and construction. It's built from heavy-duty stainless steel that will last a lifetime. It can weld between 20 to 160 amps, allowing you to weld 16 gauge sheet metal all the way up to 3/8 inch plate. It has a 30% duty cycle at 160 amps on 240 volts input, so you can weld decent length runs without the machine shutting down. This is great for most equipment repairs and fence-building work. You also get a 10 foot electrode cable with heavy-duty holder, 10 foot ground cable and a 6.5 foot power cable, giving you some
Hobart Stickmate 160i Specifications:
Overall Dimensions: 13.375 x 7.13 x 10.5 inches
Weight: 15 pounds
Input Voltage: 240V / 120V
Output Amperage: 160A
Welder Type: Stick welder
Duty Cycle: 30% at 160 amps
Welding Capacity: 16 gauge – 3/8 inch
DC Power Source: Yes
Warranty: 3 years
Hobart Stickmate 160i Stick Welder Features:
Light weight at only 15 pounds — transports easily with carry handle or strap
160A output maximum at 30% duty cycle on 240V input
Hot Start technology for clean arc starts every time
Dual input power (120 / 240 volt)
Weld mild steel, stainless steel or iron
10-foot ground cable
10-foot electrode cable with heavy-duty holder
3 year warranty
What you get:
Stick welding machine
Electrode holder and ground clamp with 10 foot cables
Heavy duty electrode holder
6.6 foot power cord
Carrying strap and handle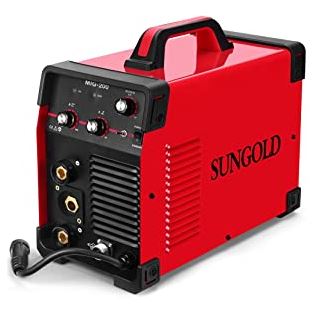 The versatile welder is suitable for welding just about anywhere — farm, ranch, shop, home, fabrication line, etc. It offers stick welding, MIG and flux-core welding. You can weld aluminum as well with an add-on spool gun. Perfect for any type of outdoor repairs, rusty metal, farm or road equipment.
The SUNGOLDPOWER MIG200 is a multifunctional IGBt inverter welder that works on all types of metals including steel, stainless steel, aluminum, iron, galvanized, etc. The stick welder function handles everyday welding jobs on your farm or ranch, cutting through rust and grime to lay down deep-penetrating welds on outdoor equipment, gates and trailers.
You can easily swich from stick welding to flux-cored or MIG welding and back, giving you great flexibility. Just connect the right cable to the right output plug, load your electrode stick or wire, and start welding. This machine handles wire spools between 2 and 10 pounds and up to 1/8 stick electrode.
With 110 / 220 volt dual input you get excellent location flexibility. With 110 volt input it will ouput 20-120 amps for stick welding. With 220 volt input it will output 20-200 amps for stick welding.
SUNGOLDPOWER MIG200 Specifications:
Overall Dimensions: 19.6 x 9.4 x 14.9 inches
Weight: 42 pounds
Input Voltage: 240V / 120V
Output Amperage: 200A with 220 volt input
Welder Type: multifunction stick, MIG, flux-cored
Duty Cycle: 60% at 160 amps
Welding Capacity: 20 gauge – 1/2 inch
DC Power Source: Yes
Warranty: 3 years
SUNGOLDPOWER MIG200 Features:
Multifunction MIG / MMA / stick ARC welder can be used for all types of welding
Wide output range from 20-200 amps allows you to weld thin 20 gauge sheet metal up to 1/2 inch steel plate
IGBT inverter technology ensures smooth welds, clean arc starts and no overheating
Excellent stick welder for outdoor repairs on rusty metal without any challenges
Will MIG weld aluminum with an add-on spool gun (not included)
Heavy-duty transformer and full-bridge circuit board for long life and reliable operation
What you get:
Full-bridge MIG/ARC welding
10 foot MIG Torch
4 foot ground cable with clamp
6 foot stick electrode holder cable
Face shield mask
Wire brush
Drive rollers
Flux-cored and MIG gas nozzles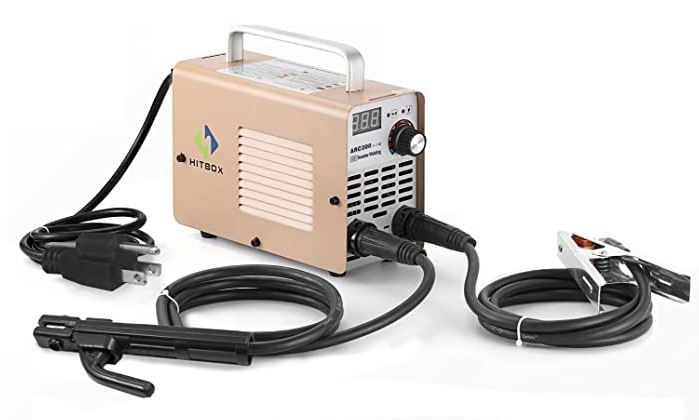 This low-priced portable welder is suitable for low budgets. It gets the job done on basic repairs around your ranch or farm, and is easy to carry around.
The HITBOX stick arc welder is a perfect low-budget buy. It is a dual-voltage 110/220V machine that can output between 10 and 190 amps. It can handle up to 5/32 inch electrode rods, and you can weld up to 1/2 inch thick plate or pipe. The IGBT inverter design helps it strike an arc smoothly and generate less splatter than a traditional transformer stick welder.
This mini portable welder is only 8.7 x 3.7 x 5.9 inches in size and weighs only 6.3 pounds. It is extremely easy to carry with the built-in handle. You can basically carry and store it anywhere, and its tiny dimensions make it perfect for working in really tight spaces.
The HITBOX ARC-200 stick welder has a duty cycle of 40%, so you can lay down fairly long welds, and weld repeatedly in a short time without it overheating. The IGBT inverter technology protects you and the machine from heat- and surge-related damage.
This is our choice for the best budget stick welder because you get a lot of power and portability at a very low price.
HITBOX ARC-200 Stick Welder Specifications:
Overall Dimensions: 8.7 x 3.7 x 5.9 inches
Weight: 6.3 pounds
Input Voltage: 110V/ 220V
Output Amperage: 10-190 amps
Welder Type: Stick
Duty Cycle: 40%
Welding Capacity: 16 gauge to 1/2 inch
DC Power Source: Yes
Warranty: 1 year
HITBOX ARC-200 Welder Features:
Low cost — ideal for very limited budgets. You can buy 3 of these machines for around the ranch or farm for the cost of another brand.
Very small dimensions and light weight makes it simple to carry, transport and store.
Duty cycle of 40%, giving good duration for equipment repairs, welding gates and fences, building trailers and racks, etc.
IGBT inverter technology ensures smooth welds, clean arc starts and no overheating
What you get:
Stick welding machine
4.5 foot cable and electrode holder
4.5 foot cable and ground clamp
110V to 220V converter plug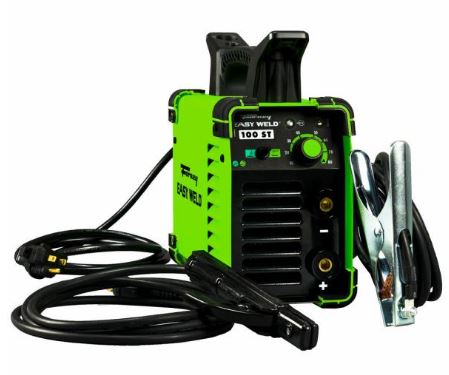 This Forney machine is our choice for the best light duty stick welder here. It offers both stick & TIG welding capability in a compact 120 volt package. It's ideal for sheet metal, car and truck projects, latches, grilles, barbecues, smokers and a zillion other small projects around your house, shop, farm or ranch.
This high-quality Forney combination stick / TIG welder has some innovative features with a its modern IGBT inverter power system. You can plug it into any standard 120 volt outlet with a 20 amp breaker, and start stick welding. You can also upgrade it with gas to TIG welding mode, giving you very precise heat and weld bead control for things like motorcycle frames and brackets.
This is a light weight welder with maximum of 90 amps output, so it's best used for detail work and welding up to 1/4 inch thick material. It will weld mild steel, stainless steel, galvanized and cast iron. For stick welding you will want to use smaller rods, as the output is not high enough to get deep penetration with 1/8 inch electrodes.
One of the best parts of the Forney Easy Weld is it's beginner-friendly operation. You can do professional level welding jobs with only moderate experience. Forney's Easy Start technology and simple functions help you strike an arc smoothly and lay down clean beads with solid penetration with just a bit of practice.
One thing to note is the Forney Easy Weld is DC output only. This means it CANNOT weld aluminum on TIG mode — if you plan to weld aluminum we suggest another TIG machine with AC output. See our Best Welders for Aluminum article here >
Forney Easy Weld 298 100ST Stick Welder Specifications:
Overall Dimensions: 12 x 5.5 x 10.5 inches
Weight: 9.65 pounds
Input Voltage: 120V
Output Amperage: 90 amp
Welder Type: Stick, TIG
Duty Cycle: 30% at 80A
Welding Capacity: 16 gauge up to 5/16 inch
DC Power Source: Yes
Warranty: 1 year
Forney Easy Weld 298 110ST Features:
Has both Stick and lift arc TIG welding options for a wide range of welds (particularly thin sheet metal)
Handles up to ⅛ inch electrodes for welding up to 5/16 inch steel
Easy Start feature strikes a smooth arc with minimal sticking, surges or splatter
30% duty cycle at 80 amps with output current of 90 amps from 120 volt input
IGBT inverter power system uses electricity more efficiently, generates less heat and produces smoother welds with better quality than traditional inverter welders at the same price point
High quality 8 foot cables give you extra working range
What you get:
Stick / TIG welding machine
8 foot electrode holder
8 foot ground clamp
6 foot power cable
IMPORTANT: This machine does NOT come with TIG accessories (TIG gun, tips, tungstens, gas regulator). You must order those separately.
What are the Advantages of Stick Welding for Farms & Ranches?
Stick welding is one of the most used welding processes in world.  It uses an electrode stick plus a source of electrical power to connect or join different metals. Stick welding advantages for farms and ranches include:
Stick welders work great indoors or outdoors. Whether its raining, snowing or windy, stick welding delivers strong welds and excellent metal penetration. MIG welders are susceptible to the wind, since the gas flowing out of the gun tip can blow away. This doesn't happen with stick welders, since the arc vaporizes the flux coating on the electrode, causing an inert gas bubble to expand around the weld, completely sealing it off from the atmosphere regardless of weather conditions.
Stick welders are affordable. They are great machines for limited budgets, and do not require gas hoses, expensive gas or large carts. You can buy a basic stick welder for roughly half the price as a good MIG or TIG welder.
They don't require any shielding gas — the electrode sticks generate their own shielding gas which simplifies the whole operation.
Stick welding provides top-notch strength in the right hands, due to the excellent penetration and strong arc from the same electricity source compared to a MIG, FCAW or TIG machine.
Stick arc welders are not sensitive to paint or corrosion on the surface. This eliminates or reduces the amount of prep work, which speeds up your repair time and keeps your operation running with less cost and effort.
You can change electrode sticks easily to suit different metals.
You can weld very thick steel and iron. Axles, thick pipe, frames, posts, roof joists — any piece of heavy duty ferrous material really — can be welded with a 220 amp stick welder.
Electrodes are widely available, so supply chain issues and inventory are not a problem.
What Type of Welder Do You Need for a Ranch or Farm?
The answer depends on what type of welding job your farm or ranch frequently needs. For an overall solution, we would suggest getting a stick (arc) welder. The two main reasons are: 1) you can weld most types of metal with minimal preparation up to 1/2 inch thickness, 2) you can weld outdoors with no fear of the wind blowing away the shielding gas, since arc electrodes produce their own gas, and 3) simplicity, transportability and reliability.
The downsides to stick welders are: 1) they are slower than a MIG welder because you need to change the electrodes often when welding long runs, 2) you can't weld metal below 20 gauge in thickness without blowing holes and causing warpage, 3) the smoke, spatter and slag from gasless arc welding makes it messier than MIG or TIG.
Stick welders are old-school and reliable. The newer inverter stick welders are also substantially smaller and lighter than traditional transformer welders. The cost of stick welders is much lower, and they require very little in the way of accessories — particularly no gas bottles, lines or carts.
Plus, you don't need to clean the piece before welding with a stick welder, which is important for farmers and ranchers because you don't have the time and tools on hand to ensure 100% clean metal to weld.
Finally, stick welders really don't require any maintenance. There are no wire rollers or gun tips to replace, no gas cylinders, gas lines or welding cart to maintain. Stick welders just do the job, rain or shine.
How To Use a Stick Welder On Your Farm or Ranch?
Here is the step to step guide for using a stick welder: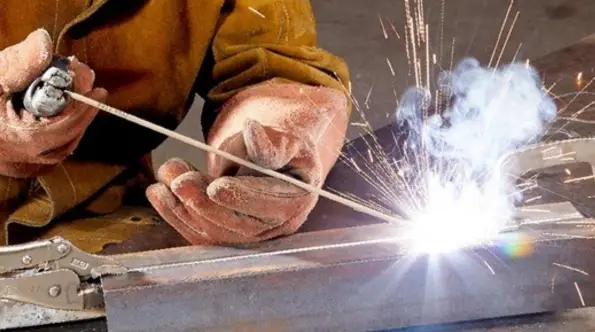 Step 1: Setting up the machine
Take the cable and plug the end having the DINSE connector straight into the socket on the bottom with a "+" mark. Ensure that you twist in the connector tightly. 
Use the ground clamp to clamp it to your workpiece and screw in the DINSE plug into the socket marked with "-" found right at the cable's opposite end.
Plug in the welder and make sure you don't turn it on. 
Step 2:  Don your safety gear
Put on your auto-darkening or fixed-shade welding helmet, leather welding gloves, heavy sleeves or jacket, and perhaps a leather apron. You are now ready to start welding.
Step 3: Stick Welding
Switch on power. You will notice a power light lighting up on the front on the machine. You will also notice the fan starting up.
Place the desired rod on the electrode holder.
Strike an arc at the spot you want to start welding. You will get a loud sound and sparks flying.
Move the rod down the metal joint, pushing the weld puddle along and making a zig-zag or cursive "e" type pattern. Or you can just weld straight.
Once done, pull the electrode away from work and place the electrode holder on an insulated, non-grounded surface.
Use a chipping hammer to chip away the slag left behind.
Finally, use a heavy stainless-steel wire brush to clean off the weld bead. You are done welding!
Frequently Asked Questions: Stick Welding
Is stick welding stronger than MIG?
Neither stick welding or MIG welding are inherently stronger. With stick welding, you have to set the machine to be quite hot to keep the rod melting. So stick welders tend to produce greater penetration than MIG welders for the same power level, but that really depends on the settings and what type of material you're welding.
Do you push or pull with a stick welder?
You pull with a stick welder because the electrode produces slag. By pulling the stick, you ensure you're not pushing slag into the weld puddle. Sometimes you can't pull so in a pinch pushing also works. Remember: "If it has slag, then drag."
Are stick welders AC or DC?
Stick welders can be either AC or DC, or both. AC stick welders tend to weld hotter and penetrate more deeply. DC stick welders tend to run more smoothly.
Can stick welders weld aluminum?
Yes, it is possible to weld aluminum with a stick welder. You just need the right electrode and machine settings. You need AC output to weld aluminum. The process is more tricky than welding steel, however, since aluminum oxidizes and becomes brittle quickly if the weld area is not preheated. So you want to preheat the area with a torch before joining aluminum with a stick welder.
What gas do you use for stick welding?
None. Stick welding does not use gas — it uses self-contained flux-coated electrode rods that vaporize the flux into shielding gas with the welding arc. There is no need for an outside source of shielding gas with a stick welder.
Final Verdict
Our choice for the best stick welder for farm and ranch use is the Hobart 500570 Stickmate 160i. It is powerful, lightweight, portable and will last forever with its stainless steel construction.
Stick welding is an essential part of every farm and ranch; that is why we put this buying guide together. We advise investing in the best welding machine for your specific range of uses. The right choice of stick welder will help keep your farm or ranch running for a long time.
How Did We Make This Article?
Choosing the best stick welders for a farm or ranch wasn't an easy thing to do. We researched over 50 stick welders from the best-known manufacturer brands, along with some market newcomers, and then made a shortlist. We then dug into their online reviews on multiple platforms — including the manufacturer's websites and multiple large e-commerce sites. Our approach was to understand what real buyers did to test and assess the actual performance of these stick welders in a harsh farm or ranch environment. And finally, we whittled the list down to the top stick welders that performed the best for the money.
This article is the outcome of the research for over 300 hours that we spent identifying, researching and comparing the best stick welders for farm and ranch use.