Unpredictable and intimidating, house fires are a major health hazard. Have you ever wondered how many people lose their lives to home fires every day in the United States?
According to research conducted by American Red Cross in 2018, seven people, on average, die in home fires every day, and a further 36 are injured every year. The greatest loss is the loss of life.
In this article we will discuss how you can avoid becoming a fire victim by using fire escape ladders on your balcony railings. 
Can You Use Fire Escape Ladders With Balcony Railings?
Yes, you can use a fire escape ladder with the balcony railing at your home or apartment. 
You need all the help possible to escape a house or apartment fire. Your fire extinguisher may not work, the route leading to the exit may be blocked, or you might get stuck in your room. In these situations, having a fire escape ladder you can attach to your balcony railing can save your life. 
There are two types of fire escape ladders. One is permanently attached to the building exterior – these are mostly used with multi-story apartment buildings and offices.
The other type is a mobile rope, chain or folding ladder you can throw out and hang from a window ledge or railing. These sorts of fire escape ladders are perfect for balcony railings. They are very portable, allowing you to fold and store them easily.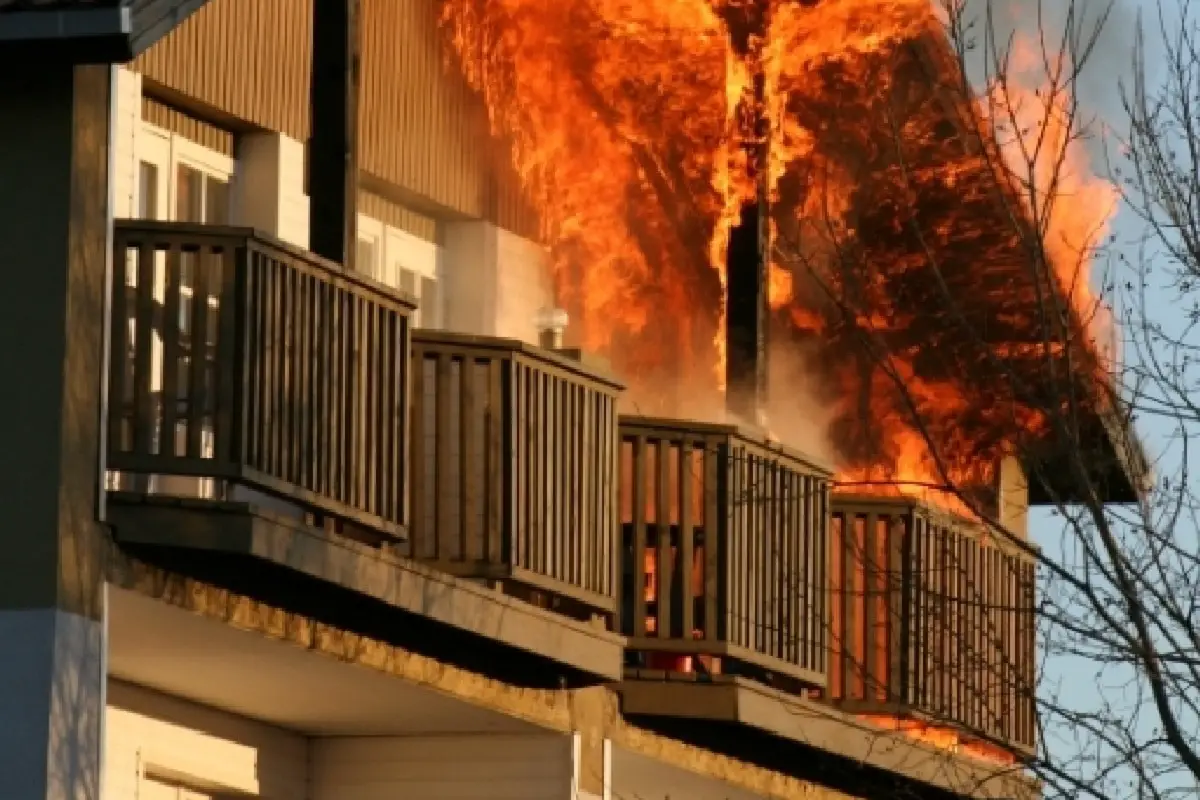 Here are some great fire escape ladders you can use with balcony railings:
Kidde 2-Story (13 feet) Rope Fire Escape Ladder with Anti-Slip Rungs
Hausse Retractable 2 Story Fire Escape Ladder 13 Feet
Hausse Retractable 3 Story Fire Escape Ladder 25 Feet
As an Amazon Associate, SelectSafety earns commissions from qualifying purchases made through links in this post.
Factors to Consider When Selecting a Fire Escape Ladder for a Balcony Railing
Although we can agree on the fact that fire escape ladders work with balcony railings, however, there are some additional factors you need to keep in mind when selecting the right one for your situation.
Number of Stories
It is important to purchase a ladder that is properly sized for your house's structure and design. There is always risk involved when using a fire escape ladder over balcony railings or windowsills. But it is better to reduce this risk as much as possible. 
Hanging fescape ladders are available in two variants, including two-story and three-story. Choose the one which is suitable for your home. 
Ladder Attachments
There are two ways to attach a fire escape ladder to a balcony railing:
Steel hooks – the hooks slide over the metal railing and sit in place while you are going down the ladder. The advantage of using a fire escape ladder with steel hooks is the quick setup.
Carabiners – primarily used in repelling and rock climbing, these metal clips are the ideal option for balcony railings as there is no way for them to get detached once you clip them on the railing.
When you need th fire escape ladder, attach it to your balcony using the carabiners or steel hooks that come with it. Now, release the ladder from the balcony, and you will be able to climb down to safety.
Our recommendation is to choose a fire escape ladder with carabiners if your balcony top railing is made of steel or iron as it offers more security and the ladder is less likely to slip or fall off. 
Fire Ladder Storage
In an emergency, it is important to have the fire escape ladder ready to go. This means that the ladder should come with storage options Fire escape ladders should be stored in bag or box you can quickly snap open or unzip to get to the ladder and deploy it. The best places to store a ladder are under your bed, in a closet or near the exit door or window onto the balcony. Just make sure to remember where the ladder is when needed.
It's not generally advised to store a rope or chain fire escape ladder outside on a balcony. Heat, cold, moisture and UV light can take a big toll on the ladder's ability to fold out and carry a heavy load. You don't want to be climbing down from a 2- or 3-story balcony on a ladder that's rusty or has UV degraded rope! Store those ladders inside for safety.
Weight of the Fire Escape Ladder and the Weight Capacity
An important consideration for the type of escape ladder you pick is the weight of the ladder itself. These days, you can easily find nylon ladders that are flexible light and offer amazing tensile strength compared to the metal chains. These sorts of ladders are perfect for children and the elderly. 
Another thing to investigate is the total weight a ladder can support. Some ladders mention the weight capacity of each rung and the whole ladder separately. In case of a fire, multiple people might use one ladder simultaneously, which is why it is important to know how many people can use the ladder without bearing too much weight on it.
Safety Features
Although the ladder is a safety device itself, some fire escape ladders come with additional features to make them even safer.
For example, many rope ladders are available with a harness that you can wear around your waist like rock climbers. You can then clip the harness onto the rope to protect you if you fall off the ladder. 
Non-slip rungs are an important safety feature to prevent you from falling off the ladder when descending.
Horizontal standoffs that lean against the building wall and stabilize the ladder also add a lot of safety. These provide some "traction" for the ladder so it won't swing back and forth, or bump against the building exterior easily.
Final Thoughts
If a fire was to break out, you can further guarantee your safety by using as many safeguards as possible. Without a doubt, a fire escape ladder is one of the most essential things to have for those caught in a fire. Make sure to have a fire escape ladder in each room to enable quick evacuation if necessary.