Fire extinguishers are only useful when they can be easily accessed. This is why it is important to mount them in the right way. In this post, we cover how to mount a fire extinguisher.
Where To Mount a Fire Extinguisher?
Fire extinguishers can be mounted on any surface strong enough to support them. This includes walls within homes, offices, workshops, or garages. They also include the insides of vehicles on metal surfaces.
Here are key points to consider when choosing where to mount a fire extinguisher:
Place it near the heat source
Place it near the combustible materials or fuel sources.
Place it near eye level so it is easily seen.
Place it at or near an entranceway.
Place it near a stove or oven if in a kitchen.
Place a fire extinguisher on every floor of a home or building.
Place a fire extinguisher in each office or bedroom.
Place the right type of fire extinguisher for potential fire types (ABC, K, etc.)
Where NOT to place a fire extinguisher:
Under a desk or table (where it is not seen or cannot be reached)
Behind a door (where it is not seen)
Above a refrigerator (too high to reach)
Far away from potential fire sources (not close enough for quick access)
How To Hang a Fire Extinguisher
Firstly, there are several ways a fire extinguisher can be mounted. These include:
Hangers – often come with the fire extinguisher.
Brackets – include straps that prevent the fire extinguisher from falling off the mount.
Fire Extinguisher Cabinets – are enclosed and often secured with a lock and key and requires breaking the front glass panel to access.
Fire extinguisher cabinets are more expensive but make the fire extinguisher safe from vandalism or theft. If the front glass is broken in an emergency, an alarm can also go off to alert occupants in the building. Fire extinguisher cabinets can also include a top shelf for a fire blanket.
How To Attach a Fire Extinguisher To a Wall
Fire extinguisher usually come with their own hanger or bracket. These are what you should use to mount them.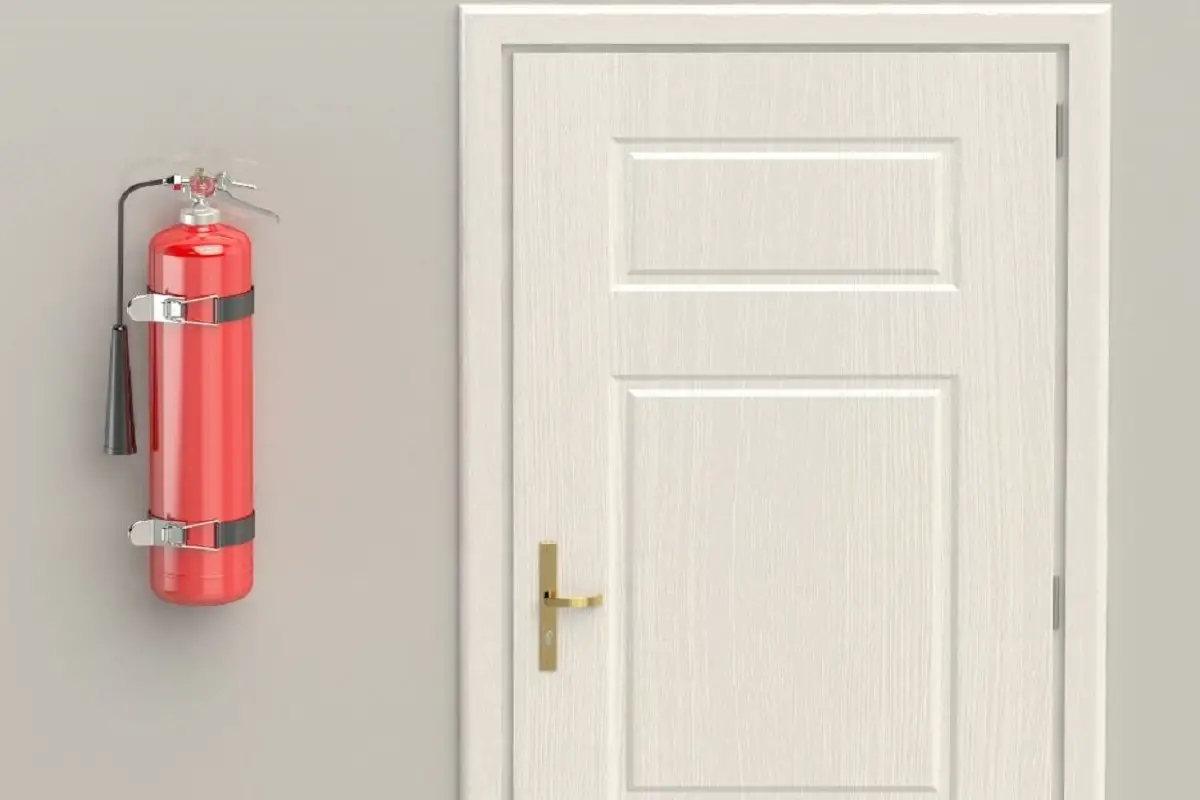 There is a specific way to attach a fire extinguisher to a wall. Installing the clamp, bracket, or hanger of a fire extinguisher is not difficult. You will need:
A power drill with drywall bit
Screwdriver
Small hammer
Screws and wall expansion plugs
Pen or pencil
Measuring tape
Installing a fire extinguisher mount will only take a few minutes.
First, measure the height to the top of the wall bracket you want to install. Mark this with a pencil. Next, draw an outline or mark the screw holes of the bracket on the wall for drilling.
Drill holes on the screw markings. Install the wall expansion plugs into the drill holes and use the ballpeen hammer to tap them in until flush against the wall surface. Place the fire extinguisher mount on the wall.
Tap in the screws with the hammer and then screw in using the screwdriver. Make sure they are in tight and cannot pull loose. You can now place the fire extinguisher on the wall mount.
Factors To Consider in Mounting a Fire Extinguisher
To mount a fire extinguisher, you first need to select the best locations in your home or office. This should be a clear area with no obstructions that could block access to it. Some of the best places for fire extinguishers are kitchens and garages. If you have a multi-story home, then atleast one fire extinguisher should be installed on each floor.
Fire extinguishers usually come with their own brackets or wall hangers. Read the instructions on how to place these on a wall. Each bracket will fit the specific type and size of fire extinguisher. You may need to purchase separate screws for mounting the bracket.
Hanging a fire extinguisher on a wall stud will keep it the screws from pulling out. You can use an electronic stud finder to locate one. Fire extinguishers should be hung with the label facing outward. If you are installing a fire extinguisher in an office, its also best to include a sign directing others to it.
How To Mount a Fire Extinguisher In A Car
Any commercial vehicle must have a fire extinguisher installed. Personal vehicles should have a fire extinguisher but is not required. For personal vehicles, including cars, carts, pickup trucks, and buggies, a 5 lb. BC fire extinguisher is recommended.
A fire extinguisher should be placed in the cab of the vehicle, either next to a door or under the passenger or driver seat. They can also be installed on the outside of the cab in a closed compartment.
Fire extinguishers should be strapped in so they are not dislodged from vehicle vibration or a sudden impact.
Steps to installing a fire extinguisher in a car under seat:
Pick the right fire extinguisher for your car. The best are small with metal brackets included.
You will need a tape measure, a wrench, a drill with bits, a metal bar, and a shop vice.
Measure the distance between seating rails and cut a metal bar for mounting.
Drill holes through the metal bar to match the seat rails and holes for the fire extinguisher mounting bracket.
Screw the rail on below the seat and attach the fire extinguisher bracket.
Strap on the fire extinguisher.
You can also skip the metal bar and mount the fire extinguisher directly onto the floor plate by drilling holes through it and screwing it in.
Helpful Fire Extinguisher Car Mounts
The Bracketeer Car Fire Extinguisher Bracket, Universal Design Fits Most Vehicles
Samman Fire Extinguisher Mount Bracket, Aluminum UTV Quick Release Fire Extinguisher Holder
Car Roll Bar Fire Extinguisher Mount Holder Replacement for Jeep Wrangler
To Close
Mounting a fire extinguisher takes a little bit of time and elbow grease. However, this effort is worth it to help keep you safe during a fire emergency.