Like all garments, hazmat suits go through a manufacturing process. However, being PPE, they must be able to perform at a minimum level to offer protection to the wearer in dangerous environments. This requires special steps to complete them.
How Are Hazmat Suits Manufactured?
Hazmat suit manufacturers produce hazmat suits upon receiving orders.
First, material enters the facility in rolls where it is combined, measured, cut to fit the size and shape specifications, and then layered together. Afterward, the material is sent to be stitched using industrial sewing machines.
It then is run through heat sealing machines that bond specific outside edges of the material together using heat seam tape. The inside of the suit is also sealed once the outside is finished. This includes the clear plastic face area if the suit is totally encapsulating.
Next, the buttons, zipper, fasteners are all added. After the suits are complete, they undergo pressure testing to make sure they are gas-tight at the final stage.
Then they are folded up, packaged in bags and boxes, and then shipped to stores, warehouses, or to online customers.
For more information on how hazmat suits are tested, see our post How Are Hazmat Suits Tested?
How Long Does It Take To Make A Hazmat Suit?
It can take anywhere between a few hours to a few days to make a hazmat suit, depending on the type of suit it is. Suits must meet certain performance requirements, so they need to be made with care and precision without taking any shortcuts. Level A hazmat suits will take longer to make than level D hazmat suits.
Hazmat Suit Design
Hazmat suits are designed to cover the entire body including the head, face, feet, hands with the assistance of additional components. They have a front zipper to make donning and doffing easier while not allowing permeability of fluids and gases. However, with the sleeves, legs, chest, head, and heck area covered, the suit can become uncomfortably hot while wearing it.
For more information, see our post How Hot Does It Get In A Hazmat Suit?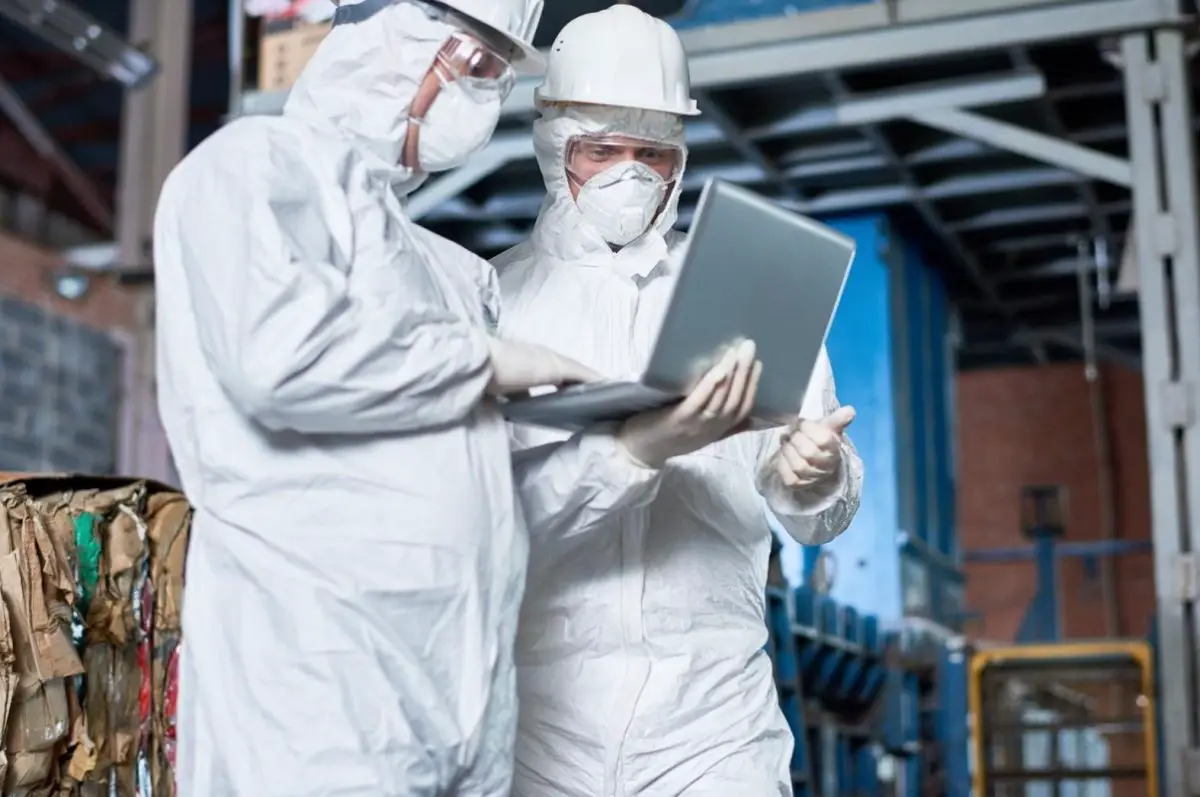 Materials Used In Hazmat Suits
Hazmat suits are often made with multiple layers of material. This is required to protect the wearer from gas, fluid, and spray penetration.
Materials used in hazmat suit construction include:
Foil
Fleece
Polymer
PVC coating
Polyurethane coating
PPSB microporous laminate
Polyethylene film or fabric
Brands of material used in hazmat suits include:
Tyvek
D-MEX
Symex
Umex
Zytron
Tychem
Flexothane
Hand Stitched Hazmat Suits
Hazmat suits can be hand-stitched at some point during the manufacturing process. However, they are usually machine-sewn by a trained worker.
To Close
Hazmat suits are manufactured in large quantities, just like other garments. They are made using specific production processes that fit the performance requirements of the finished suit. When buying a hazmat suit, make sure to purchase one from a reputable brand with