Every building, be it residential or commercial, should have a fire escape ladder. It ensures safety for you, your loved ones, and your colleagues in case of an emergency. There are always chances of a fire breaking out, and these ladders serve as the perfect getaway if it does.
People are often scared of using the fire escape ladder as they worry about it giving out. By determining how much weight a fire escape ladder holds, you can eliminate this fear and use them to get to safety. 
Minimum Weight Ratings for Fire Escape Ladders
The kind of fire escape ladder you use determines how much load capacity it can offer you. 
A sturdy fire escape ladder should be able to support a minimum of 500 pounds.
A stronger ladder for multiple people should support 1,000 pounds which is more than enough to be used by three adult men at once.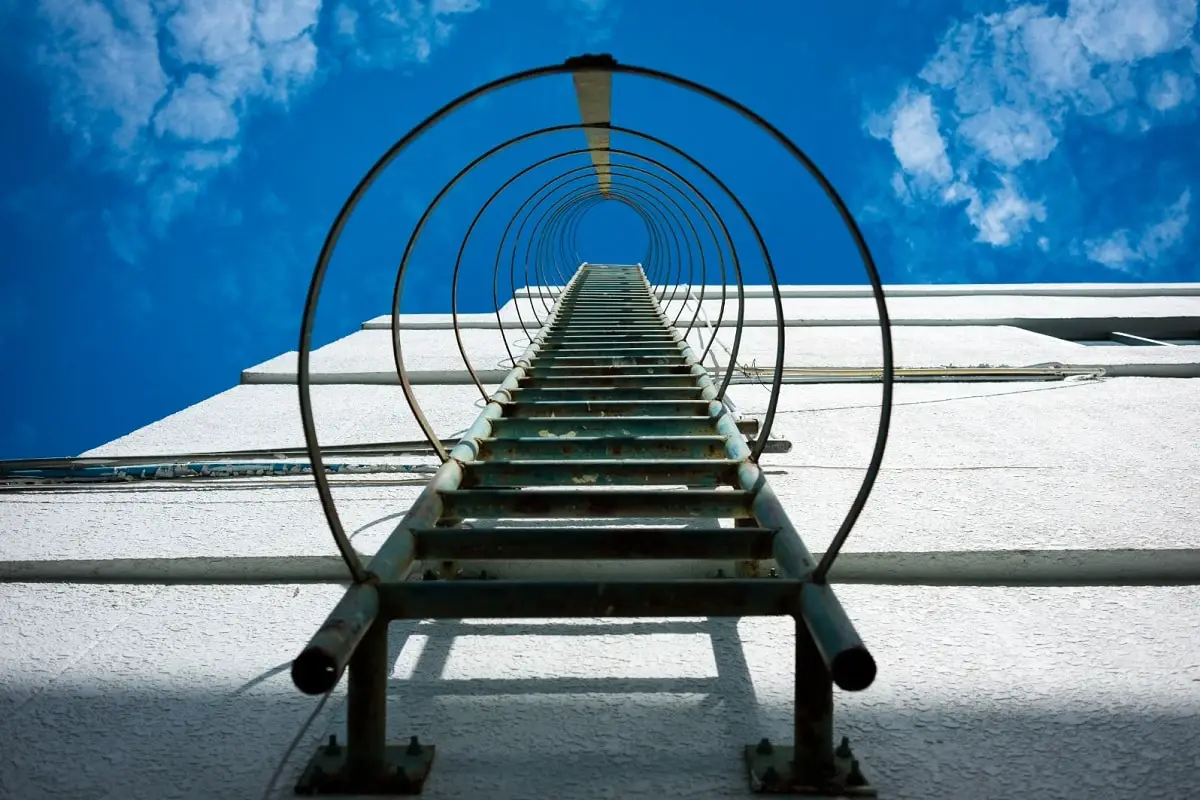 It is essential to have an emergency fire escape plan that includes safe paths to reaching a fire escape ladder. The National Fire Protection Association (NFPA) reports that there are an average of 2,620 civilian deaths and 11,030 injuries caused due to home or office fires annually. The deaths are primarily a result of people being unable to escape the property in time.
In general, you have around 2 minutes to escape after the fire has ignited before the flames spread too far to get out. A fire escape ladder can help you with this escape, but you need to ensure you don't overburden it. Putting on too much load on your ladder can risk the possibility of it giving out, which puts everyone's lives further in danger.
To help you pick out the right fire escape ladder for your property, we have listed the most commonly used ladders and their load capacity below. We also further detailed some notable features so you can determine which ladder best fits your requirements.
Different Types of Fire Escape Ladders
Here are some of the safest fire escape ladders on the market.
Fold-out Escape Ladders Fitted to the Outside 
The fitted fold-out escape ladder is one of the most common choices that you've probably seen in multiple buildings around your neighborhood. It can withstand a load of up to 650 pounds per floor, making it virtually impossible to overload. This fire escape ladder further comes with a 15 years guarantee and is exceptionally easy to install outside any property.
Since it is installed outside, these ladders' material is carefully designed to be weatherproof and resistant to corrosion. They are highly durable and have a maximum ladder length of 10 meters. 
Portable Escape Ladder with 'C' Hook
 The second option is a portable escape ladder with a hook that has a total load capacity of 990 pounds. These ladders are usually made of aluminum, making them lightweight yet stable for your escape route. Your portable escape ladder is designed to fit nearly all window frames and comes with special anti-slip rungs for added safety. 
The best part about these fire escape ladders is their easy storage; they can be folded up and stored under your bed or in a closet near the window when not in use. If a fire emergency strikes, you can quickly retrieve the ladder and deploy it within seconds for use.
Portable Escape with Carabiner Hooks
Lastly, we have a portable ladder with carabiner hooks that can withstand over 925 pounds of load. These easy-to-deploy ladders are perfect to be used by both adults and kids. They don't take up much storage space and are ideal for two-story homes and office buildings. These portable escape ladders' main feature is that they don't require any special tools or instructions to be deployed. Hence, they are super lightweight and don't come with any complicated steps to be followed.
Recommended Fire Escape Ladders
Hausse Retractable 3 Story Fire Escape Ladder, 25 Feet
Kidde Fire Escape 2-Story Ladder, Escape Ladder, 13-Foot Anti-Slip Rungs, Rope Ladder
Hausse Retractable 2 Story Fire Escape Ladder, 13 Feet
Test Your Fire Escape Ladder to Ensure It Can Take the Load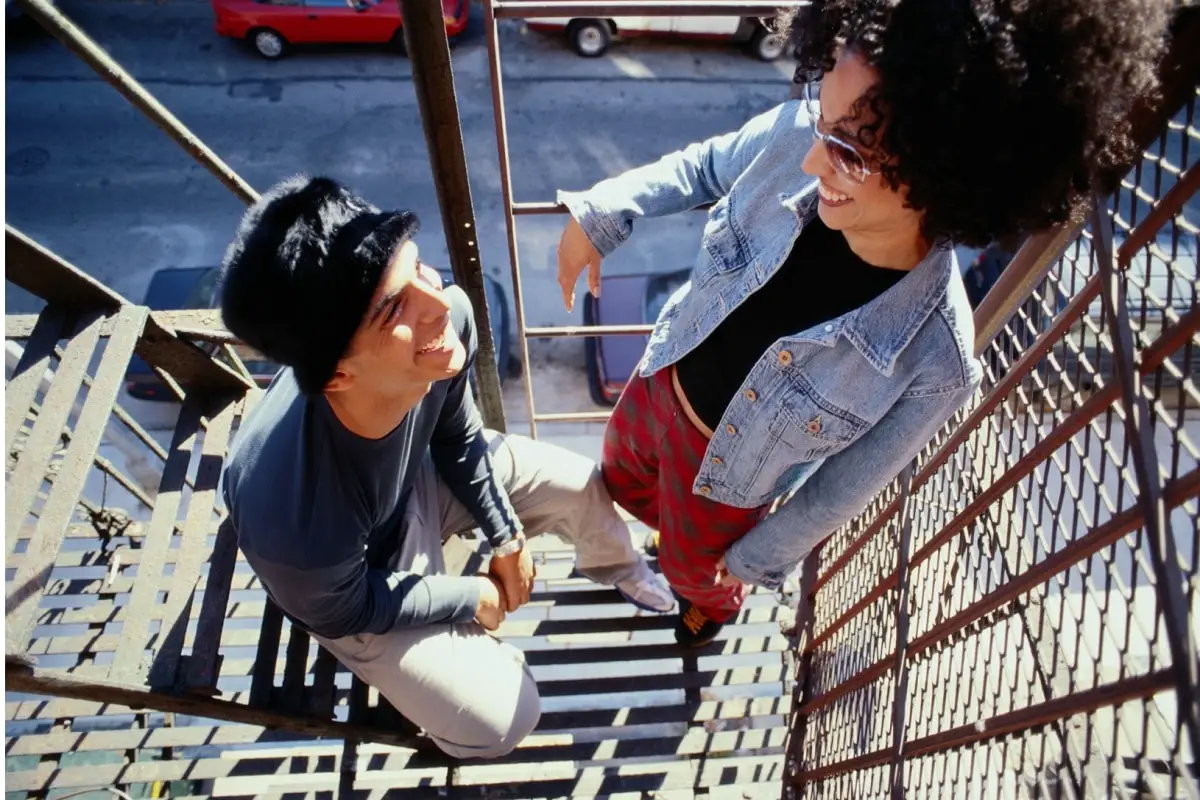 Now that you know how much weight a fire escape ladder holds, it's time to test them out. This practice will offer you further peace of mind, knowing that your ladders are fully functional and can be relied upon in emergencies. 
The very first thing you need to do is conduct a thorough visual inspection of your fire escape ladders every six months. This includes checking all the bolts and supports to ensure they aren't damaged and all the moving parts are operational. 
This should be followed by a load test which is done every 4-5 years. The load test includes stress testing and is best conducted by professional engineers or testing agencies. They will test your stairways and ladders' durability with a load of over 200 pounds per square foot and see how well they perform. If your fire escape ladders fail the test, their condition will be further analyzed to determine if they need structural repairs or replacement.
In Conclusion
As useful as they are, fire escape ladders can be awkward to use. Therefore, it is always advised to test them out beforehand. Conducting safety drills will help everyone in the building be aware of the correct procedure to follow in case of an emergency.
Furthermore, if you opt for a portable ladder, be sure to store it near the window and add some form of labeling so anybody can reach for it easily. To learn more about the best fire safety practices and how you can ensure optimal security for yourself and your family, visit our blog here.