Fire blankets are an essential component of your fire safety measures. They are easy to use with quick-release containers to minimize the damage caused by small fires. A fire blanket is specially designed with the right materials to suffocate incipient fires by cutting off the oxygen supply. It can help save you from burns or even control a house fire by ensuring it doesn't spread.
If you don't have a fire blanket in your home or office, you should fix that immediately. It could be because they are a little unaffordable for you right now, or maybe your local stores don't have them. Either way, we'll teach you how to make a fire blanket today to upgrade your fire safety protection.
Materials for a DIY Fire Blanket
When making a fire blanket, the very first thing to consider is the suitable material to use. Fire blankets come in a variety of different materials, all with their own properties and heat-resistant abilities. You will need to choose the right material for your DIY fire blanket.
People often think of asbestos when discussing fire blankets. This notion puts them off since asbestos can cause severe damage to your respiratory tract when inhaled. Fortunately for us, new and improved technology has changed things a bit. Fire blankets are rarely made of asbestos now. And, for people who use them, it is recommended they switch to a different material.
Here are the various materials you can choose from to make a fire blanket.
Fiberglass
Fiberglass fire blankets are the most common type used today. They are made from fiberglass material that is woven and intertwined with graphite or silicone coating. This coating adds an exterior layer of flame-resistant properties to the fire blanket, improving its effectiveness.
Thus, fiberglass fire blankets are compact, soft-textured, and durable. When you make fire blankets of this material, you get a flame tolerance of up to 260°C.
Recommended Fiberglass Fire Blankets
ABN Heavy-Duty Fiberglass Fire Retardant Blanket, 6 x 8ft – Large Welding Fireproof Thermal Resistant Insulation
Tonyko Fiberglass Fire Blanket for Emergency Surival, Flame Retardant Protection and Heat Insulation
SKAMZ Emergency Fire Blanket for Home (X-Large 47.24 x 47.24 Inches) – Fireplace Blanket for Heat Loss – Premium Fiberglass Fireproof Blanket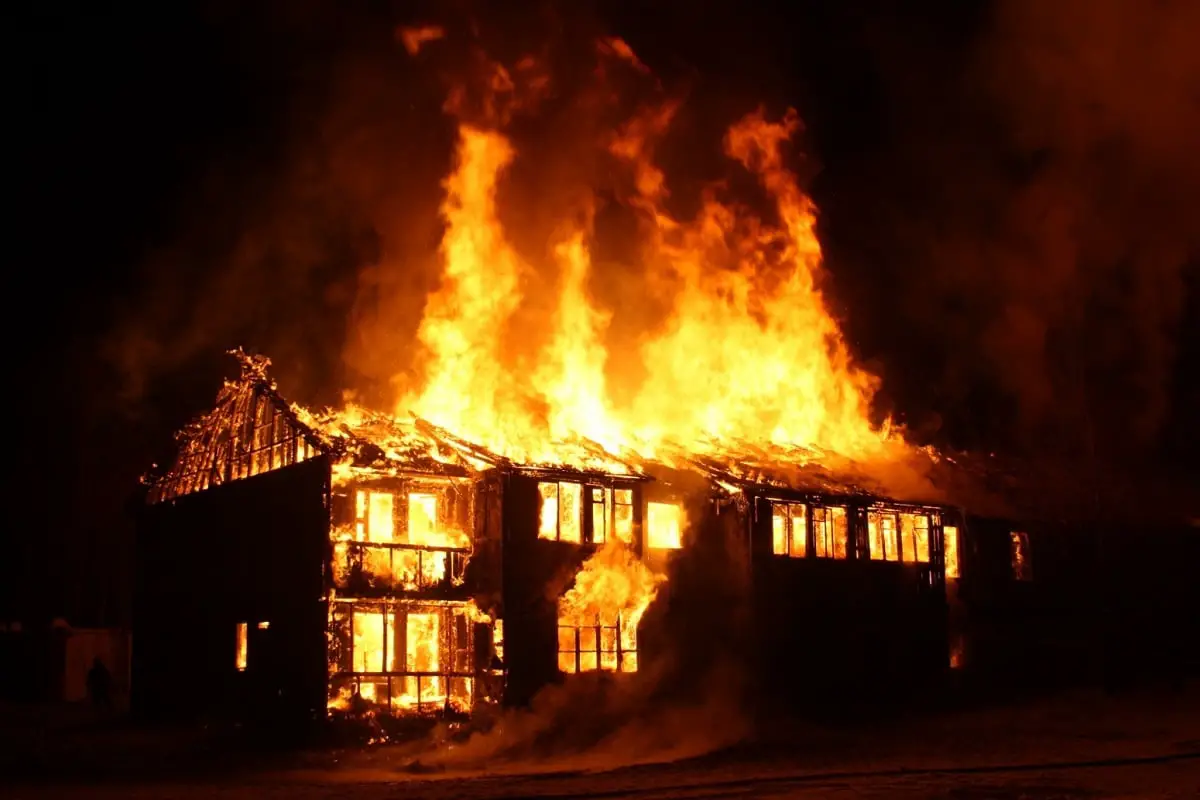 Wool
The second most commonly used material to make a fire blanket is wool.
Wool, in its natural state, has a high nitrogen and water content. This trait makes wool quite flame-resistant. Moreover, the internal structure of wool fibers requires more oxygen than most other materials to catch fire. Wool also produces less smoke and toxic fumes in case of fire than any other synthetic material. All of these properties come together to make wool an excellent material for a DIY fire blanket. It's easy availability further makes it a great choice.
Cotton
Cotton is a relatively new entrée to the world of fire blankets. However, there are predictions that it will soon replace all other materials due to its superior properties.
Cotton blankets are treated with non-toxic fire inhibitors to turn them into fire blankets. If you're conscious about being environment-friendly (as we all should be!) and prefer to use green products, cotton would be your best choice. It is a naturally-occurring material, and the flame inhibitor used on it is safer for the environment as well!
Sizing Your DIY Fire Blanket
The next component to consider is the size of your DIY fire blanket. These blankets can be made in various sizes, so your right choice depends on where and how you wish to use them.
If you're looking to make a fire blanket to place in your kitchen for small stovetop fires, you will likely need one with smaller dimensions. Similar is the case if you have small children around the house.
However, if you'll be placing your fire blanket in a large or open space, like your living room or the backyard BBQ grill, you will need a bigger size.
Here are the most common sizes that you can pick from.
1 m x 1 m
1.2 m x 1.2 m
1.2 m x 1.8 m
1.8 m x 1.8 m
Fireproofing and Coating
One of the most important parts of making a fire blanket is considering its fireproofing. Without this fireproof layer, your blanket will be relatively more susceptible to flames. It will have reduced fire safety abilities and not be able to offer you optimal protection.
Therefore, once you've chosen your material and the best size, the next step is to pick out a fire-retardant liquid from the local hardware store. Keep in mind that most wool or fiberglass blankets require heavy-duty flame retardants. On the other hand, if you're using cotton, you can simply coat it with a non-toxic fire inhibitor for the ultimate fireproofing! 
Folding and Storage
Once you have made your DIY fire blanket, you will need to fold it in the right way and store it in the right place.  Here is a detailed step-by-step to guide you through the folding process.
The next thing to consider is where and how to store your fire blanket. You can consider DIY-ing a blanket cover for it or store it in any fire-resistant packaging or container. This ensures the blanket is accessible during emergencies and the packaging does not catch fire, blocking you from reaching the blanket.
Try to make multiple blankets and store them in every room that has open flames. There should be one in the kitchen, one near your fireplace, and even in your bedroom if you're fond of lighting scented candles.
Lastly – Will Your DIY Fire Blanket Protect You in a Real Fire?
Fire blankets are a great way to keep yourself and your loved ones safe in case of a fire emergency. When you choose the right materials, size, and fireproof coating, your fire blanket will save you from painful burns. It will work as a suffocating agent, cutting off the fire's oxygen supply without which it can't keep burning.
However, it is important to emphasize that there is a chance your DIY fire blanket might not work as well as a company-manufactured one. Professionally manufactured fire blankets have been rigorously tested and upgraded to offer you maximum protection. It is best to buy a fire blanket, but if they are not available in your area, you should make one for your home or office.