Reciprocating saws are flexible tools that are useful for a number occupations. They are equipped with long blades that move in a back-and-forth motion at high speeds. These saws can cut through objects of varying materials and thicknesses relatively quickly. Here are 11 jobs that use reciprocating saws.
1. Construction Workers
Construction workers often use reciprocating saws to cut through wood boards and planks, to cut and clear tree and plant debris, and to trim thin rebar and wire mesh. Reciprocating saws come with variety of blades, and others can be fitted with blades specified for each job.
The reciprocating action helps prevent the saw from binding or getting stuck in tough materials. This helps construction workers who face a range of sometimes rough tasks and conditions.
For example, reciprocating saws with 14-inch housings can fit between studs and compact areas. Reciprocating saws of this size are also light enough to not cause fatique.
Construction sites are filled with cutting jobs waiting to be done. The reciprocating saw is an extremely versatile tool used for construction and demolition projects.
2. Carpenters
Carpenters work in a variety of facilities, and mostly work with wood and metal. A reciprocating saw can be used for cutting drywall, metal pipes, sheetrock, and flooring. The saw can make both horizontal and vertical cuts.
Carpenters often use precision hand tools and power tools to trim and fit countertops, cabinets, ceilings, floorings, and walls. Occasionally, this can include the need for a reciprocating saw.
Although it less likely to be used in comparison to circular saws and jigsaws, carpenters can benefit from having a reciprocating saw around if they need it.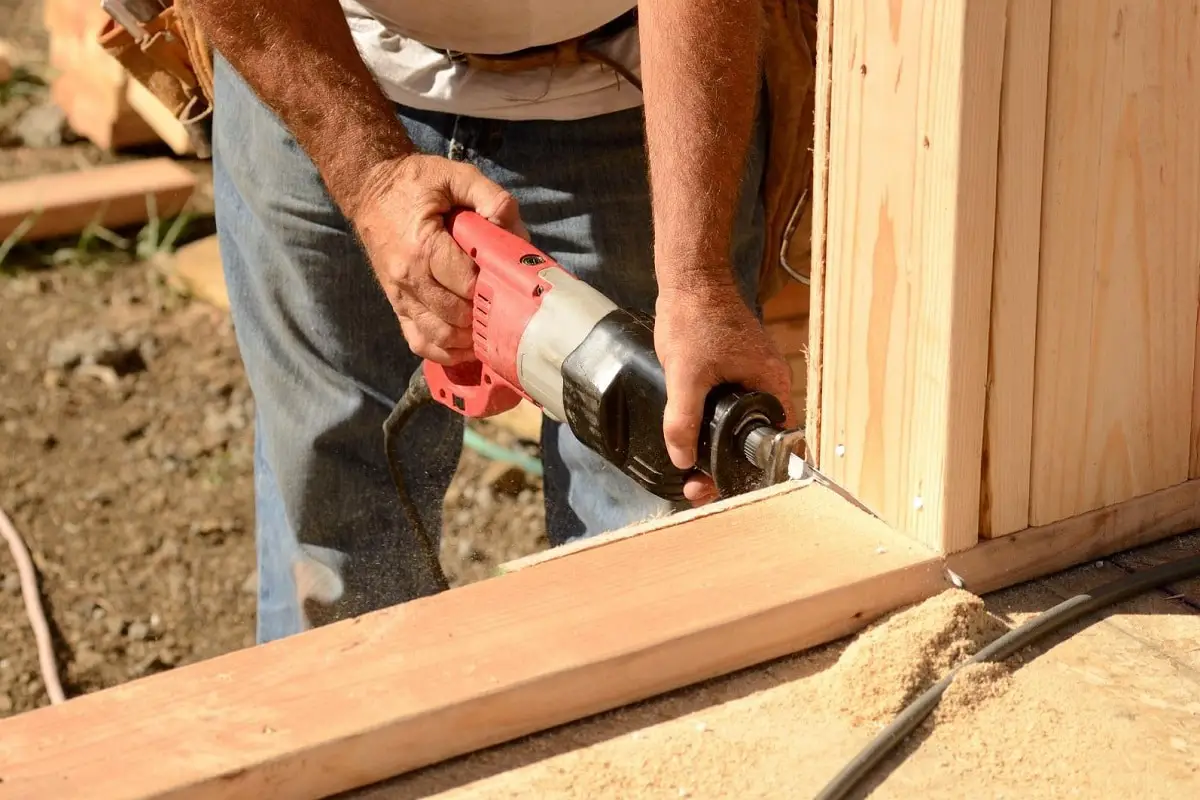 Highly Rated Reciprocating Saws
DEWALT 20V Max Reciprocating Saw, Compact, Tool Only
Skil 9206-02 7.5-Amp Variable Speed Reciprocating Saw
BLACK+DECKER 20V MAX POWERCONNECT 7/8 in. Cordless Reciprocating Saw
3. Electricians
Electricians need to fit wires, outlets, tubing, and electrical components in tight spaces, such as between studs and underneath counters and flooring. This can be solved by using a reciprocating saw to make fast cuts where other tools have trouble fitting.
Reciprocating saws are also very useful for cutting pipes, conduits, and other objects that can't be easily accessed with larger tools. It features a thin, narrow blade that can cut metal, wood, and plastic.
Although electricians may not need a reciprocating saw for all their tasks, having access to one can really help get some jobs done faster and easier. This means the lights and appliances can be turned on faster and the home or facility can be up and running again.
4. Plumbers
Plumbers need to fit pipes and tubing through tight spaces, walls, and even underneath houses. A reciprocating saw is perfect for this, allowing them to make quick work of each task.
Plumbers also need reciprocating saws so they can quickly remove old piping and plumbing fixtures. A reciprocating saw makes it easy to cut away cast iron pipes without causing too much damage to the surrounding wall.  
Just like electricians and carpenters, having a reciprocating saw as a part of their tool collection can help plumbers get through their tasks and get the water back on.
5. Wood Artists
Wood artists carve trees, tree trunks, and blocks of wood, using various hand and powered cutting tools. Reciprocating saws can be used to make fast and rough cuts to remove excess material. By using reciprocating saws, wood artists can create their own pieces of art quickly and efficiently.
However, reciprocating saws are not ideal for all woodworking jobs. The reciprocating saw may only be best used on trees or on blocks of wood that were not cut to size with a chain saw or other tools.
6. Tree Trimmers / Arborists
Reciprocating saws are great tools for arborists and tree trimmers as a compliment to gas or electric powered chainsaws.
A chainsaw may not be functioning properly, or require a gas refill or a battery charge. A reciprocating saw may be more easy to access and use to get the work done. Also, being similar in weight to a small chainsaw, a reciprocating saw is not difficult to carry or transport to and from the jobsite.
Reciprocating saws especially excel at cutting small branches that have been previously felled and need to be removed. Some arborists may even choose to use reciprocating saws over chainsaws in some situations simply due to preference.
7. House Flippers
House flippers need to fix up and repair homes as fast as possible in order to make money. This means, tools such as reciprocating saws can really come in handy when fast construction work and debris removal is needed.
Sometimes a house flipper faces a cutting job that may or may not require a chainsaw or skillsaw. A reciprocating saw can often solve this dilemna. House flippers would benefit from purchasing a wide variety of replacement blades that can handle plastic, metal, and wood.
Whether you need to build a new house or improve an existing one reciprocating saws can help you get the job done fast and with less hassle. Since each house flipping project is different from the last, a flexible tool such as the reciprocating saw can help getting through them easier and grant confidence to the user.
8. Home Builders
Home builders, since they are in the construction trade, use a variety of hand-held power tools to get the home finished. The reciprocating saw is one of those tools that many home builders use to cut through a variety of materials.
Reciprocating saws are especially good for construction companies because it enables quick and efficient cuts of materials such as wood, metal or pvc. Reciprocating saws are easy to learn and handle, so new employees can quickly pick one up and use it.
9. Demolition Crews
Demolition crews that take apart structures and old buildings are faced with variety of difficult debris and materials they need to remove fast. Much of this is lying on the ground and needs to be cut up and taken away.
Rugged and powerful, reciprocating saws are perfect for this occupation. Bi-metal demolition, industrial grade reciprocating saw blades can handle the cutting tasks that demolition crews encounter on a daily basis.
10. Gardeners / Landscapers
Gardeners and landscapers are not the types many would think use reciprocating saws, but they are so versatile they actually can be. They use reciprocating saws for trimming trees and bushes when chainsaws and bush trimmers are not the most efficient.
Also, if a gardener needs to build something in their garden or needs to make a modification to an existing structure, reciprocating saws are a very handy tool to have available.
11. Firefighters / Rescue Services
Firefighters use specialized cutting equipment to get through roofs, doors, cars, and walls to get to trapped individuals and clear areas.
Along with chainsaws, axes, and circular saws, reciprocating saws are used by firefighters in certain situations, such as for forcible-entry and creating ventilation. Some of these saws have evolved to be used specifically by fire and rescue operations.
The blades for reciprocating saws work well for fire and rescue services, especially break-resistant, bi-metal blades. These are rugged and strong and can handle the difficult conditions and materials that firemen face. These are more likely to bend rather than break compared to standard blades.
In Closing
When matched with the right blade, a reciprocating saw can be used by a wide variety of construction and building occupations. However, like other power tools, these saws can cause injury so wearing safety gear is necessary when using them.