X-acto knives are made to offer precision when cutting certain kinds of materials. Today, many professionals use x-acto knives in their work.
#1 Wood Carver
Wood carvers use a number of cutting and carving tools, and x-acto knives can help to add fine touches to wood statues and other works. Each carving is unique and the level of detail can vary from peice to peice.
#2 Architect
Architects still use x-acto knives to make representative models of buildings and landscapes. These models help to communicate their ideas more effectively to their clients.
An x-acto knife is a very precise tool and can be used to make very small, intricate cuts. This makes it the perfect tool for creating scale models. Some architects also use x-acto knives to create and alter detailed drawings and diagrams of their designs.
#3 Cake Decorator
Cake decorators can use x-acto knives to trim cake glaze and frosting on custom cakes.
Cake Decorators use x-acto knives from time to time to add those extra finishing touches to their masterpieces. As a result, they need to be skilled in using this type of knife. However, this means even cake decorators face injury while baking as the knife can easily slip and cut the skin.
#4 Jeweler
Jewelers make earings, necklaces, rings, and bracelets. They at times use glues, glitter, metal rings, hooks, straps, and threads of various materials. Along with other jeweler's tools, such as jewelry pliers, x-acto knives may be just what is needed to remove excess glue and trim off material to obtain the right look.
#5 Seamstress
Seamstresses fit clothing to a person's body and shape and this includes the need to trim threads and fabrics. Along with small rulers, needles, scissors, and sewing machines, x-acto knives make great additions to their toolkits.
#6 Watch Maker
Watch makers sometimes use exacto knives to trim very small wires, metal gears, or to add detailed touches to their watches to enhance visual appeal. The x-acto knife blade is sharp and thin, making it perfect for precision cutting. Watches are delicate instruments, so having such a fine cutting tool is sometimes required to assist in making them.
#7 Print Professional
Today's print professionals and graphic designers mostly rely on computer software to design advertisments, flyers, and banners. However, like architects, print professionals sometimes rely on x-acto knives when working with designs and printings in physical form.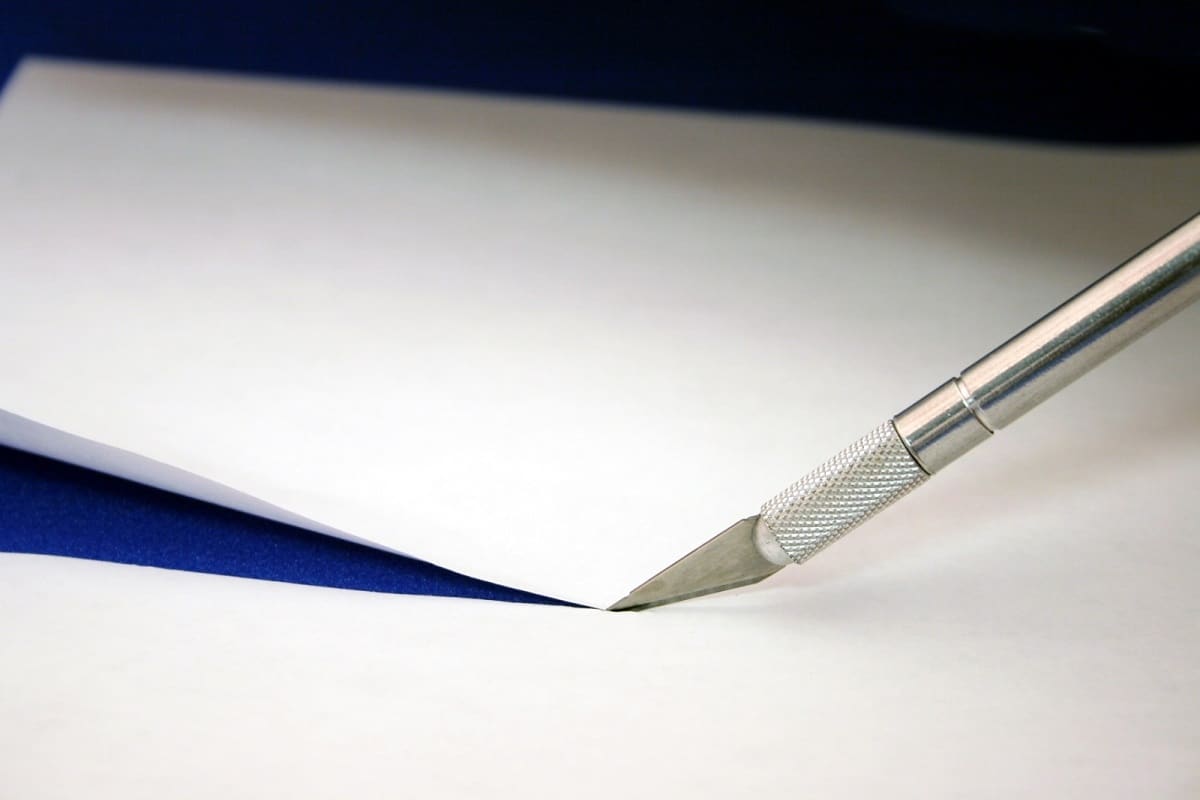 For example, exacto knives are still very useful for stenciling. This is the technique of cutting out intricate designs or shapes and leaving crisp and sharp edges.
Not all printing processes are best served by using computer art programs, such as photoshop and some printers still prefer to do them by hand.
Highly Rated X-acto Knives
ELMERS X-Acto X3000 Knife with Cap
X-Acto Retract-A-Blade No. 1 Knife
X-Acto No 1 Precision Knife, Z-Series, Craft Knife, with Safety Cap, #11 Fine Point Blade, Easy-Change Blade System
#8 Model Maker
Professional model makers use x-acto knives to make wood or plastic models of real-world objects, buildings, and vehicles. This includes model cars, trucks, ships, and airplanes. Model makers also make miniatures of people, animals, and fantastic monsters and x-acto knives allow them to add special fine details.
#9 Clothing Designer
Clothign designers, like seamstresses, make garments to fit certain body shapes. They usually fit models with custom, one-off designs and patterns that need adjusting here and there to get the right look. X-acto knives can sometimes help them to achieve this by trimming excess thread or bits of fabric at certain places and help manifest intricate designs.
#10 Educator / Student
Educators that need to make art peices or unique printings to show their students can rely on x-acto knives to do so. X-acto knives are also useful for student arts and crafts projects done under direct supervision. For example, stenciling is still very much done by young students and children in classroom settings today.
However, since x-acto knives are so sharp and can easily cut on the hands of children, it is up to the parents to decide if they want to allow them to be used.
#11 Nail Stylist
Nail stylists create nail art for their customers fingers, many of whom then go out with their friends or join special events. This can mean trimming the nails or making fine details on them using x-acto knives. For this reason, nail salon owners might need to own a few x-acto knives to keep in their shops.
#12 Leather Craftsman
Leather makers make incisions on leather using various cutting tools, and x-acto knives are sometimes one of them. Leather and thread used in leatherwork can be easily cut and trimmed with the sharp blade of an exacto knife. It offers the craftsman a fine level of cutting precision when they need it.
X-acto knives are especially useful for applique work. This is where many different leather shapes of various textures and colors are cut out and glued or stitched together to form a larger design.
In Closing
X-acto knives are still very useful for many professions, even in today's technology driven world. But for anyone considering using them, make sure to keep safety at the top of your list as they are very sharp and can easily cause painful cuts.