Multi-story building fires or other emergencies may require more than one option for people to safely descend. For instance, the elevators can be out of service, or the stairs might get crowded with panicked people. Having a backup plan as part of your fire safety protocols is a wise choice. 
Having fire escape ladders in place is important for your the safety of the occupants of any multi-story house, apartment building, condominium or commercial building.
In this article we discuss the pros and cons of rope fire escape ladders vs. fixed folding or telescoping ladders. Each type of fire ladder has its benefits and features, which we discuss below.
Rope Fire Escape Ladders
A rope fire escape ladder is an essential safety item for multiple-story homes. It is extremely simple to set up and use. The emergency escape rope ladder by design is attached with hooks or carabiners at the top, then unfurled so it falls to the ground below. The ropes connect rungs made from non-slip materials to give you a solid grip while you evacuate yourself from the fire. In a case of emergency, people can safely escape danger by deploying it out a window or over a balcony then climbing down the fire escape ladder.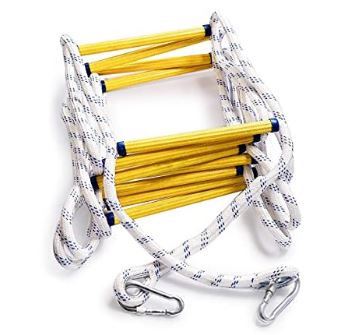 Rope fire escape ladders can also be used for outdoor activities such as hanging from a treehouse or part of an athletic challenge course. Rope fire escape ladders are even used by mountain climbers to scale cliffs and glaciers. These rope ladders are highly portable and can be used in numerous ways.
Main Features of Rope Fire Escape Ladders
Durable
Can take loads of 1000-2000 pounds
Compact folding for storage convenience
Fast deployment
Easy climbing
Simple to set up
No assembly required
Pros of Rope Fire Escape Ladders
A great choice, especially if you are living on the second floor and up
Can be folded and stored away when not in use
Easy to carry 
Deployed in a matter of seconds for quick evacuation
Cheaper than permanently installed fire escape ladders
Can be deployed from most windows and balconies, providing multiple avenues of escape
The rungs are non-slip
More flexible than non-rope ladders 
Good for fire escape drills
Cons of Rope Fire Escape Ladders
Not suitable for people with physical disabilities
Limited length doesn't cater to tall buildings past 4 floors
Cannot evacuate a large number of people quickly
Rope ladders can twist when deployed
Lack stability, especially in windy conditions 
Requires more practice compared to standard fire escape ladders
Folding or Telescoping Fire Escape Ladders 
Folding and telescoping fire escape ladders are durable and easy to use. You can install these ladders permanently on the outside of a building or home. A release pin is located at the top of the ladder that allows it to unfold or slide down, making it ready for use.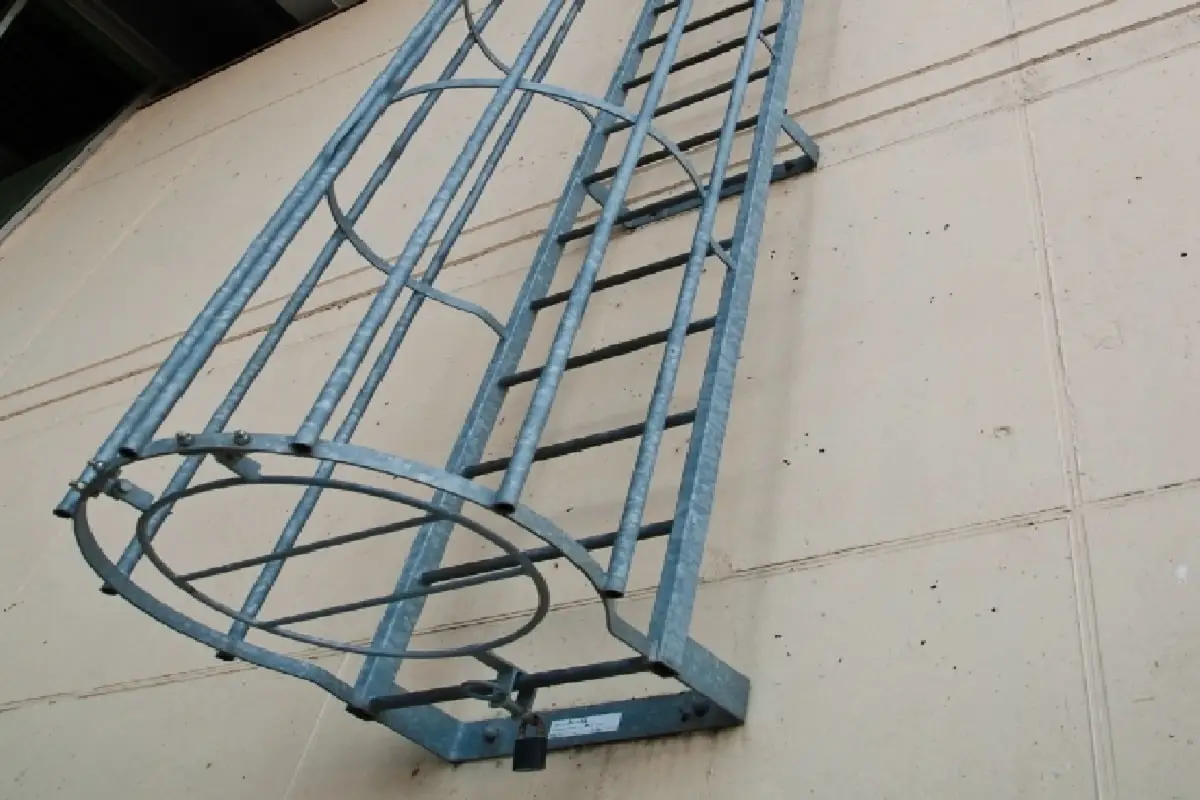 Folding and telescoping fire escape ladders provide an easy and safe way for people to climb down from a window or roof in case of a fire emergency. These ladders are manufactured from high-strength aluminum or steel, enabling them to hold multiple people at the same time. They can be used repeatedly and are generally designed to last as long as the building.
You can use the ladder only after opening the hatch or door from the top, preventing unauthorized access to the ladder from below when it is not in use. 
Main Features of Folding Fire Escape Ladders
Offers residents a clear escape route in an emergency

Transports many evacuees within minutes
No deployment needed — just find the ladder and go down
Made of durable aluminum or steel
Suitable for people of all ages
Permanently attached to the building
Can be used repeatedly
Last for many years
Pros of Folding Fire Escape Ladders 
The ideal choice for tall buildings and multi-story homes
Caters to at least one person from each floor simultaneously
Durable and sturdy
Allows for quick evacuation 
Can handle a heavy load
One-time installation
Increases the value of a property
Meets fire regulations 
Cons of Folding Fire Escape Ladders  
Expensive
Only serves one evacuation route in a building
Risk of overcrowding due to too many people descending the ladder at once
Potentially blocked by tenants
Must be inspected and maintained periodically, depending on local fire regulations
Fire Escape Ladders – Our Top Picks
1. Kidde Two-Story Fire Escape Ladder with Anti-Slip Rungs
The Kidde two-story fire escape ladder is easy to use and attaches quickly to most windows in buildings and households. The ladder is durable, flame resident, and made with sturdy material. This fire ladder is tested to hold more than 1000 pounds in weight and deploy with ease. Kidde offers a 5-year warranty, reflecting its high quality.
Pros
No assembly or tools are required.
Long warranty
Anti-slip
Flame resistant 
Cons
One-time use 
The hook and hinge designs aren't the best 
Metal steps are sharp 
---
2. First Alert Two-Story Fire Escape Ladder, Steel, Anti-Slip
First Alert's easy-to-use 2-story fire escape ladder has strong steel construction tested to hold more than 1125 pounds. The nylon strapping is DuPont Cordura for maximum durability and strength. 
Pros
Solid construction
High-quality
Perfect for children
Reusable
Cons
Can move and tangle during use
Fits a limited range of window designs
---
3. Qwork 32 Foot Rope Escape Ladder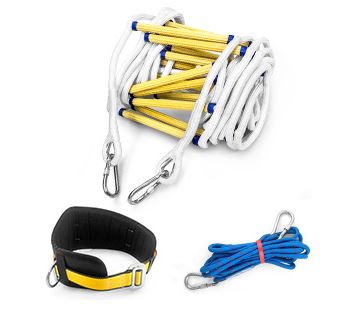 The Qwork 32 foot home fire escape ladder is designed specifically to work on balcony railings and over window sills where a standard ladder mount doesn't work. With a full 32 feet of length, you can escape any fire from the 2nd, 3rd or 4th stories — ideal for apartments, condominiums and tall houses. It requires no assembly, and is super lightweight, compact and easy to carry and store. The ladder is fireproof and comes with a safety belt and carabiners.
Pros 
It comes with a safety belt
Holds up to 2000 pounds
Reusable
Perfect for adults
Works well with 3 and 4 story buildings 
Sturdy yet light 
Cons 
It might tangle due to its length
Can move around a lot in the wind 
Round rungs don't feel as stable as square-topped rungs
---
4. Saf-Escape Two-Story Portable Fire Escape Ladder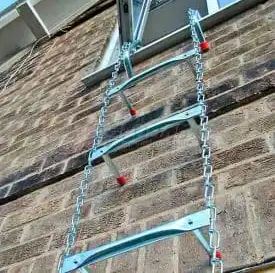 The Saf-Escape Two-Story Portable Fire Escape Ladder is made of high-strength steel chain and 18-gauge steel rungs. The ladder has extensions that touch the wall every other rung, so it doesn't swing or stretch while being used. This is a highly durable ladder that can be used many times and has been tested to hold up to 1,000 pounds.
Pros 
High-quality chain and steel rungs
Fits thick walls — good for old buildings
Stable when climbing down
Can hold multiple people at once
Reusable
Easy to store
Cons
Requires some assembly (stand off legs)
End of the rungs can be sharp, potentially leading to scratches or cuts when handling the ladder
Chains can tangle up temporarily when deploying the ladder
---
Buying a Fire Escape Ladder – How to decide?
With all the points being made, it is essential to understand that both fire safety protocols have their own features and applications. We cannot apply a cookie-cutter technique to home and building safety because their nature and possible emergencies always vary. 
Before picking one from the two, take a look at the following points to make a better decision:
How tall is your property?
How many people reside in your building?
What possible emergencies could occur?
How much are you willing to invest in fire safety protocols?
Are you looking for a primary ladder or a backup ladder?
The Winner Is… 
The decision to use a rope fire escape ladder or a fixed folding or telescoping ladder depends on your particular situation.
The folding or telescoping fire escape ladder is a clear winner in terms of durability and reliability, and for multi-tenant buildings greater than 3-4 stories. If you live in a building full of people, rope ladders are not a good choice because they cannot evacuate a large number of people at once. Rope ladders swing and don't maintain a stationary position compared to a fixed folding ladder, making them potentially dangerous.
A rope fire escape ladder is typically a better choice for houses, condos and apartments with 3 or fewer stories. They can be stored under beds and in closets until you need them, then quickly deployed. Because they are much cheaper, you can purchase multiple rope fire ladders for your upstairs windows and balconies, providing multiple evacuation points. This is critical if one part of the building becomes inaccessible in a fire.