Chainsaws come in a range of sizes, each corresponding to power output and chain bar length. Proper chainsaw usage begins with choosing the correct size saw for your needs. But which size is best?
Big Chainsaws – Are They Better?
A chainsaw that is too large or powerful can be dangerous. A correctly sized chainsaw will operate efficiently, provide control, and help you avoid wasting energy when cutting wood .
Big chainsaws are great for cutting large logs and tree trunks. However, they come with some safety risks. Big chainsaws have larger motors and longer chain bars that can cause serious injuries if they hit a person.
Small Chainsaws – Are They Enough?
The small size of a chainsaw makes it easy to use and handle, but it may not be powerful enough for certain jobs. Using a chainsaw that is too large or heavy can make the job more difficult.
Small chainsaws certainly have their uses. They are easier to carry and handle and take up less space in your garage.
However, they also usually have smaller motors and chains, which means that you will be limited as to the size of branch or log that they can cut. You should also be aware that these saws are usually designed for smaller jobs only and the lack of power may mean that you have to do many more sawing movements to get through a chunk of wood than if you were using a larger chainsaw.
There is also the chance a small chainsaw could jam, break, or overheat, when forced to cut a large log. There will likely be a burning smell and smoke coming from where the chain meets the wood.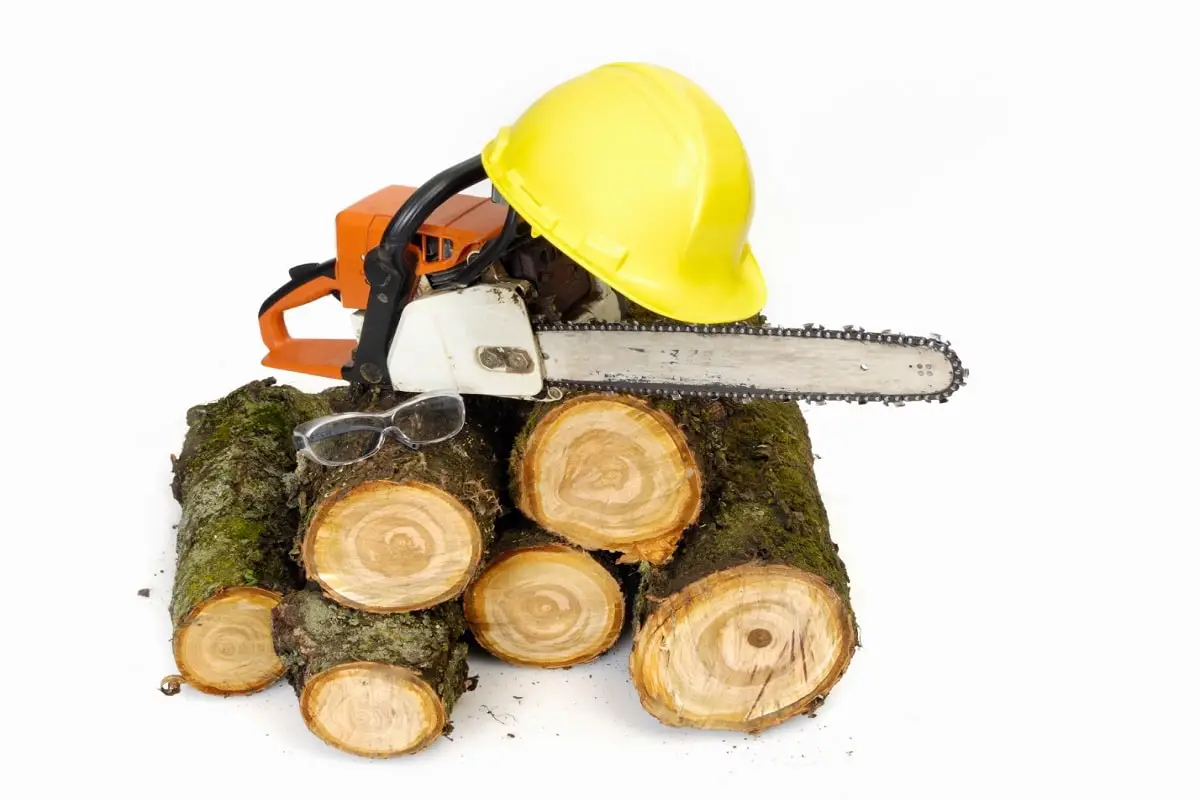 Mini Chainsaws – Do They Work?
Mini chainsaws are granted this name because they have chains that are, at most, 12 inches long and the chainsaw itself will not be more than 8 pounds. These chainsaws are best used for cutting firewood or limbing a tree.
Mini chainsaws are just very small chainsaws and are best for the smallest of cutting tasks. However, they may not work well for larger cuts at all.
Chainsaw Engine Sizes
Chainsaws have a wide range of engine sizes, and they correspond to the needed cutting power for the job at hand. Generally, the larger the engine, the longer the chain guide bar, meaning they can be difficult to handle.
Chainsaws that are used for chainsaw artistry usually have the smallest engine size, whereas chainsaws that are used for commercial forestry work usually need larger engines.
Gas Chainsaws – Size Ranges
Gas powered chainsaws are known to reach larges sizes and provide a lot of cutting power. Most gas chainsaws are in the 50cc size and over.
Many of these saws come in both 36 and 40 inches in bar length, and some even longer than that. Gas chiansaws are often preferred by professionals because of their extra cutting power.
Here is a list of gas chainsaw size ranges:
Displacement: 30 – 120 CC 2-stroke gas engine
Horsepower: 2 – 8+ hp
Bar length: 14 – 20+ inches
Base weight: 6 – 15+ lbs.
Top Handle: Yes
Electric Chainsaws – Size Ranges
Electric chainsaws come in a range of sizes. They are best for at home jobs or smaller cutting jobs . Electric chainsaws are best suited to cutting wood with a diameter up to about 14 inches. If the chainsaw chains will be used in heavy use, for example on commercial construction site, an electric chainsaw much larger than this is preferred, or even a large gas chainsaw.
Electric chainsaws are size-specific chainsaws designed for users who need smaller chainsaws that are lighter. They are best for homeowners, gardeners, and property caretakers.
Here is a brief size rundown of electric chainsaws:
Bar length: 4 – 18 inches
Base weight: 3.5 -15 lbs
Engine power : 1-15 amps
Battery size: 21V rechargeable lithium battery
Heavy Duty Chainsaws – How Tough Are They?
heavy duty chainsaws come in range of sizes and are not always very big. They are best for cutting tasks in rugged environments, such as logging and forestry management. chainsaws are often used in chainsaw competitions (or chainsaw-athons) to cut through thick logs of wood to chainsaw derby, both for fun and competition.
A chainsaw's size is usually indicated by weight, engine power, type of chainsaw, bar length/size/type, horse power or torque , saw-chain
An example of a heavy duty chainsaw is the Poulan Pro 50cc Professional Chainsaw.
What Is the Biggest Chainsaw You Can Buy?
The biggest chainsaw you can buy is the STIHL MS 880 121.6cc. This is widely accepted by professionals as the most powerful chainsaw available on the market.
What Does CC Mean For Chainsaws?
In chainsaw terminology, 'CC' stands for cubic centremetres, and it's related to the power of the engine. The more CC a chainsaw has, the more powerful the engine, therefore, the easier it will be to do the job that you want it to.
Gas powered engines, in every car, motorcycle, or chainsaw burns some air and fuel. The capacity to do this is measured in cubic centimeters (cc).
Figuring out the cc of your chainsaw requires a special formula. Fortunately, the manufacturer has done it for you and is in your chainsaw's user guide.
Who Makes The Best Chainsaw In The World?
There is no consensus as to who is the best chainsaw manufacturer in the world. Every year, new chainsaw models are introduced, as chainsaws are an ever evolving technology. So, new models may not be as good as the old ones they replace
However, there are certainly a few good chainsaw manufacturers out there, some of which have a long history of manufacturing quality chainsaws, tools, and other equipment.
Then, who makes the best chainsaw in the world?
Here are some top quality chainsaw brands known around the world:
Husqvarna
Stihl
Echo
Craftsman
Black and Decker
Both Husqvarna and Stihl have long histories and are renown as being leading chainsaw producers.
What Is The Lightest Most Powerful Chainsaw?
Light chainsaws can be quite powerful and be used in place of larger chainsaws for many chainsaw tasks. The chainsaws listed below are all light chainsaws (10 pounds or less) but can still deliver power and speed equal to or greater than larger chainsaw counterparts.
Here are a few lightweight and powerful chainsaws:
Black & Decker LC1020 – 7 lbs.
Husqvarna 440E – 10 lbs.
Remington RM1425 – 6.25 lbs.
Greenworks 20312 (battery powered) – 10 lbs.
What Size Trees Can Chainsaws Cut?
Chainsaws can cut a wide range of tree sizes. However, this depends on the bar and chain length and the strength of the motor.
A larger tree will also tend to wear the chain out faster, especially if a person uses a small chainsaw to attempt to cut a large tree trunk. However, even small chainsaws can cut large trees when used a certain way and with enough patience.
What Is The Biggest Tree A Chainsaw Can Cut?
Chainsaws can cut very large trees, but what is the biggest a person can cut with a chainsaw?
The smallest tree a chainsaw can cut is a sapling with a trunk measuring just an inch or two. The largest trees a chainsaw can cut can be greater than 40 inches in diameter, but may require a professional chainsaw to do so.
A chainsaw can only cut so big before it has trouble getting though the wood because of its size. Large gas powered chainsaws used in forestry and logging can cut some very big trees quickly.
An example of a professional chainsaw used in forestry management to cut large trees is the Husqvarna 3120XP.
How Big Of A Tree Can A 20 Inch Chainsaw Cut?
A gas-powered chainsaw with a bar length of 20 inches can cut large hardwood tree trunks that are 30 – 36 inches in diameter.
What Is A Good Size Chainsaw For A Homeowner?
Homeowners usually have smaller cutting requirements for their chainsaws. These include clearing fallen tree branches after a storm, and cutting small trees and saplings down to make way for new planting.
Most chainsaws on the market are gas-powered. The homeowners chainsaw should be light enough to operate with one hand, yet powerful enough to cut through tree branches up to 10 inches in diameter. A chainsaw's size is usually determined by its horsepower (HP), which refers to the power of the engine.
Today's homeowners have many options for chainsaws, and new electric models can do a great job. But it is always important to stay safe and wear protective gear, such as gloves and safety glasses whenever you use a chainsaw.