X-acto knives safety standards exist to make sure all knives are up to the right performance and safety levels. There are several safety organizations that cover knives which we discuss here.
Are X-Acto Knives Legal?
X-acto knives are legal to own and carry in most if not all states. However, if an assault or crime takes place using an exacto knife as a weapon, then it will be treated as a deadly weapon by the legal authorities.
Knife laws vary from state to state, so make sure to check which knives your state allow to own and carry.
Can You Buy an Xacto Knife When 'Underage'?
If you are under 18 years of age, you may need a relative or friend who is an adult to purchase an X-acto knife for you. This is not necessarily due to state laws (which vary) as each store may have its own age policy for buying knives.
You may also not be able to just pick up the knives off the shelf. X-acto knives could be stored behind locked glass and require store assistance to open it. Buying X-acto knives online may be easier and not require age verification.
Bringing X-Acto Knives On Airplanes
The United States Transportation Security Administration (TSA) does not allow the carry-on of X-acto knives on airplanes. Passengers can store their X-acto knives in stored luggage that is checked in. If the TSA agent finds an exacto knife or blade on carry-on luggage, it most likely will be confiscated before allowing you to board that particular flight.
The TSA allows certain knives and other sharp items in checked bags only.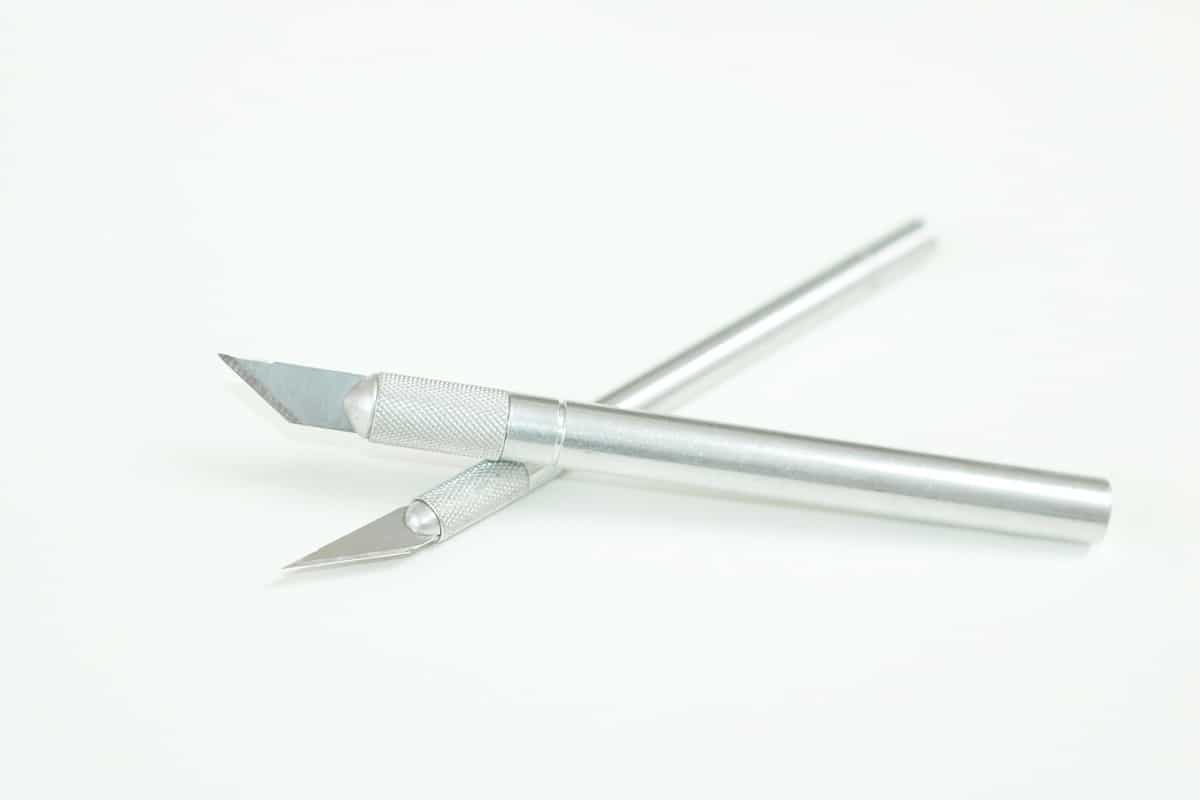 American Knife and Tool Institute
The American Knife and Tool Institute has a knife standards section you can view that covers protocols for measuring knife blade length, approved knife definitions, and closure mechanisms. These may not directly relate to X-acto knives, however.
Proposition 65
The Safe Drinking Water and Toxic Enforcement Act of 1986, or Prop 65, is passed to protect California citizens from chemicals in consumer products and requires warning labels and notices to be attached to the packaging. Knife manufacturers must follow this guideline and list all the chemicals their products contain so the consumer can read them. There are monetary penalties for any company that does not provide consumers with this information.
Failure to Warn
Dangerous products, such as X-acto knives must have labels that clearly state that they are dangerous for the and be visible to consumers. If the knife does not have an adequate warning label can lead to prosecution for a failure to warn and the company could be held liable and possibly face monetary consequences. This A product must have warning label(s) if:
It is a dangerous product (such as knives). 
The manufacturer knows of the danger.
Normal use of the product is dangerous.
A non-apparent danger exists for the user.  
Parties held liable for not providing adequate warning labels could be one or both of the manufacturer and retailer that sold the knife.
The Food and Drug Administration (FDA)
According to the FDA, X-acto knives do not fall under the Federal, Food, Drug, and Cosmetic Act as medical devices, unless they are used to alter the body or treat a disease. If not used for a medical purpose, they are not considered devices.
The Occupation Safety and Health Administration (OSHA)
OSHA provides free posters for employers to warn their employees of safety risks in the workplace. It informs workers of their rights according to the Occupations Safety and Health Act. This is a required poster to be displayed in all workplaces. If X-acto knives are used in the workplace, this poster is especially appropriate.
When using X-acto knives in a workplace setting, make sure your employer is following the OSHA employer requirements.
X-acto knives can easily cause injuries on the job and it is necessary to keep records of these injuries in the workplace. However, if it is a small business with 10 or fewer employees or is in a low-hazard industry, these records are not required.
Keep records of work-related injuries and illnesses. (Note: Employers with 10 or fewer employees and employers in certain low-hazard industries are exempt from this requirement. A helpful way to determine the risks of injury in your workplace is to use the OSHA Hazard Identification Training Tool.
OSHA Hand Protection Requirements for X-Acto Knives in the Workplace
The OSHA code 1910.138 – Hand Protection requires employers to provide adequate hand protection to workers exposed to skin hazards such as cuts, lacerations, or punctures from X-acto knives. These hand protections must meet the present conditions and cutting tasks to be performed.
OSHA provides a set of training requirements for employers in regards to injury and illness prevention and safety practices for the workplace.
Safety and performance standards exist for Exacto knives to make sure the user is warned of the hazards while cutting with them. These are for normal consumers of X-acto knives for home use or workers on job sites. Always make sure to follow the proper safe operating procedures when using X-acto knives, regardless of which materials you are cutting.
Recommended X-acto Knives
X-Acto No 1 Precision Knife, Z-Series, Craft Knife, with Safety Cap, #11 Fine Point Blade, Easy-Change Blade System
X-Acto Retract-A-Blade No. 1 Knife
ELMERS X-Acto X3000 Knife with Cap
For more information, see our post How to Use an X-acto Knife Safely.