Box cutters and utility knives are common cutting tools that offer users a strong and sharp blade that can quickly cut through thick materials. But are these two knives the same, or are they different? Find out below.
Box Cutters Vs Utility Knives
The terms "box cutters" and "utility knife" are often interchangeable. Box cutters are listed as utility knives along and as box cutters online. Utility knives can also include regular folding knives with serrated blades which also make them useful for box cutting.
Utility knives can include small, very sharp crafts knives (such as X-Acto knives) for crafts and model-making that favor precise cutting and control. The blades on these small utility knives are best used for cutting very thin materials and are not necessarily the usual go-to knives for box cutting.
Box cutters, on the other hand, are specifically designed to open boxes and cut thicker materials in and around the home, garage, and industrial facilities.
One big difference between them is utility Knives have blades that usually fold, whereas box cutters have blades that retract.
What Can Utility Knives Cut?
Utility knives are named "utility" because of their broad functionality and rugged construction. They can cut a wide range of materials, including:
Cardboard
Wood
Tape
Plastic
Rubber
Foam
Thin metal (wire, plates, mesh)
Meat
Bone
The materials utility knives can cut is not limited to this list. That is why they are such useful cutting tools.
What Are Utility Knives Used For?
Utility knives can be used for a variety of purposes, including:
Cutting wire
Cutting tape
Opening boxes
Cutting foam roll
Trimming wood and plastic
Cutting paper
Utility knives are often used in the construction trades (plumbing, electrician, home builders, etc.) as a general purpuse cutting tool.
Useful Utility Knives
HORUSDY 4-Pack Box Cutter Utility Knife, Heavy Duty Aluminum Shell Retractable
Stanley 10-099 6 in Classic 99 Retractable Utility Knife
Milwaukee Electric Tool 48-22-1902 Fastback Knife
What Are Box Cutters?
When looking for the right tool to cut the materials you are working with, you may not know if box cutters are the right ones for the job. This brings up a question, what are box cutters anyway?
Box cutters are used for cutting various materials and are also known as Stanley knives, safety knives, carpet knives, hook knives, utility knives, and pen knives.
What Are Box Cutters Made Of?
Box cutters are made of various materials, each one connected to a part or feature. These include:
High-density molded plastic
Nylon
Aluminum die-cast
Stainless Steel
TPR (Thermoplastic Rubber)
Titanium alloy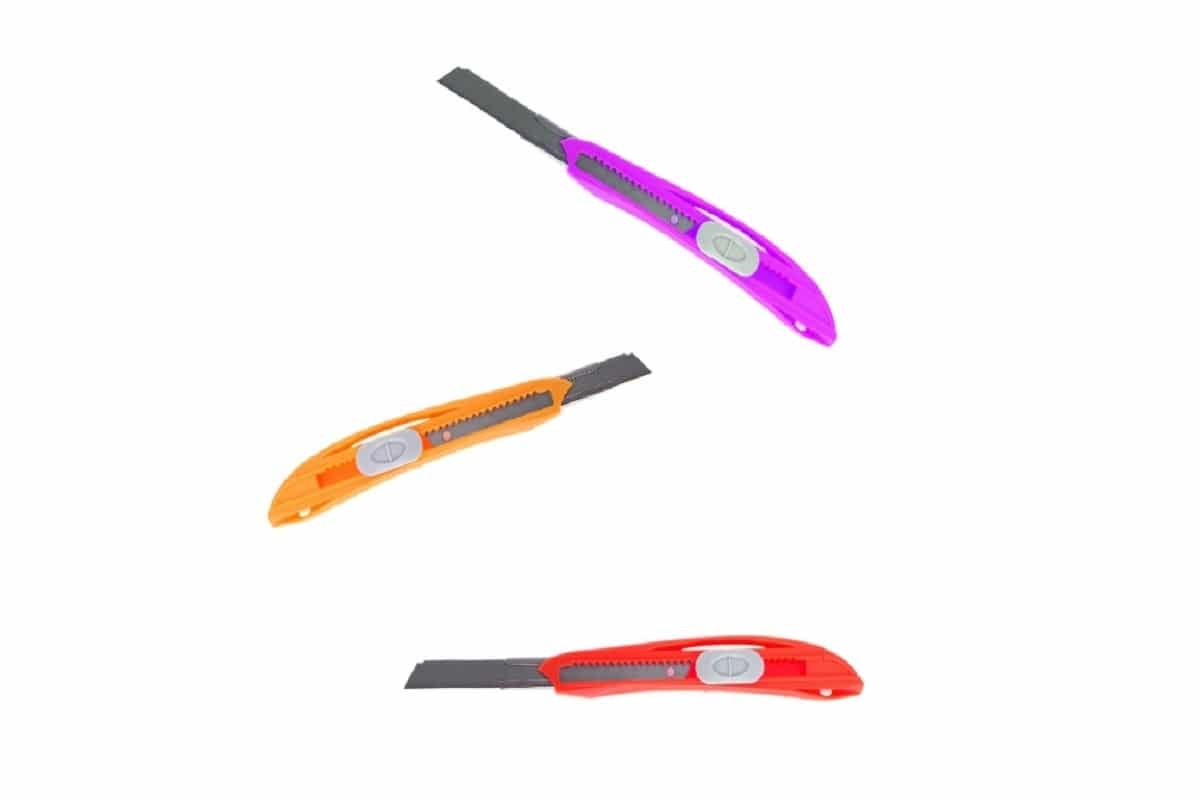 TPR handles are often included to ensure slip resistance while being comfortable and lightweight.
Different Types Of Box Cutters
Box cutters come in different shapes, sizes, colors, and blade sizes. Box cutters can also be self-retracting or fixed-blade. Very small box cutters can easily slip into your pocket and are good for small cutting projects, such as wires, thin cardboard, or plastic wrapping.
They typically contain only one blade. There are also larger, heavier-duty box cutters that are better for serious projects. They may contain more than one blade, which makes it very easy to switch the blade when you need to.
Outdoor Utility knives can be used in place of box cutters. These typically include fixed, sturdy, and long blades. These often range from 4–6 in length and are made tough enough to resist breaking during outdoor activities. You can find these at online and brick-and-mortar hunting stores.
Key Features Of Box Cutters
Box cutters come with additional features depending on the type, style, and manufacturer. These can include:
Rubberized non-slip finish
Built-in magnet
Keyhole ring
TPR handle
Lock button
Ergonomic grip
Side slider for blade extension
Top slider for blade extension
Belt clip
Enclosed blade after retraction
Replaceable head
Cutting depth guide
Sizes Of Box Cutters
Box cutters come in several sizes, and much depends on the type of box cutter they are. Sizes include:
Mini (finger-sized)
Small (pen-sized, etc.)
Large (heavy-duty)
The length and width of box cutters vary depending on their type, purpose, and any extra features. These usually range from 4 – 8 inches long x 1 -2 inches wide x 0.5 – 2 inches in height.
Box Cutter Weight Ranges
Box cutters are a very lightweight cutting tool. They have weight ranges depending on the type of box cutter you purchase. These range from 3 ounces to 12 ounces each. Extra materials and features will add weight to the box cutter.
Different materials will weigh more or less than others. For instance, titanium, aluminum, and nylon weigh less than steel. In fact, the heaviest box cutters are the heavy-duty steel retractable ones you can find at any hardware store.
The shape of the box cutters and any holes or cutouts in the material can also affect the weight.
It is important to consider the weight of the box cutters because over a long day's work, this extra weight may affect how your hands feel.
Box Cutter Price Ranges
Box cutters are fairly inexpensive and easy to ship. The prices depend on the materials, size, and purpose. These range from $5 (basic fixed blade) to $20 (retractable, quick release).
High end titanium allow utility knives can be priced between $50 – $100 USD.
Box cutters are often sold in bulk, so prices can vary widely based on the number included in the package. For instance, you can buy disposable box cutters in packs of 100 online which can place the price of the entire order over $100 USD.
Box cutters are a common tool to have and many people own more than one. However, most people do not spend much on a single pair of box cutters and often look for the cheapest one that can simply get the job done.
What Can Box Cutters Cut?
Box cutters are a very versatile type of knife that can cut through a wide variety of materials. These include:
Scrapbook paper
Plastic packages
Carpet
Rope
Corrugated cardboard
Vinyl
Wires
Fiberglass
Wallboard
Backer board
Plastic cartons
Cloth
Leather
PVC pipe
Tape
and more…
For thicker material, such as double wall cardboard (corrugated), a heavy duty box cutter may be needed for easier cutting.
Where To Use Box Cutters
Box Cutters can also be used as artisanal craft knives, in hunting and fishing activities, as well as home improvement projects. They can be used indoors or outdoors, at home or at work.
Because of their usefulness, you can often find these in handyman's tool pouches along with hammers, screwdrivers, and wrenches.
Box cutters, however, cannot legally be used in all places. For more, see our post Are Box Cutters Legal?
Which One Is Best: Box Cutter Or Utility Knife?
Both box cutters and utility knives have overlapping applications and are both very rugged cutting instruments. One can be swapped for the other, in many cases. Some people choose one over the other without knowing the differences. They may think they are purchasing a utility knife when in fact it is a box cutter.
Box cutters are specifically made for opening boxes, but can be used as utility knives. While utility knives are made for a wide range of cutting applications and they include a variety of knife types. So, which one is best depends on what task they are used for.
To Close
Box cutters and utility knives are very similar and useful cutting tools. Regardless of which one you choose to use, make sure to be aware they are both very sharp and can cause injuries.
.