Box cutters, also called utility knives, come in a fairly wide range of styles, shapes, and sizes. Choosing the right type for your needs is not hard if you know what to look for.
Here are box cutter types:
Clamshell box cutters
Finger ring box cutters
Pen cutter
Sleeve box cutters
Snap-off utility knife
Disposable box cutters with dual end hooks
Folding Box Cutters
Hook Shaped Box Cutters
Box Cutter With Full Finger Covering
Box Cutters With Squeeze Trigger
Heavy-Duty Box Cutters
Box cutters (utility knives, Stanley knives) may have the following types of blades:
Fixed
Folding
Retractable
Replaceable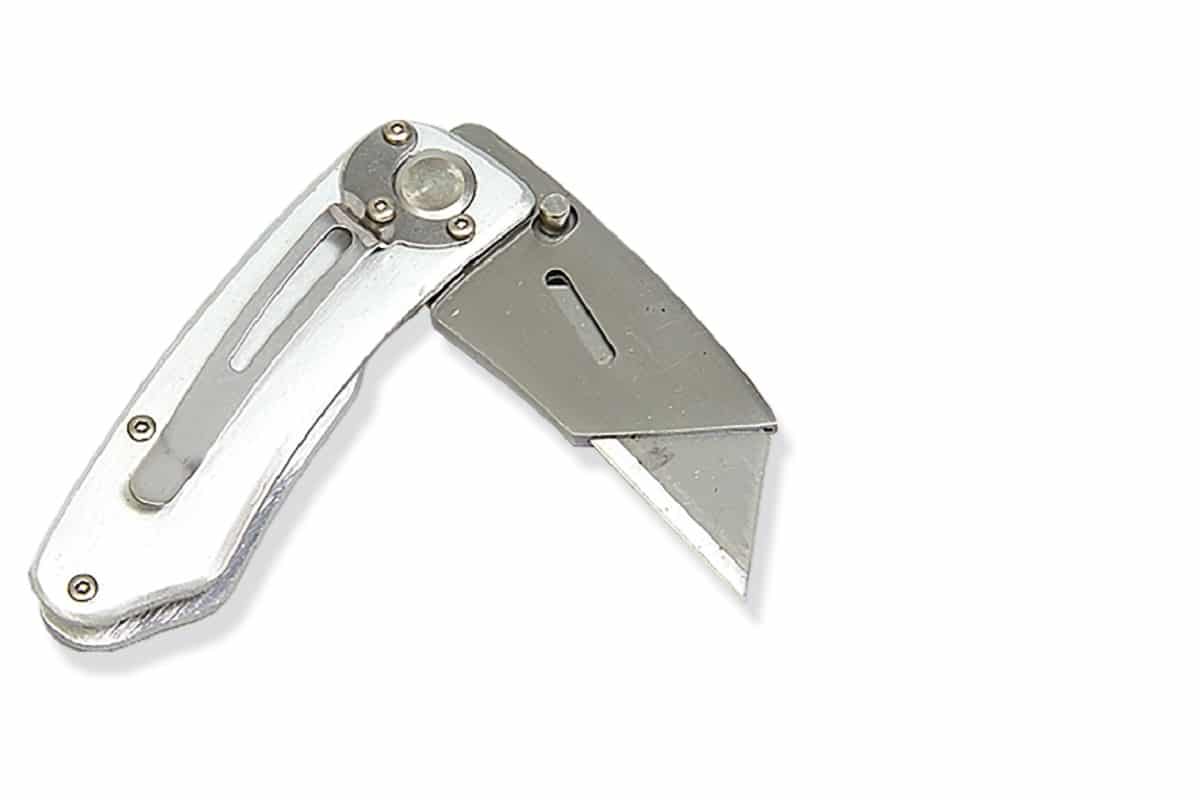 Retractable Blades
Most box cutters have retractable blades. Only crafts knives, such as X-Acto knives feature small fixed blades for precision cutting. These also include clear plastic covers to enhance safety when not in use. Box cutters will have either a top or side button slider to retract the blade. Auto-retracting box cutters will automatically withdraw the blade as soon as the slider is released and do not lock in place.
Outdoor fixed or folding blade utility knife with a 3-5 inch fixed blade can also be used as a box cutter. Utility knives designed for the construction or home repair industries usually feature a replaceable metal or ceramic blade for cutting cardboard, packaging, roof shingles, wiring, rubber hoses, scraping paint, or marking cut lines.
#1 Clamshell Box Cutters (Safety Cutters)
Clamshell box cutters are smaller than other box cutters and are designed for cutting clamshell plastic containers. They are shaped like a half-circle or oval with a flat side that has a fixed extended microblade. These can include ceramic blades, as in the case of "slice" safety cutters. These are also great for cutting:
Coupons
Photos
Scrapbooks
Construction and printer paper
These can also include keychain holes for convenience. They fit between the thumb and index finger.
Recommended Clamshell Box Cutters
Slice 10515 Mini Box Cutter, Ceramic Blade Locks Into Position, Right or Left Handed Mini Cutter
Aigela Ceramic Blade Safety Cutter, Mini Box Cutter Fits Keychain, Package Opener
#2 Finger Ring Cutter
These fit around the end of one finger with a small blade attached. They are inexpensive and have a simple design. They are mostly for those who are cutting open boxes routinely, such as in warehouses and shipping / receiving positions. The ring will fit most fingers so these have wide usage.
The curved blade is usually made from steel and is up to 1 inch in length. It can include a rounded or blunt tip for safety. You can even wear these over a pair of gloves comfortably.
These are great for times when you need both hands free to carry or lift objects.
They are also easy to lose, however, because they are small and often become hidden in surrounding parts and materials. Fortunately, they are less expensive than other box cutters.
Highly Rated Finger Ring Cutters
Handy Store Original Handy Safety Knife – 2-Pack – Utility Ring Knife for Finger
Handy Twine Knife Ring Size 14 Straight Blade Utility Finger Razor String Box Thread Cutter
#3 Pen Cutter
These resemble ink pens in shape and are great for more precision cuts. They also fit into the palm of the hand making them useful for those who want a box cutter they can grip onto. They are also ambidextrous box cutters.
Pen cutters often have auto-retracting blades, meaning once you release the top slider, the blade retracts.
Pen cutter blades protrude more than clamshell safety cutters but less than heavy-duty box cutters. These extend up to 1/2 inch and are thus best used for cutting corrugated packaging, boxes, and cardboard.
The straight pen shape makes it easy to fit next to pens, pencils, and scissors on your desk, in your trousers, or in your shirt pocket. Blades come in either stainless steel or ceramic.
#4 Sleeve Box Cutters
These are the most inexpensive box cutters but not the most ergonomic. These are composed of a simple sleeve around a rectangular handle. The blade is slid out of the sleeve to open and is disposable once the blade is worn down. These can come in boxes of 10 and be bought online or at a home improvement center. The blade is made of steel and the slip can be made of either paper, steel, or aluminum.
#5 Snap-off Utility Knife
These are called snap-off utility knives because a piece of the segmented blade snaps, or breaks off when it becomes dull. This leaves the remaining blade piece with a fresh edge for cutting. There is also a side or top slider you press that locks in place to extend the blade. You only need to replace the segmented blade when it runs out or pieces entirely.
#6 Disposable Box Cutters With Dual End Hooks
These cutters have a basic razor blade encased in a plastic covering on the end of an ergonomic handle. These are disposable and not meant for a blade replacement. Once the blade becomes worn down, the entire cutter is thrown away or recycled. The end hooks allow for pulling the cutter towards the user.
These can be used to cut string, tape, paper, and card board. Once one side of the blade is worn down, just flip the cutter over and use the other side.
#7 Folding Box Cutters
These resemble pocket knives but instead of a regular knife blade, they have a box cutter blade folded inside them. The grip also serves as a protective covering for the blade when folded. They can also include other tools such as screwdriver tips. These are a sort of swiss army knife type of box cutters that are multi-purpose. They are very compact and fit nicely inside a toolbag or pocket.
#8 Hook Shaped Box Cutters
Hook-shaped box cutters look like a big hook with one end open to slide fingers through. There is a sliding button on the top to retract the blade. These also have a flat edge on the handle that rests against the cardboard or material while you slide it. You press down on the cutters and pull towards you as you cut. An example of a hook box cutter is the "Slice Ceramic Box Cutter."
#9 Box Cutter With Full Finger Covering
These have a unique shape where the handle has a large covering to fit fingers through for better control and safety. They also include a fully retracting lock-in blade and blade storage built into the handle. These are heavy-duty box cutters that use two-sided steel blades. They have a TPR rubber grip handle that when combined with the covering makes these box cutters very slip and drop resistant. An example of this type of box cutter is the Home planet gear full finger covering box cutters.
#10 Box Cutters With Squeeze Trigger
The squeeze trigger system on these box cutters allows for extending the blade and retracting it automatically once the grip is released. These are a very safe and sturdy utility knife with an auto-retracting blade. There is a side button on the front end that releases the blade for replacement. A side depth button slider locks into place and keeps the blade extended up to one of 3 lengths once the trigger grip is squeezed. These box cutters are great all-around utility knives, especially for cutting corrugated cardboard. An example of this type of box cutter is the Nova Squeeze Trigger Knife.
#11 Heavy-Duty Box Cutters
These have blades that are fully enclosed inside the rigid metal construction. You can find these at any hardware store and are great for cutting all sorts of materials, such as thick cardboard, drywall, rope, etc.
A downside of this type is in changing the blades which must be done once the blade is worn down or breaks. A plus to this type is they are larger and easier to find around the shop and are very useful for cutting all sorts of materials. This type also looks generic and somewhat non-stylish in comparison to other types such as folding box cutters.
Safety Box Cutters Prevent Injuries
Safety box cutters with injury-preventing designs will decrease the chance of injury for the users. Consider which materials you plan on cutting, how and how you intend to hold and store the box cutters when making your purchase. Another consideration is how you intend to replace the blades once they are worn down. Using the right box cutters is half the task of using them safely.
For more information, see our post How Do You Use Box Cutters?