Bicycle helmets and hard hats both serve to protect the head from both minor and serious injuries. But are they really very similar? Find out in this post.
What Is a Bicycle Helmet?
A bicycle helmet is a kind of protective helmet specially designed to prevent head injuries in serious falls or impacts while riding a bicycle. Bicycle accidents can cause serious damage to the head and body, such as cuts, scrapes, concussions, jaw and teeth damage, and even partial paralysis.
Bicycle helmets are made from specialized foam to absorb forces of impact to minimize trauma on the brain and spinal cord. They are also designed to not interfere with the peripheral vision of the wearer while riding a bicycle. Bicycle helmets should fit well and be comfortable, and should not be too tight or loose as this can cause unnecessary discomfort to the rider.
What is a Hard Hat?
A hard hat, or construction helmet, is a form of head protection for workers on construction, building, and utility job sites to prevent major injuries from falling objects and side impacts. Many are designed to be general-purpose, while others offer special designs and components. Hard hats come in different colors depending on their intended use.
Additional capabilities include UV radiation, heat, and electrical hazard protection. Hard hat safety standards require the hat to be sturdy enough to withstand any impact without breaking, but it also needs to be lightweight enough so that you can wear it easily without it becoming uncomfortably heavy.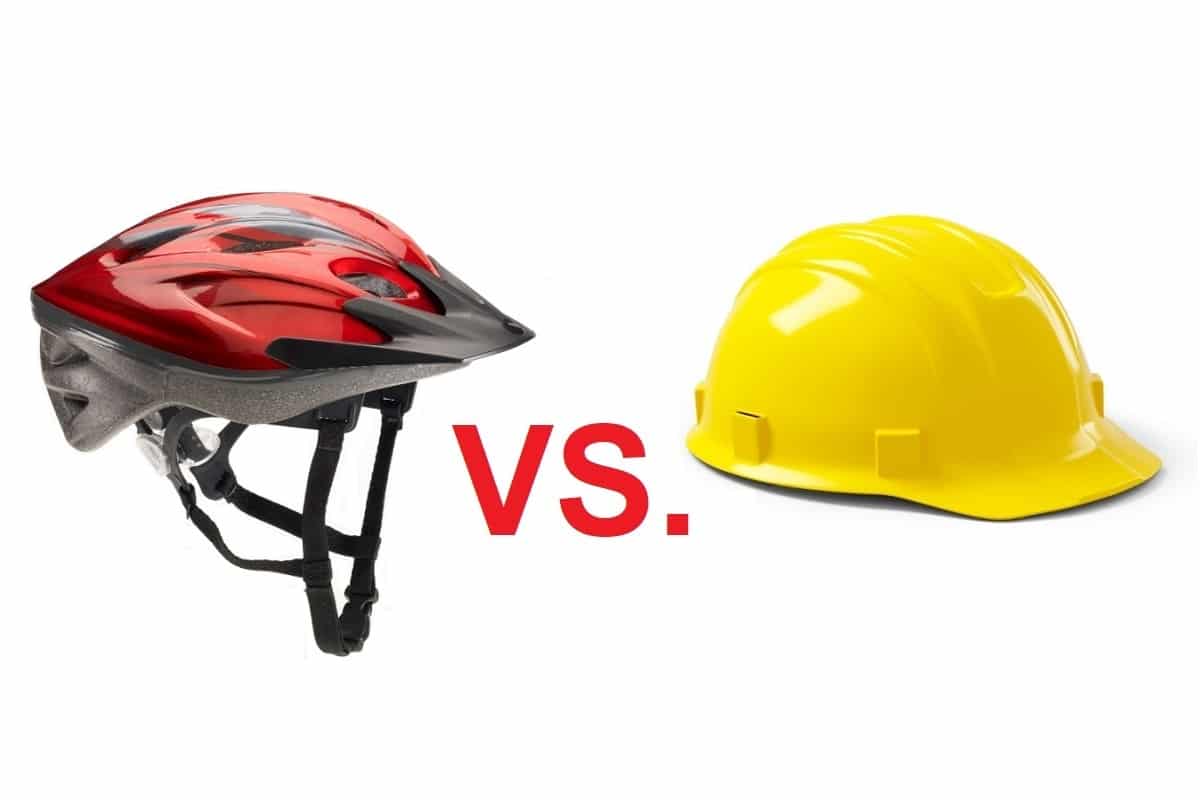 What Are Bike Helmets Made Of?
Materials Used In Bicycle Helmets
Bike helmets use a variety of materials, with a few only used on certain parts. For example, the shell is the outermost part of a helmet and takes the full force of an impact in a bicycle accident. This is perhaps the most important part of the helmet and greatly contributes to your helmet's shape, weight, and price. The entire helmet can be made from various materials, including:
Fiberglass
Polycarbonate
Carbon fiber
Kevlar or Aramid
ABS Acrylonitrile Butadiene Styrene
Honeycomb
Nylon
Polypropylene
PET plastic
EPP and EPS foam
Bicycle Helmet Components
Removable inner comfort Liner with moisture wick
Cheek pads
Vents
Retention or closure system
Rear or side ratchet for size adjustment
Chinstrap
LED light w/ adjustment dial (optional)
Detachable visor
Multi-Directional Impact Protection System (MIPS)
Helmet vents allow airflow through the helmet while the rider is wearing it. They are typically found on nearly every part of a bicycle helmet, including the chin bar, over the brow, and at the back and top of the helmet.
Here are some highly rated bicycle helmets to check out:
Schwinn Thrasher Adult Bike Helmet
Giro Fixture MIPS Adult Mountain Biking Helmet
Schwinn Thrasher Children's Lightweight Bike Helmet
As an Amazon Associate, SelectSafety earns commissions from qualifying purchases made through links in this post.
Components of Hard Hats
Hard hats are made of a variety of materials and include additional components such as chin straps, headlamps, and size adjusting knobs. For more information, see our post Types of Construction Helmets.
Hard Hats vs. Bicycle Helmets
Similarities
Both hard hats and bicycle helmets are designed to prevent injury to the head from both side and top impacts. Both are also made to fit comfortably and to be lightweight. They both also usually include sweat and moisture-wicking liners and the outer shells are made of similar materials and coatings, such as from carbon fiber composites.
Differences
There are significant differences between hard hats and bicycle helmets. Class G and E construction helmets are designed to prevent electrical currents from causing injury. Hard hats are also made to prevent injury to the top of the head from falling objects and debris. Bicycle helmets are meant to cushion the head from general shocks and twists typical of a road bike or mountain bike crash.
Hard Hats Must Be OSHA, ANSI, ISEA or CSA Rated
Bicycle helmets are not safety rated by ANSI, OSHA, ISEA or CSA to be worn in dangerous work environments where heat, electrical hazards, or falling objects are present. Hard hats must meet these requirements to be allowed on jobsites ranging from:
Electrical work
Mining operations
Engineering inspections
Architecture
Well digging
Power plants construction and operations
Bridge building and repair
Roadway construction
For more information, see our post Hard Hat Standards.
Bicycle helmets, however, or primarily made to protect the head during a fall or impact while riding a bicycle at speed. Bicycle helmets also use more hard foam padding material in the shell than hard hats and also have openings on the top for airflow and moisture removal. Bicycle helmets are also designed to be aerodynamic and to not cause drag that could slow down the rider.
Bicycle helmets are ideal if you are going cycling on busy roadways or bike paths and you often find yourself coming upon pedestrians, other cyclists, or worse drivers. However, as hard hats are not designed to be worn while riding bikes or motorcycles, they will offer less protection than a bicycle helmet and should not be relied upon to provide full protection for your head.
Can a Bicycle Helmet Be Used in Place of a Hard Hat?
A bicycle helmet is not designed to replace a hard hat for use on any type of construction site. They are not ANSI rated for impacts or electrical hazards. A hard hat may serve to protect the head while riding a bike but may not stay positioned on the head at high speed and could shift during an impact. So both hard hats and bicycle helmets should be worn only in their respective fields of activity. If you do not have access to the right helmet for the task you are doing, then it is a good idea to delay it until you can get the right head protection.
Prices of Bicycle Helmets vs. Hard Hats
The prices of hard hats are similar to those of bicycle helmets. Low-end general-purpose hard hats usually start ~$10, while low-end bike helmets start ~$20. Both higher-end and specialized hard hats and bicycle helmets can go upwards of ~$200 each.
If you need a hat because you work in a job where you need a protective visor you will likely spend a little more than if you were just buying a hat for general protection. Similarly, if you want a bike helmet from a fashionable brand or comes with an additional headlamp or other accessories, you could be spending more on it.
To Recap…
There is a wide variety of choices when it comes to hard hats and bicycle helmets.  Both are essential, but which one is going to protect you the best throughout an accident? These are all great questions and the answer really lies within your personal requirements and how much protection you need. Make sure to buy only bicycle helmets and hard hats that maximize your head protection and meets any necessary safety requirements.
NEXT UP: Safety Helmets Vs. Hard Hats