Many people have heard of hazmat suits and Tyvek suits but do not know how they may be related. Both are specialized PPE that share common uses, along with certain differences. Find out more below.
Is a Tyvek Suit a Hazmat Suit?
Yes, a Tyvek suit is generally the same as a hazmat suit. However, a Tyvek suit is not a level A suit, but rather a lower level D or C suit. Tyvek suits offer protection from sprays, droplets, paints, lubricants, oil, and chemicals.
In most instances, Tyvek and hazmat are interchangeable terms.
What Are Tyvek Suits Used For?
Tyvek suits can be used for the following:
Manufacturing
Agricultural work
Cleanrooms
Pharmaceutical processing
Wastewater treatment
Recommended Tyvek Suit
Tyvek Disposable Suit by Dupont with Elastic Wrists, Ankles and Hood
Tyvek Suit Vs. Hazmat Suit
Tyvek suits and hazmat suits from othe manufacturers are nearly identitical in their useage and performance levels. However, hazmat suits range in level from D to A, with A being a full-body completely enclosed suit with a breathing apparatus. Tyvek suits are only single-use protective garments that prevent splashes from getting on the skin.
Similarities:
Tyvek and hazmat suits can both get hot inside when worn.
Both tyvek and hazmat suits can be single-use.
Tyvek and hazmat suits use similar materials in their construction.
Both tyvek and hazmat suits are similarly priced.
Both tyvek and hazmat suits can include additional components, such as respirators, gloves, and booties.
Differences:
Tyvek is a lower level hazmat suit (D, C, B)
Hazmat suits go all the way up to level A
Hazmat suits can be re-used, after being cleaned, disinfected and stored.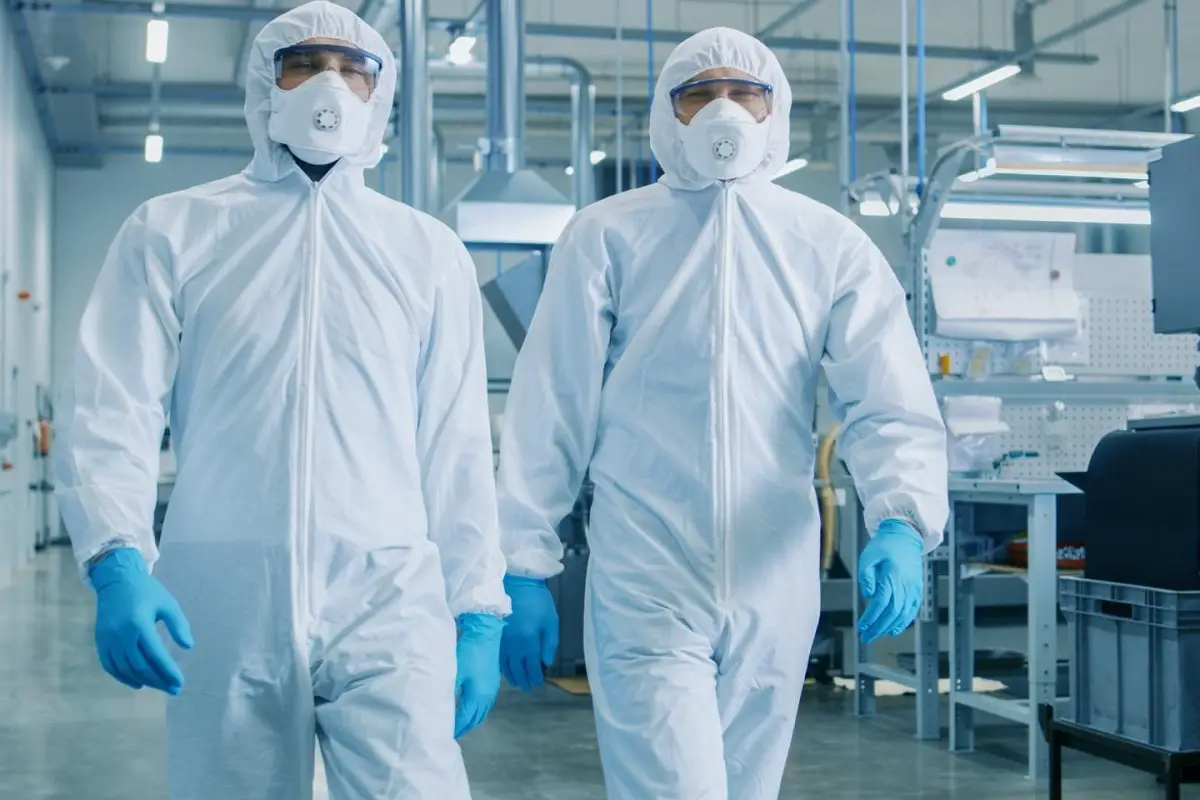 Tyvek Suit Materials
Tyvek suits are made of a high density polyethylene material formed through a unique process created by Dupont. Tyvek suits are made to be lightweight, flexible, but also strong enough to take some punishment. However, the material depends on which type of tyvek suit is being worn.
Hazmat Suit Vs. Tyvek Suit Cost
Disposable Tyvek suits and hazmat suits are not very expensives and are often sold in packs.
Tyvek chemical resistant, single-use suits cost between $9 -$20.
Single-use (disposable) hazmat suits also cost between $9-$20.
Reusable hazmat suits cost $9 and go upwards from there.
A fully enclosed level A hazmat suit can cost between $100 to well above $1000.
Prices for the higher level hazmat suits is one big difference between tyvek suits.
Tyvek Vs. Tychem
Tyvek suits are a lower class hazmat suit type than a tychem suit. Tychem suits are made for protection against chemical and biological dangerous. Tychem suits fall in the higher hazmat protection categories of A and B.
Tychem suits use a similar material to tyvek, both made by Dupont. However, tychem suits have additional polyethylene coatings. Newer tychem suits may also have additional material modifications to enhance their performance.
Recommended Tychem Suits
DuPont Tychem 2000 QC122S Disposable Chemical Resistant Coverall with Hood
Dupont Tychem F SafeSPEC Coverall TF169TGY with Respirator Fit Hood, Elastic Wrists, Attached Boots, Taped Seam
Who Makes Tyvek Suits?
Tyvek is a brand of PPE clothing that is made by the Dupont company, a firm well-known for its production of textiles and chemical products. It is separated from other protective suits by the type of polyethylene material it is made of. In fact, the Tyvek material has become commonly used in other applications, such as building wrap on construction sites due to its waterproof, and tear-resistant capabilities.
If you're researching hazmat suits check out our in-depth Essential Hazmat Suit Buying Guide here >
To Close
The hazmat material is a more advanced version of Tyvek which makes it a bit harder to penetrate.
In the hazmat suit vs Tyvek suit debate, hazmat wins. The hazmat suit is a proven winner when it comes to hazardous materials containment and protection due to the high levels of protection it offers.
However, high level hazmat suits are much more expensive than Tyvek suits.
However, Tyvek suits have their benefits. Make sure to decide which level of protection you require before purchasing a specific hazmat suit or Tyvek suit.
UP NEXT: Are HAZMAT Suits Waterproof?