Hazmat suits were created to help protect workers in contaminated environments. We describe the different hazmat suit levels for different applications in this article.
Hazmat suits are classified into four levels:
Level A
Level B
Level C
Level D
What is a Hazmat Suit?
A hazmat suit is a type of garment that is designed to protect the whole body of the wearer from hazardous materials or substances. This includes protecting the wearer from chemicals, biological agents, and radioactive materials.
HAZMAT stands for Hazardous Material. This suit is a form of Personal Protective Equipment (PPE). The protection level of the suits varies with the task and the level of risk involved.
Hazmat suits are designed to make sure that the wearer will not come into direct contact with or inhale any dangerous gases, organisms, or other substances. 
The protection level of the suits ranges from the most protective level (A) to the least protective level (D). The level of protection is assigned on the basis of the severity of the substances encountered.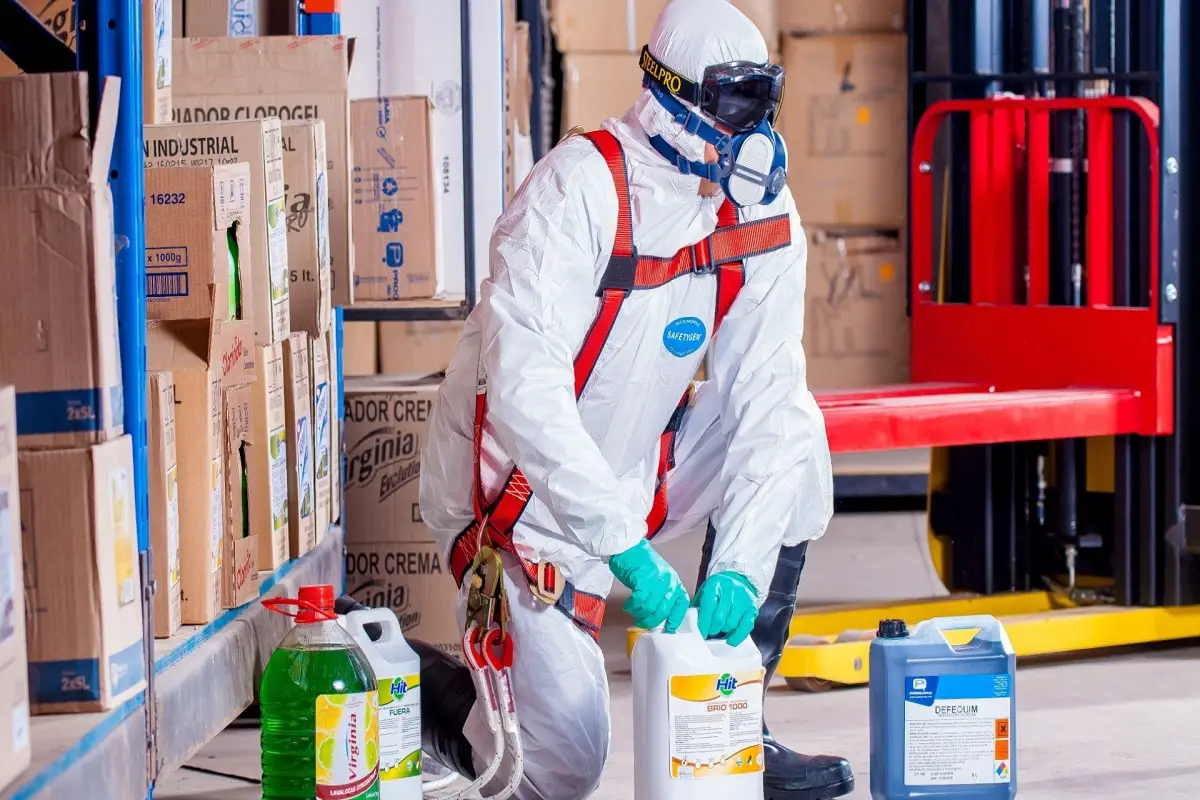 If you're researching hazmat suits to make a potential purchase, we highly recommend checking out our Essential Hazmat Suit Buying Guide.
Hazmat Suit Levels
Working in industrial zones, construction sites, and waste areas means employee health could be at risk from dangerous chemicals and particles. Hazmat suit levels are designed to protect against specific conditions and dangers.
Level A
This is the highest level of protection. This suit is designed to protect the user from gases, vapors, mist, particles, and splashes. This suit is enclosed with a positive pressure Self-contained Breathing Apparatus (SCBA). It also contains a two-way radio inside.
A Level A hazmat suit ensures the highest protection of the respiratory system, mucous membranes, skin, and eyes. This suit also includes chemical-resistant special boots with steel toes and chemical resistant gloves.
Level B
This suit is not air-tight. It is designed to protect the wearer from splashes of hazardous chemicals.
Level B hazmat suits provide the highest protection to the respiratory system, but lesser protection to the skin and eyes. It includes a positive-pressure, Self-Contained Breathing Apparatus (SCBA). It also has chemical resistant gloves and boots with steel toes.
Level B suits provide initial minimum onsite protection until all hazards have been identified and defined by reliable methods of analysis. 
Level C
Level C hazmat suits are worn when hazardous chemicals and airborne substances are known, fulfill the criteria for using air-purifying respirators, and their concentrations are measured.
These suits include a full face mask, air-purifier, chemical resistant boots with steel toes, chemical resistant gloves and disposable coveralls.
Level C hazmat suits are most appropriate during the decontamination process of victims suffering from chemical contamination. However, this type of suit is not to be used during a chemical emergency situation.
Level D
This level offers the lowest level of protection. Level D hazmat suits do not protect the wearer from chemical exposures. This is a normal work uniform that has no respiratory protection. It may only be used in situations when the wearer has no chance of direct contact with chemicals.
Level D hazmat suits consist of coveralls, chemical-resistant shoes with steel toes, chemical splash-proof goggles, and a face shield. 
European Hazmat Suit Levels
In Europe, hazmat suits are classified into 6 types:
For protection against gaseous and liquid chemicals. Equivalent to Level A.
To protect against gaseous and liquid chemicals, but Non-gas tight. Resembles Level B protection.
Liquid-tight and used for protection against liquid chemical for a certain time. 
Protects against liquid chemical spray for a limited period. Resembles Level C protection.
It partially covers the body and protects from liquid chemicals for a limited time period. Resembles level D protection.
It provides protection of various body parts from liquid chemicals.
UP NEXT: What Is a HAZMAT Suit?
Hazmat Suit Levels are Critical for Personal Protection
There are different levels of hazmat suits available for wearers. Each level is designed for certain situations and hazards. Knowing the correct hazmat suit level for each of your workers jobs is key to keeping them safe in dangerous environments.