You can protect yourself and your loved ones from contracting and spreading the Novel Wuhan Coronavirus (2019-nCoV or COVID-19) by wearing the right level of hazmat suit and accessories.
We describe the protective personal equipment you need and some purchase options below.
What You Need for Coronavirus Protection
To fully protect yourself from infection or transmission of Cornavirus requires a full-body hazmat suit and these accessories:
Respirator
Hazmat suit coveralls
Antiviral hand cleanser / sanitizer
Gloves
Boot covers
Protective goggles
Hazmat Suit (Cat III Type 3/4 Level C Coveralls)
The first major component is a coverall hazmat suit. This must be a Category III, Type 3 or 4, Level C disposable hazmat suit. It includes a built-in hood designed to fit a respirator, zipper closure, and wrist, face and ankle seals.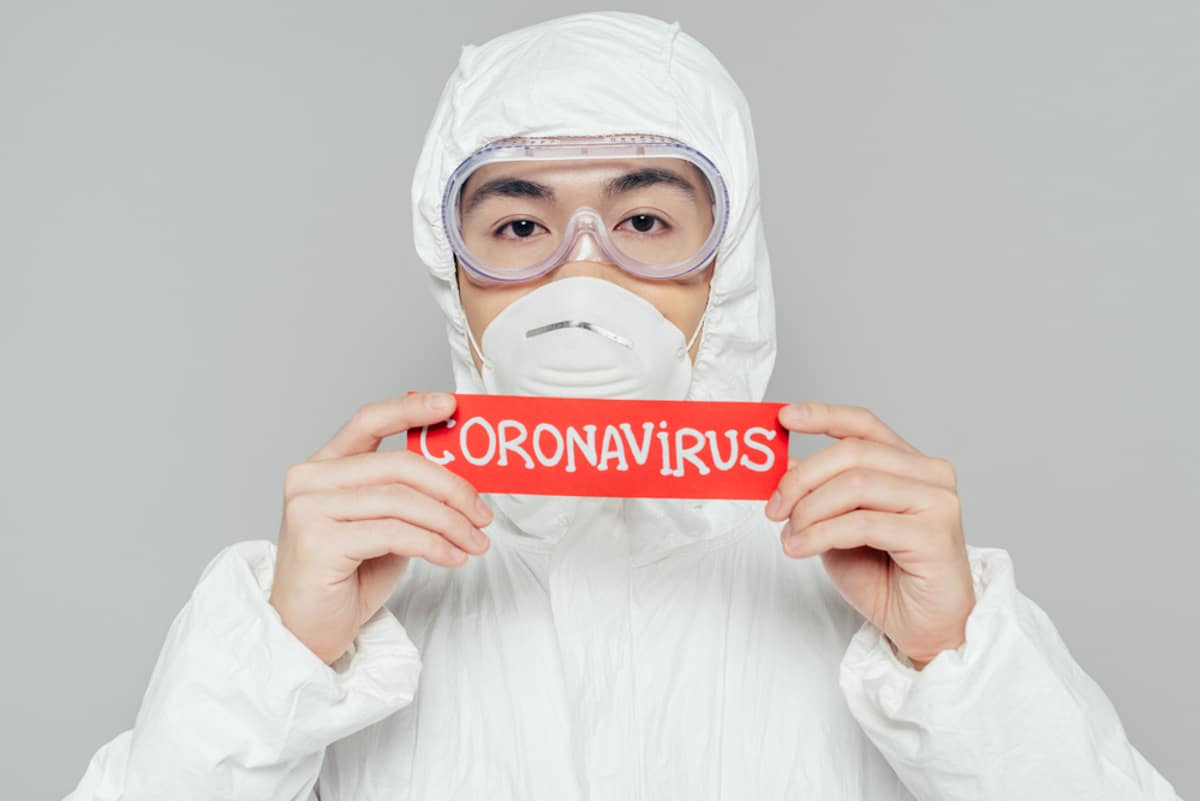 The hazmat suit must meet the ATSM virus test standards (see below) to get the ultimate protection from coronavirus. It must be impermeable to viruses and resistant to wear, punctures and tearing. Lower protection level Type 5/6 and Level D suits do not meet these standards and can capture and spread the Coronavirus in their porous textile fibers.
As an Amazon Associate, SelectSafety earns commissions from qualifying purchases made through links in this post.
Here are two highly-rated hazmat suits to select from that provide good coronavirus protection:
NOTE: Coronavirus protection does not generally require a fully-encapsulated Level A pressurized BSL-4 CDC hazmat suit with SCBA breathing apparatus (aka "moon suit"). BSL-4 / Level A type suits are designed to protect against highly toxic chemicals and microbes that pose an extreme risk of death such as nerve gas or the Ebola virus. BSL-3 suits are equivalent to Category III, Type 3 or 4, Level C suits above and are appropriate for Coronavirus protection.
Respirator (N95 or P100)
A NIOSH-approved N95 or P100 Filtering Facepiece Respirator (FFR) is required to prevent inhalation of the COVID-19 virus.
A "canister" or "drop down" N95 or P100 respirator is highly effective at filtering out tiny particles. Compared to disposable masks, these can be worn repeatedly for long periods of time without changing filters.
Surgical masks may provides some protection but are not 100% sufficient because they are only designed to prevent the wearer contaminating the environment by filtering exhaled air.
It is essential that the respirator fits tightly to the face to prevent air leaks. Facial hair must be shaved before wearing the respirator to ensure a good seal. Always test fit the respirator before knowingly exposing yourself to somebody suspected of having Coronavirus.
Antiviral Hand Sanitizer
According to the CDC either washing with soap and warm water or applying 60%-95% alcohol-based hand sanitizer (ABHS) regularly is necessary to remove Coronavirus from the hands.
Disposable Gloves
Nitrile or latex disposable medical gloves will help keep your hands free of Coronavirus contamination. You can add protection by taping the tops of the gloves to the wrists of your hazmat suit.
Always dispose of your gloves by turning them inside out while pulling them off, and put them in a sealed container.
Boot Covers (Tyvek or similar material)
If your hazmat suit does not include Coronavirus-resistant boot or shoe covers, you will need to buy them separately. It is recommended that you duct tape the top of your boot covers to your hazmat suit legs. This seals your entire suit and keeps them from sliding down.
Protective Goggles
According to the CDC reusable eye protection goggles can help protect against Coronaviruses. Your goggles must always be cleaned and disinfected per the manufacturer's instructions before re-using them.
If you want to learn more about what to look for when buying a hazmat suit check out our Essential Hazmat Suit Buying Guide here >
How to Put On and Remove Protective Equipment Used for Coronavirus
You must put on and remove a hazmat suit and accessories correctly to prevent COVID-19 contamination.
See this easy-to-follow visual PDF guide from the CDC on how to put on and remove hazmat suits, masks, gloves and goggles.
Hazmat Suit Standards for Coronavirus Protection
ASTM F1670 and ASTM F1671 from ATSM International are the standard blood and virus penetration tests used in North America. Any personal protective equipment (PPE) used against Coronavirus infection must meet these test standards if the wearer wants the ultimate protection.
ASTM F1670 and F1671 methods are used to test for penetration of all Coronavirus types. This includes Severe Acute Respiratory Syndrome (SARS), Middle East Respiratory Syndrome (MERS) and Novel Wuhan Coranavirus (2019-nCoV aka COVID-19).
More Information on Coronavirus Protection
Below are links to resources at the U.S. Centers for Disease Control (CDC), World Health Organization (WHO) and U.S. Occupational Safety and Health Administration (OSHA), related to Novel Wuhan Coronavirus. When in doubt you should rely on advice from these trained epidemiologists and health safety experts.
CDC COVID-19 Infection Control Recommendations page
CDC NIOSH-Approved Particulate Respirators list
OSHA Training Videos for Proper Respirator Usage
Occupational Safety and Health Administration (OSHA) workplace regulations