Hazmat suits play an important role in keeping workers safe in dangerous environments. But what happens when the suit must be disposed of? Find out more below.
Are Hazmat Suits Disposable?
Yes, hazmat suits are disposable. However, this depends on the type of suit, how contaminated it is, and how it is disposed of. The biggest risk to the wearer and those that must come in contact with the suit after disposal is being affected by dangerous chemicals and particles left on the suit.
Disposing of Different Types Of Hazmat Suits
Inexpensive single-use hazmat suits with minimal additional PPE (gloves, boots) are fairly easy to dispose of. However, fully enclosed level A hazmat suits will require additional space inside a biohazard bag or container for the suit and mask, gloves, boots, and even breathing apparatus.
Disposing of higher-level hazmat suits can also place the handler at greater risk of injury due to the harsh chemicals or bacteria the suit was exposed to while wearing it. This is why it is necessary to always wear latex gloves while handling used hazmat suits, and clean them thoroughly before they are disposed of.
For more information, see our post Are Hazmat Suits Washable?
How To Dispose of a Hazmat Suit
Contaminated hazmat suits could be covered by acids, biological agents, condensed gases, or fluids that can be dangerous to the wearer. When disposing of used hazmat suits, it is important they are removed and placed in an area that cannot cause anyone harm.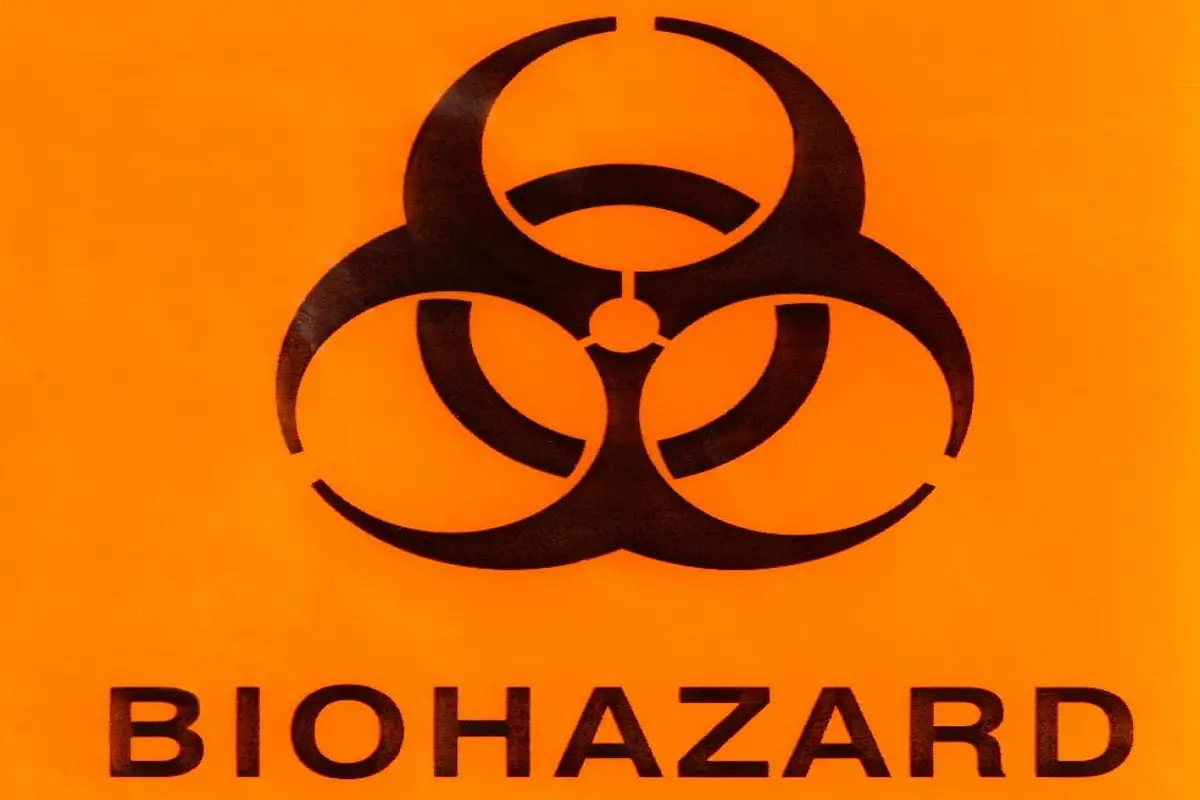 Follow these steps to dispose of a hazmat suit:
First read the manufacturer's instructions for proper hazmat suit disposal.
Do not take off the gloves and use your bare hands to remove the hazmat suit
Remove the suit following the manufacturer's guildelines. This may require the assistance of another person.
It is recommended to thoroughly wash the hazmat suit to remove any dangerous chemicals or bacteria.
Place the hazmat suit and additional PPE into a biohazard bag or container and label it of its contents.
Take of the latex gloves and place them into the bag as well.
Close the biohazard bag and take to an accepted disposal location.
Disposing of a Level A Hazmat Suit
Level A hazmat suit offers the highest level of protection for the wearer in the most chemically dangerous environments. When disposing of a level A hazmat suit, a hazmat team may be required to assist. Testing of the suit for specific contaminants will need to be done to make sure none is able to spread into the local environment.
Disposing of a Single-Use Hazmat Suit
Single-use hazmat suits are made to be worn once and then discarded. To dispose of the, follow the manufacturer's instructions on how to remove the suits safely after wearing. Then, make sure to take off the suit in a safe manner following recommended removal steps. Ensure no part of the local area or equipment is contaminated while removing and disposing of the suit.
OSHA provides and updates standards on how to clean and remove hazmat suits safely, which team members and managers should keep up to date with.
Looking for a new HAZMAT suit? Check out our our Hazmat Suits Buying Guide for some good tips on buying your next one.
Hazmat Suit Disposal Bags
Hazmat suits can be disposed of in biohazard disposal bags or containers. These are fairly inexpensive and can be purchased in different sizes and quantities.
In fact, the Environmental Protection Agency (EPA) recommends that disposable hazmat suits exposed to biological or chemical dangers (mold, bacteria, chemicals, etc.) should placed in enclosed biohazard bags, sealed, and taken to waste areas after they are removed and cleaned.
Biohazard bags should be:
Medical grade
Meet state Department of Transportation ASTM standards for use in select facilities
Fit standard biohazard containers
Have DOT approved ASTM standards printed on them
Biohazard bags are usually yellow, red, or blue in color.
Hazmat Suit Disposal Locations
Hazmat suits should be disposed of in accepted locations. These include:
Dedicated biohazard waste accumulation sites.
Licensed Biohazard disposal company facility or pickup sites.
Licensed medical waste disposal company location or pickup sites.
Local trash removal services (check your city for availability).
Health department services
Drop box collection
Household hazardous waste collection sites.
Residential special waste pick-up services.
Accepted methods for the removal of used hazmat suits will vary based on the location and services offered in that area. Local trash removal services may accept biohazard waste, but this is not guaranteed. First, check with the city or county government to see which waste removal services are available in your area.
Specially trained waste handlers may be required to pick up and handle the used hazmat suit bag for you. Certain city, state, or company programs require calling and requesting scheduled pickups.
Can You Throw a Hazmat Suit In The Garbage?
No. A used hazmat suit should not be just thrown into a garbage can. It should be first placed inside a biohazard bag and then taken to a select disposal location, as mentioned above.
Can You Recycle a Hazmat Suit?
No, it is not recommended to try and recycle a hazmat suit. This is because they are often contaminated with dangerous chemicals or substances. It is best to dispose of a used hazmat suit in a biohazard bag in a location that accepts them.
What also affects whether a hazmat suit can be recycled depends on the type of materials it is made of, some of which are difficult to recycle.
Hazmat suits are primarily made out of polymer materials and generally come in a box with a pair of gloves and boots. If not, latex gloves and rubber boots are usually worn with hazmat suits and these must also be considered when recycling or disposing of the suit.
For more information on hazmat suit materials, see our post How Are Hazmat Suits Made?
UP NEXT: Are HAZMAT Suits Reusable?
To Close
Hazmat suits serve an important purpose in protecting wearers from dangerous chemicals and environments while they do their jobs. The primary focus should always be on safety when wearing or handling hazmat suits, regardless of whether they are reusable or single-use, or how they are disposed of.