Even though it's nearly impossible to predict an arc flash, there are a few steps you can adopt to prevent an arc flash from happening on your project site.
An arc flash can release a deadly energy blast without warning that can cause severe physical harm. This makes it one of the most hazardous events any electrical worker can face. In this post, we present accepted industry guidelines for safe electrical work to help you prevent arc flashes from occurring.
Why Do Arc Flashes Occur?
Arc flashes can happen for various reasons. If electrical equipment is properly insulated, has no corrosion buildup, and is not affected by human error, then arc flashes are not likely to happen. However certain issues can cause arc flashes to occur. These include:
Dust or corrosion buildup on insulating surfaces
General insulation failure
Human error
Bee infestation
Rodents chewing on related surfaces
Birds snapping electrical connection leads
Natural Disasters
How To Prevent Arc Flashes?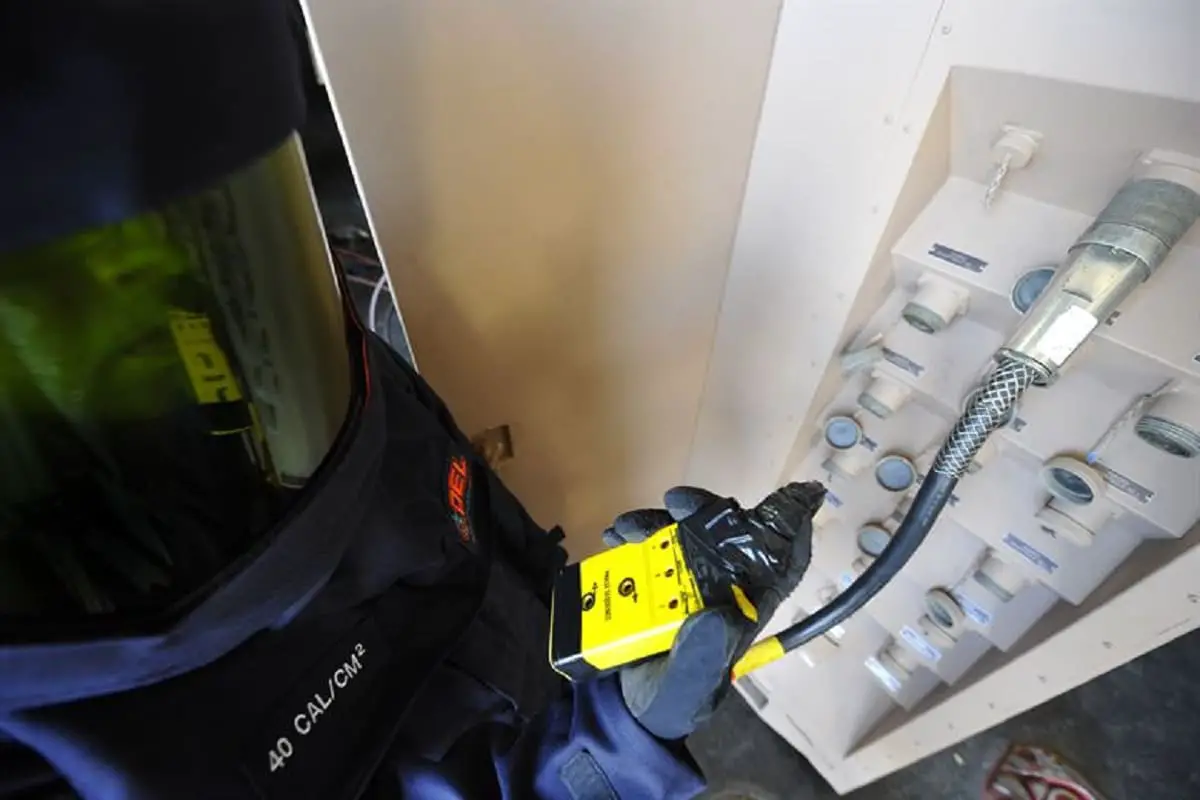 1. Perform Electrical Hazard Analysis
Every arc flash prevention strategy should start with hazard analysis aimed at calculating the amount of energy that could be released at selected points along the power chain. Accuracy is vital with such measurements, so a qualified power system engineer should be tasked with this. Moreover, companies are required to place warning labels on any electrical equipment that poses the risk of arc flash.
2. Wear Arc Protective Gear
In places where qualified technicians must work on energized equipment, proper use of Personal Protective Equipment (PPE), particularly arc flash suits and other electrical protective equipment, should be worn. Electrical equipment manufacturers must provide a warning label as defined by Article 130.5(C) of the NFPA 70E with information regarding the incident energies and arc protection level for PPE clothing to be worn during their maintenance. Read and follow these guidelines to choose the proper arc safety clothing.
3. Receive Electrical Safety Training
Both the employer and employees should receive proper safety training to prevent arc flashes on electrical job sites. This includes the use of the right PPE and other safety equipment. Individuals who work on energized areas and equipment should seek to follow these guidelines:
Inspect equipment as well as work areas for arc flash risks and hazards.
Put on arc protective clothing properly and always wear in recommended areas.
De-energize and lockdown any power tools before working on them.
Exercise caution and adhere to safe work practices at all times.
Never use damaged electrical equipment, nor try to fix them without the proper training and tools.
Keep in touch with the safety manager while performing general electrical equipment servicing.
4. Always Read Equipment Warning Labels
Servicing different electrical equipment periodically is very important to keep them running safely and efficiently. Reading and following the warning labels posted on the equipment will help to prevent an arc flash during examination and servicing. These warnings are established by the equipment manufacturer which conducts electrical system analysis to determine the degree of arc flash energies. These labels will alert you to the necessary PPE level arc suit you need to wear.
5. Use The Proper Tools
Moreover, it is best to use only the proper tools during any servicing tasks. Every electrical system possesses active components like circuit breakers and fuses that are responsible for protecting the machines during various electrical events. Therefore, you use only the proper tools at the correct places to lower the chances of electrical accidents.
To Recap…
There are many ways to prevent arc flashes and this post covers several of them. Arc flashes are extremely hazardous and can cause serious injury or even death. To avoid such incidents, always use an arc flash suit that meets the standards of the National Fire Protection Agency (NFPA) and follow the manufacturer's safety guidelines while wearing it.
Looking to buy a new arc flash suit? Learn what to look for in our Arc Flash Suit Buying Guide.