Each hazardous work environment has its own safety risks requiring specific precautions and protective garments. Working with high-voltage electricity is perhaps the most dangerous.
Arc flash suits are designed to protect the wearer from deadly arc flashes and explosions. But how does an arc flash suit work? Continue reading to find out.
What Are Arc Flash Suits?
Arc flash suits ensure that the wearers stay protected from dangerous arc flash heat exposures. They are used quite extensively by electricians to protect them from heat or to minimize the risk of burn injuries. It provides the users with precious extra seconds that perhaps could make the difference between life and death. It could also help reduce the risk of secondary explosions or fires, especially in dangerous work areas. Through providing protection to the wearer, it could also reduce the need for complex medical treatments and resulting infections.
When choosing an arc flash suit the first priority must be worker safety. Higher rated PPE comes with a high cost, but this is negligible when compared to the difference it could make between life and death. 
When Do Arc Flashes Occur?
Arc flashes happen during an arc fault event, which is a type of electrical explosion that can occur on electrical equipment. They can occur on high-tension power lines, transformers, and high capacity lighting.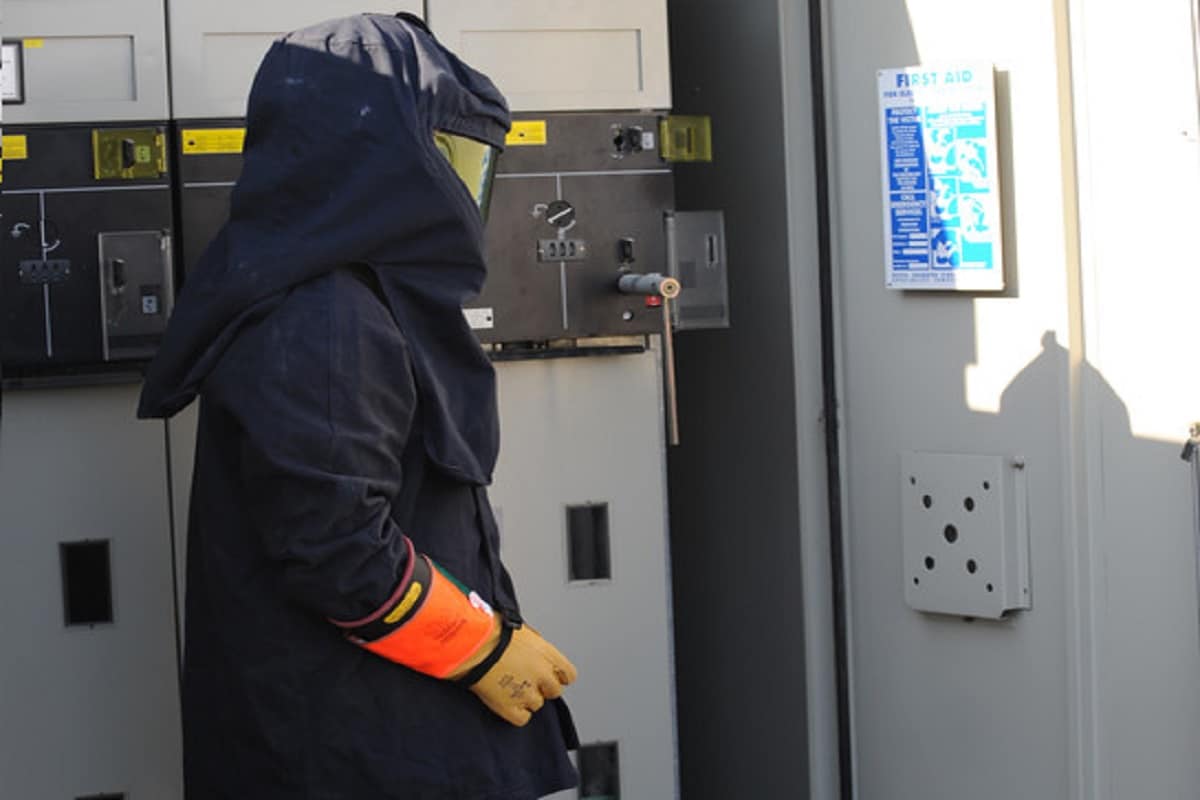 They can also happen when a person comes close to a high amp source or when he or she has a conductive object in their hands or on their garments. These situations can lead to dangerous electricity flashovers.
Dropping a tool could also lead to an arc flash by creating a spark off of a hard contact surface such as concrete or steel. Gaps in insulation and equipment failure could also lead to such flashes. 
Arc flashes can cause great physical harm, and can even be fatal. They are basically short circuits that cut through the air. This results in flashes and puts human beings at risk as they become live conductors of electricity. 
Some arc flashes are large enough to appear as lightning at far away distances and cause large scale power outages to nearby facilities.
Not all PPE clothing can protect from arc flashes. Even arc flash suits that can withstand the radiation of the flash may not protect the wearer from flying debris such as wires, screws, and metal shards. This is why it is of utmost importance to take precautions when working around electrical equipment.
How Do Arc Flash Suits Work?
Using an arc flash suit properly requires knowing what they do and how the materials protect you. Arc flash suits and accessories are made from special fibers that are inherently flame-resistant. Furthermore, they have properties that will prevent melting and subsequent dripping. They also do not support combustion in the air. Special fibers and materials make these suits durable and long-lasting.
Arc suits are made from materials that can withstand the energy field of an arc flash and provide the wearer with comfort and breathability. These include materials include:
Rubber
Leather
Velcro
Special knitted fabrics
Manufacturers may have their own proprietary fabrics or include others that meet the material requirements. Some of these are:
Westex UltraSoft
DRIFIRE
Nomex
3M FR Scotchlite hi-vis tape
Kevlar
To stay protected from arc flashes, an arc suit needs to provide the fullest possible protection over the entire body. A full arc flash suit includes the following garments (depending on their PPE category):
Full bodysuit
Overalls or coveralls
Class E helmet or hard hat (ANSI/ISEA Z89.1-2014 R2019)
Hood visor or face shield
Boots
Gloves
Jacket
Safety glasses or goggles
Hearing protection
Leather footwear
Jeans and pants
Shirts
Other Accessories
Each garment piece is designed to fit the arc flash suit requirements. These suits may include additional garment ventilation systems as designed by the manufacturer.
The Arc Rating
The effectiveness of an arc flash suit is measured by its arc rating. This refers to the maximum amount of energy a material can withstand before it breaks or forms a hole in the material (measured as calories per centimeter squared, or cal/cm2.) It also considers the degree to which energy can pass through the material and cause a 50% chance of second degree burns to the wearer. 
There are specific tests conducted to determine the arc rating of these suits as defined in the ASTM F1506 Standard Performance Specification for Flame Resistant Textile Materials for Wearing Apparel for Use by Electrical Workers Exposed to Momentary Electric Arc and Related Thermal Hazards.
Arc Flash PPE Categories
4 Arc Flash PPE Categories are defined in the NFPA 70E standards and codes:
PPE Category 1: Arc Rating of 4 cal/cm2 minimum
PPE Category 2: Arc Rating of 8 cal/cm2 minimum
PPE Category 3: Arc Rating of 25 cal/cm2 minimum
PPE Category 4: Arc Rating of 40 cal/cm2 minimum
Arc suit manufacturers are required to meet these requirements and list the rating for each of their products identifiable by the wearer. Employers must provide this type of PPE gear for their workers on high-risk electrical job sites.
You can learn more about these categories in our Arc Flash Suit Ratings Guide.
Highly Rated Arc Flash Suits
Salisbury by Honeywell SK40LT-M Arc Flash Protective Flash Suit Kits, Lightweight Material, 40 Cal/cm2
National Safety Apparel KIT2CV113X08 ArcGuard CAT 2 Arc Flash Kit with FR Coverall
Oberon Company – HRC2-CKE-NB-XL 8 Cal HRC2 Series Arc Flash Kit, Navy Blue
How Arc Suits Protect The Wearer During An Arc Flash
When a person gets exposed to the intense heat that is typical of any arc flash, these special suits thicken and carbonize. This leads to the formation of an automatic protective barrier between the source of the heat and the skin of the person wearing it. This brings down the risk of fire or burns injuries significantly.
Wearing these suits are now becoming mandatory whenever a person is operating high voltage equipment and systems. These include systems and applications that generate power anywhere from 11KV to 33KV. 
Conclusion
How does an arc flash suit work? This post will hopefully have given you the answer. If you are considering working in any type of dangerous or risky environment, make sure to wear the proper personal protective equipment and follow all safety protocols. 
If you are in the market to buy an arc flash suit we suggest reading our Arc Flash Suit Buying Guide.