Sometimes electrical equipment has to be worked on while in operation. In such cases, Personal Protective Equipment (PPE) is essential, even for simple voltage testing or to test if a power line is energized.
If you or your employees need to work with electrical equipment above certain thresholds, it is essential to wear arc flash suits. In this article we discuss how to choose the right arc flash suit for the work conditions you expect.
If you want to learn more about buying an arc flash suit you can also check out our useful Arc Flash Suit Buying Guide.
Choosing an Arc Flash Suit
The important factors to consider when choosing an arc flash suit are:
1. The kinds of electrical hazards faced at the worksite.
2. The coverage of different body parts including head & face, ears, arms, torso & lower body.
Highly Rated Arc Flash Suits
National Safety Apparel KIT2CV113X08 ArcGuard CAT 2 Arc Flash Kit with FR Coverall
Salisbury by Honeywell SK40LT-M Arc Flash Protective Flash Suit Kits, Lightweight Material, 40 Cal/cm2
Oberon Company – HRC2-CKE-NB-XL 8 Cal HRC2 Series Arc Flash Kit, Navy Blue
Hazards Arc Flash Suits Protect You From
Arc flash suits can provide protection from electrical hazards but do not provide protection from shock blasts. Shock PPE must be considered in addition to an arc flash suit if you are dealing with potential shock hazards such as flying debris.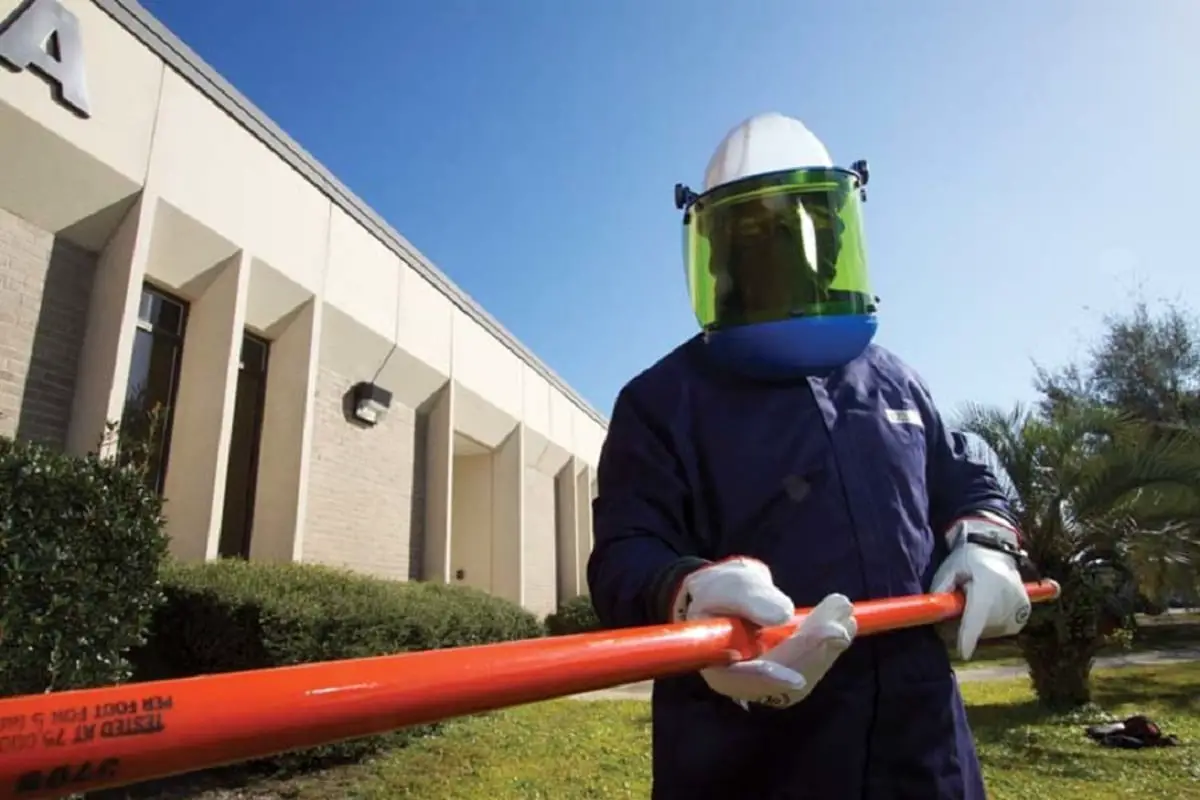 For site-specific categories/levels of PPE, reference the documentation included in your company's electrical safety program to check the minimum level of ATPV ratings. Different companies can have different PPE ratings according to their own programs.
Full Body Coverage
Head & Face: A hardhat that is electrically rated (Class E ANSI/ISEA Z89.1-2014) and well within the life-cycle of the manufacturer, is essential for the energies released during electrical flash incidents. Also, for all energy levels greater than 4 cal/cm2, an arc-rated hood or arc-rated balaclava is recommended. The face needs protection from both tremendous heat (plasma, molten metal, etc) and light energy (infrared or ultraviolet). Light exposure can be prevented using either an arc flash hood or arc flash face shield. But be cautious to also add a face shield or glasses under this hood as they do not protect from projectiles.
Ears: The sound from arc blasts can reach above 140 dB, which will cause immediate damage to the human ear. It is recommended to use ear canal inserts or earplugs that are well under the balaclava shield.
Hands: Combinations of rubber gloves that are insulating along with leather protectors are suitable for protection from arc flashes.
Arms, Torso and Lower Body: The whole body must be covered with coveralls and all buttons closed, zippers locked, sleeves and legs pulled down for maximum protection. No part of the skin should be left uncovered, and all material exposed should be rated greater than the highest possible flash energy. Shoes made of pure leather (no mixture of synthetic material) are suitable with arc flash suits. They provide enough protection from heat damage by not letting the temperature inside them rise.
Additional Accessories You May Need
Balaclava (face covering)
Helmet or hard hat (ANSI/ISEA Z89.1-2014 Class E)
Hard cap with face shield
Coveralls
Storage bag
T-shirts
Coat
Gloves
Socks
Does it Meet NFPA Standards?
Make sure to select an arc flash suit that meets the hazard risk you may be facing. There are ratings defined by the National Fire Protection Association (NFPA) for arc flash rated clothing of all types. The energy levels are measured as calories per centimeter squared (cal/cm2). These are defined as:
Arc-Flash PPE Category 1, Minimum Arc Rating of 4 cal/cm2
Arc-Flash PPE Category 2, Minimum Arc Rating of 8 cal/cm2
Arc-Flash PPE Category 3, Minimum Arc Rating of 25 cal/cm2
Arc-Flash PPE Category 4, Minimum Arc Rating of 40 cal/cm2
Learn more about these arc flash suit ratings categories in our Arc Flash Suit Ratings Guide here.
The Arc Rating
The Arc Rating (ATPV) of the suit will determine the level of energy impact it can withstand before the energy can move through it and cause a 50% chance of 2nd or 3rd-degree burns on the skin. These are defined as calories per centimeter squared (cal/cm2.) Make sure to check the arc rating of the suit before purchasing to ensure you are protected from injury during an arc flash.
Fire Resistant Arc Flash Suits
If you are working in a highly flammable or potentially flammable environment, make sure to check if the suit includes flame-resistant fabrics. In fact, this is recommended to have even when not at a location with a high risk of flameouts.
Arc Flash Suit Pricing
Arc flash suits and kits range from $350 to $2000 depending on the NFPA 70E Hazard Risk Category level (HRC, levels 1-4) and arc rating (ATPV as cal/cm2.) Generally, the higher the HRC and ATPV, the higher the price. Also affecting the price are accessories included with the arc suit kit.
Additional accessories can range in prices from $60 (socks) up to $700 (kevlar aluminized coat.)
Arc Flash Suit Sizes
Arc flash suit sizes range from small (S) to 5 x extra-large (5XL) for men and women depending on the manufacturer's product offerings.
Manufacturers will likely have included a sizing guide listing chest, waist, and height in feet and inches for all sizes. Arc rated gloves sizes will also be listed for hand circumference and hand length in inches and centimeters for sizes ranging from XS to 2XL. There will be instructions on how to perform measurements to get the right sizing.
Arc Flash Suit Colors
This may be the least important aspect when choosing an arc flash suit, unless for use in busy construction work environments. Manufacturers will often list arc flash suits in the following colors:
Khaki
Navy
Navy Blue
Royal Blue
Gray
Charcoal Gray
Olive
Green
Arc Flash Suit Warranty
Each manufacturer may include a warranty for their arc flash suits that extends up to several years. 
Industrial merchants or online marketplaces may also include their own warranties for arc flash suits as offers to their account holders. Make sure to check whether the arc flash suit manufacturer or marketplace has warranties available before making a purchase.
Choose a Reputable Arc Flash Clothing Brand
Some reputable brands exist today that make arc flash suits that meet NFPA PPE standards. These include:
Oberon Company
National Safety Apparel
Salisbury
Chicago Protective Apparel
Arcguard
Honeywell
Check the Electrical Hazard For Information
The intensity of the arc flash can be determined by reading the equipment warning label or sticker that states the incident energy and the minimum required level of PPE. If you can't find a sticker, go through equipment reference tables available that will tell you the minimum level of PPE you will require.
Article 130.5(H) of the NFPA 70E declares that electrical equipment will have the following listed clearly on a warning or danger label:
Nominal system voltage
Arc flash boundary
Also included are 1 or more of the following:
Available incident energy and working distance
Minimum arc rating of clothing
Site-specific level of PPE
You can use this information to compare to the technical specs of the arc suits you may be looking at purchasing.
Check the Arc Suit Technical Specs
Each arc flash suit manufacturer will list the technical specs of the suits when they are listed online. These include:
Item name
Color
Size
Chest Size
Waist Size
Inseam
Material
Arc Rating (ATVP)
Hazard Risk Category (HRC)
NFPA Standards it meets
Compliance and restrictions
Included accessories
Choose Your Arc Flash Suit Wisely
Purchasing an arc flash suit is not a trivial matter as having the right protection could mean preventing serious injury or even death. Make sure to review and follow all manufacturer's technical specs, recommendations, and guidelines before purchasing and using an arc flash suit.