In this article we discuss how to clean an arc flash suit without damaging it or rendering the arc flash protection ineffective.
Electrical workers wear arc flash suits daily when dealing with highly energized electrical equipment which can cause arc flash explosions. Keeping arc flash suits clean and well-maintained is important. If the suit is covered with dust, oils, or chemicals, or it has a small cut or tear, it can compromise your safety. 
If you're in the market for an arc flash suit we recommend reading our helpful Arc Flash Suit Buying Guide.
OSHA PPE Maintenence Standards
OSHA has presented PPE Maintenence Standards 1910.132 that require employers to provide well maintained PPE to their workers as well as educate them regarding their use. Specifically, OSHA states that "defective or damaged PPE shall not be used (1910.132(e))." It covers cleaning as well, insisting that the employer should clean and disinfect all unsanitary PPE before workers use them again.
OSHA also recommends an arc flash suit cleaning at least once a year. However, this is likely the minimum and much depends on how often the arc suits are used.
Removing Odors and Sweat From an Arc Flash Suit
Using an arc flash suit for an extended period of time can result in the inside of the suit covered with sweat, moisture, and odors. Turning the suit inside out and leaving out to dry can reduce this, however, it may not be effective as a disinfecting measure. It is recommended that if your suit has moisture and sweat on or inside of it to clean it thoroughly following recommended guidelines.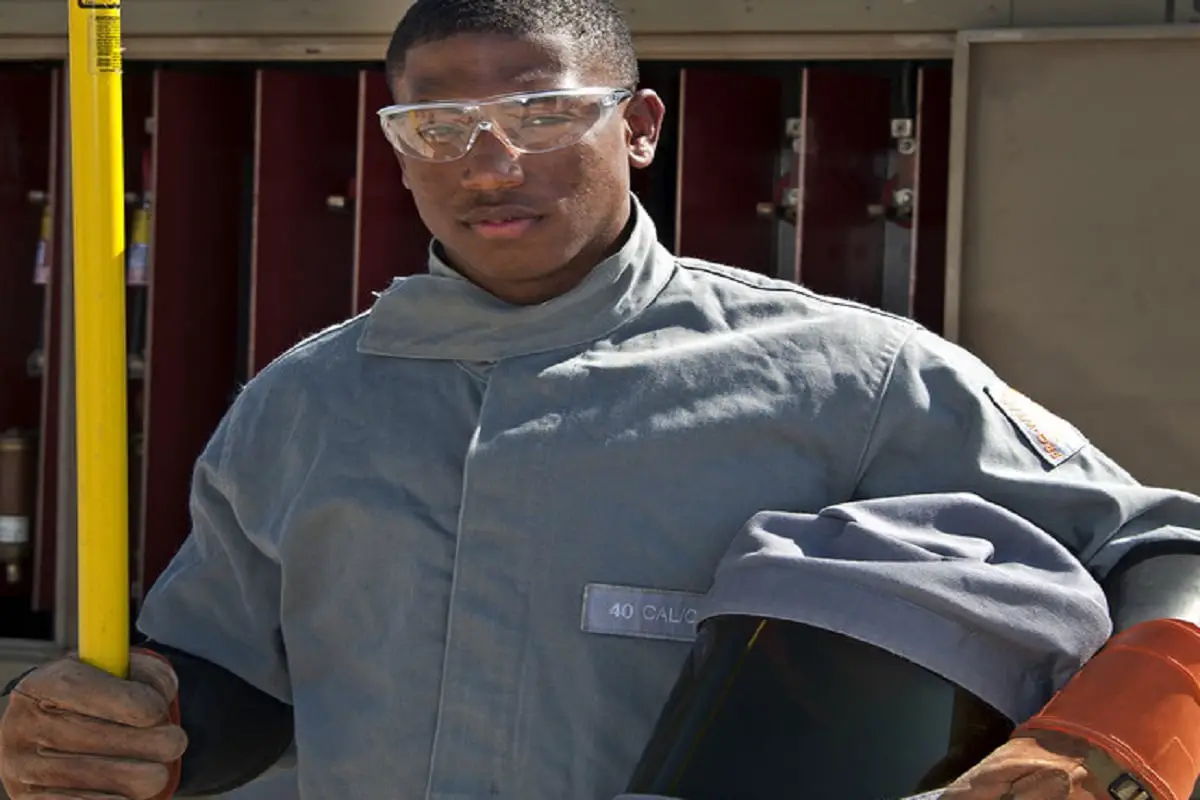 Preventing Transmission of Germs and Disease
Transmission of disease or germs through the arc suit is another consideration. One worker could be infected by a virus and transmit it to the next wearer. Disinfection of the suit can help prevent this and should be done if you suspect this may occur. Hoods and face shields are most at risk of spreading disease.
Spotting Cuts or Tears in an Arc Flash Suit
Examining the suit for any cuts or tears should be done regularly. If you ever see signs of tears, cuts, or damage, follow the manufacturer's instructions on how to repair it. Avoid trying to fix flame-resistant fabrics as this may prove ineffective and dangerous to the wearer. If the damage to the suit's fabric is beyond repair, replace it immediately. Don't continue with a damaged PPE, as it exposes you to safety risks. Finally, arc flash suits should not be in use beyond their manufacturer's expiration dates.
Arc Suit Cleaning Methods
Read the Label!
It's a good idea to check the washing instructions on the clothing provided by the manufacturers. The tag on the suit should have "Cleaning Instructions" stated and listed. If there are additional instructions, follow them as best as you can.
Dry Cleaning
Dry cleaning may not be allowed by the manufacturer of the arc suit. Dry cleaning may not be suitable due to the handling of arc suits along with how the dry cleaning process occurs. Read the suit's label and instruction for further information.
Home Laundering
Every arc suit manufacturer has very specific home laundering instructions for arc flash clothing. This mainly depends on the types of materials used in the arc flash suits construction.
However, if you decide to home launder it, go easy and be gentle on the suit. If you can wash it at home rather than sending it to an industrial launderer, you should do it. You can take better care and this will translate into a longer life for the fabric of your arc flash suit. Select your detergent thoughtfully and make sure it is a milder version and do not use hot water. If there are additional instructions, follow them as best as you can.
Chemicals To Use For Arc Flash Suit Cleaning
If you choose to clean an arc suit at home, be mindful of the types of chemicals you are using. Here are some guidelines:
What to use:
Mild detergents
Lukewarm or cold water
Lysol inside the hood between washings
What not to use:
No bleach
No chlorine
No fabric softener
Dryer Temperature for Arc Flash Suits
The temperature of the dryer should be set as low as possible to avoid suit shrinkage. Certain fabrics included in the suit can be susceptible to this just like normal clothing. Make sure to read the arc suit's label for further information.
Industrial Garment Cleaning Services
Each arc suit manufacturer has specific industrial laundering instructions included on the label and in the users manual.
It is recommended to be careful about using industrial uniform or garment cleaning services as they may ignore the manufacturer's cleaning guidelines. They may be too rough on the material which could lead to tears and a shorter lifespan of the suit. Washing at home or onsite may be a better option for arc flas suit cleaning.
Cleaning Flame Resistant Arc Flash Suits
It is recommended to take extra care when cleaning flame-resistant arc suits. If handled recklessly while cleaning, the material may lose some of its protective properties.
However, some garments with flame-resistant fabrics are permanently flame resistant and will not be harmed by washing. These include the Oberon ARC Series and LCI Series fabrics.
General Arc Flash Suit Hygiene and Cleaning Recommendations
Add balaclava hygiene barriers (aka sock hood) inside the arc suit to help prevent sweat and odors from contaminating the suit.
Follow all arc suit cleaning guidelines and best practices when cleaning at home.
Set up standard cleaning and inspection procedures onsite for your company's arc suits.
Include arc suit cleaning education as part of your company's employee training program.
Treat Your Arc Flash Suit Well
For arc flash suits to work effectively they need to be kept in good, clean condition. Proper cleaning ensures their protective properties can be fully retained as they grow older and have regular wear and tear. If you do so, your protective suit will maintain its arc flash rating and continue to shield you from arc flashes when handling potentially dangerous electrical equipment. 
Highly Rated Arc Flash Suits
Oberon Company – 8 Cal HRC2 Series Arc Flash Kit
Oberon Company CAT40 Series Arc Flash Hood, Coat, and Bib Suit Kit
NATIONAL SAFETY APPAREL ArcGuard CAT 2 Arc Flash Kit with FR Coverall and Balaclava