Chainsaws, like other power tools, need a safe place for storage. Here are some tips on how to store a chainsaw safely.
How To Store A Chainsaw
Keeping your chainsaw in tip-top condition will help it last longer and perform better when you use it. Chainsaws are complex tools, packed with small parts that are easily damaged if not properly maintained.
Storing your chainsaw improperly can result in damage to the saw.
How Do You Prepare A Chainsaw For Storage?
Chainsaws need to be prepared for storage so they are ready to start working when you need them. This includes:
Making sure the fuel tank is empty.
Remove and clean the guide bar and chain.
Making sure all rust has been removed.
Spray protective oil on all moving components (especially the chain).
Best Chainsaw Storage Locations
Chainsaws need to be stored in a certain way to protect them, the owner, and anyone else nearby.
Storing a chainsaw is best in certain locations. Rusted chains should be cleaned off immediately, and a chainsaw needs to be maintained if it is going to stay in good condition. The best places for storing a chainsaw include:
In the garage
In an outdoor shed
In a wooden box
In its original case
Secured, not likely to fall
Dry and dustfree
Out of direct sunlight
Away from flammable chemicals
In a lockable room or cupboard
Away from children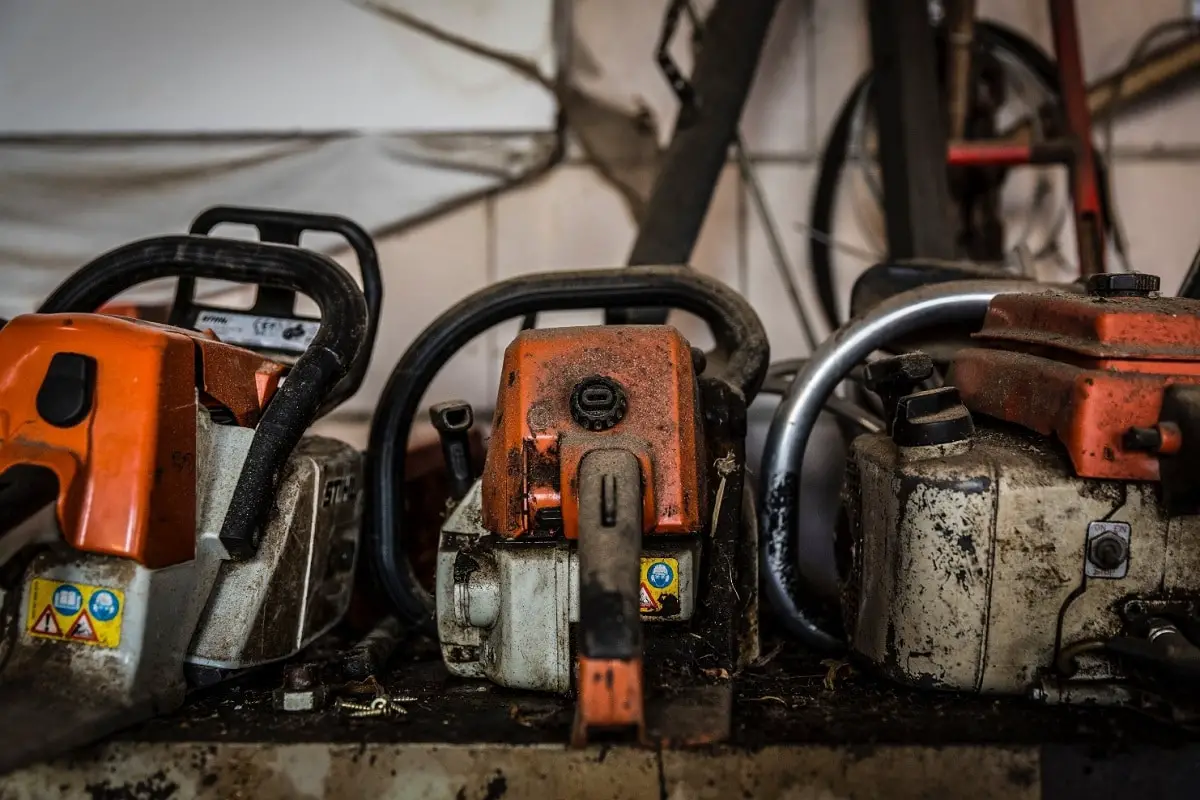 The best chainsaw storage locations will always be those that are locked, dry, out of direct sunlight, and away from children or anyone that can be hurt by them.
Useful Chainsaw Storage Boxes
Husqvarna Powerbox Chainsaw Carrying Case for 455 Rancher, 460, 372XP and 575XP
Jonsered Black Chain Saw Carrying Case
Storing Chainsaw And Chain Separately
The chainsaw and chain are best stored separately. They need to be taken apart, and covered with protective oil to be stored in their own containers.
Even so, chainsaws will attract moisture, so should be stored away from potential sources of moisture such as dirt floors, windows, or even concrete walls.
Storing A Chainsaw Chain
Chainsaw chains are best cleaned and stored separately from the chainsaw. Before storing, coat the chain in a thin layer of bar oil to prevent rust.
Chainsaw Chain Storage Box
You can purchase chainsaw chain storage boxes or cases online or at a local hardware store. These are usually made of wood or plastic and may have additional compartments for other items.
Chainsaw Chain Storage Ideas
You can also try storing chainsaw chains in:
Plastic ziplock bag
A the drawer of a tool chest
A small, plastic lined cardboard box
Tupperwear bowl with a lid
PVC tube with a cap on one end, a small bolt driven through to prevent the chain tangling.
Plastic screwtop jar or bin
Storing A Chainsaw Outside
Can you store a chainsaw outside? Yes, as long as it is store in its case and in a dry and shaded location.
However, it is better to store a chainsaw indoors. If you have to store a chainsaw outside, then good places to do so are:
Under a carport
Under a house that is lifted on stilts (hillside, cabin, etc)
Under a deck
Under a deck shade
Under an outdoor workbench or table
However, make sure to have your chainsaw stored out of sight and padlocked with a chain to a post so no one steals it.
Storing A Chainsaw In A Garage
Garages are probably the best places to store chainsaws. They are secure from theives, animals, and weather, and allow for easy access to tools.
Chainsaws can be stored in garage rafters, from hooks, in shelves, and in cupboards.
Apply some bar oil to the chain while storing it in a garage which will help keep it sealed from moisture.
Storing A Chainsaw In A Basement
Most homes do not have basements, unless they were built many decades ago or in certain regions that get tornadoes each year.
But if your house has a basement, it is a great place to store a chainsaw. However made sure you can carry it up the stairs to the first floor when you need it. If you are not able to lift the saw up the stairs, perhaps consider not using a chainsaw at all.
Storing A Chainsaw Vertically
Chainsaws are robust and can be stored vertically if it is needed for space savings. However, long-term storage should involve hanging the chainsaw on a wall or laying it down flat. Make sure it is not near any combustible fluids, dust, or direct sunlight.
Storing A Chainsaw In The Rafters
The rafters of a garage or barn will work for chainsaw storage. Just make sure to be careful when taking them down, as they are heavy and have sharp chains which can cause injury. Keep the barn or garage locked and secure from intruders or children that may want to play there.
Hanging A Chainsaw
A chainsaw can be hanged from a hook, which makes it possible to access them without having to remove other equipment. It also doesn't take up any floor space. Chainsaws can be suspended this way from the ceiling or rafters.
Hanging Chainsaw Storage
However, the higher up chainsaws are stored, the more difficult they will be to take down. If you have small children that play in your garage, then hanging the chainsaw high up and out of reach can keep them safe.
Hanging a chainsaw high up for longterm storage works well, as it will not need to be taken down regularly.
Chainsaw Storage Box
Chainsaws usually come with their own plastic storage boxes, or cases. These are great to protect the machine during shipping or to store it in a cluttered garage.
They will come in the shape of the chainsaw itself, with a long bar compartment that sticks out. They can open from the top or side, and may have a locking mechanism or area for a padlock to be attached.
Chainsaw storage boxes also have compartments for bar oil, tools, and the user's manual.
Homemade Chainsaw Storage Box
If you prefer a wood chainsaw storage box, you may have to DIY a version if one is not available to purchase.
You can also use a generaly purpose plastic or tupperwear tool box or large storage container to store a chainsaw. This can also fit all the needed tools and supplies (bar oil, wrenches, etc.)
Chainsaw Storage Bag
An alternative to a chainsaw storage box is a storage bag. This makes for added convenience, especially when carrying a chainsaw out in the field in rough conditions.
They may be easier to carry than a chainsaw box, saving you from hand and arm strain. They have a long zipper for opening and are often made of thick oxford cloth that is waterproof.
Chainsaw storage bags will fit both battery and gas powered chainsaws.
Chainsaw Storage Rack
Chainsaws can be stored in racks of different sizes and designs, as can be seen at the store you purchased the saw at. Alternately, DIY storage racks are a great way to store chainsaws.
To make a DIY chainsaw storage rack, you need:
A plywood board of atleast two feet long and four inches wide; this will be used as the base of your chainsaw storage rack
Plastic, water resistant low profile chainsaw wall hangers (make sure they can hold the weight)
Nails or screws
Power drill
Measuring tape
Chainsaw storage racks are great for garages, barns, and workshops. They can also be used to fit many other items, including gardening trimmers, hammers, and safety PPE.
Chainsaw Truck Bed Storage Rack
A truck bed storage rack works grea for storing a chainsaw for both short-term and long-term storage. A chainsaw storage rack ensures your new purchase will not be damaged by weather, thieves or other hazards while the truck is parked at home or at work.
They can also keep your chainsaw fixed in place while you drive the truck. Chainsaw storage racks are usually located at the front end of the truck bed, next to the rear cabin window.
Store A Chainsaw On Its Side
A chainsaw can be stored on its side. It only depends on the length of the bar. If your chainsaw has a 16″ or less bar, then you can store it on its side. This will reduce potential damage to the unit and will also save space.
As long as the bar is short enough, you are good to go!
However, if the chainsaw is not locked in its case, it is recommended to buy or make a stand for more safety reasons.
Can Chainsaws Be Stored In The Cold?
Yes, chainsaws can be stored in the cold.
Chainsaws can be stored in the cold when necessary (through the winter). But precautions need to be taken to make sure they are ready for use whenever you call them out.
These tips should be followed whether it's cold or hot, since storing a chain saw in either condition can cause problems if not done properly. Chill your chain saw before storage and follow all the pre-storage steps above.
Can Cold Weather Ruin A Chainsaw?
The chainsaw oil pump drive can be ruined when running it in very low temperatures (near zero). Make sure to use only chainsaw oil that is suited to winter temperatures.
However, starting chainsaws after being stored in the cold can pose a problem. They may require 2-3 start attempts (if it is a gas chainsaw) while positioned on the ground. You will need to pump the fuel bubble once or twice and engage the choke. The starter pull cord will need to be pulled several times vertically.
Can Chainsaws Be Stored In The Heat?
Chainsaws can be stored in the heat if they are cleaned and fully drained of fuel before hand. Chainsaws should never be stored in a location with high temperatures with fuel left in their reservoir or engine. The chainsaw should be drained and the engine run dry before storing.
Places where a chainsaw can get hot include:
A hot attic, garage, or shed
Outdoors in the sun
In a truck bed
In a hot car or truck cabin
Never store chainsaws near flammable chemicals (paints, thinners, gasoline, etc.) that can combust when they get hot or exposed to a flame or sparks.
Long-Term Chainsaw Storage
Chainsaws, especially for homeowners, are often stored for long periods of time. If you own more than one chainsaw and you use them often, one of them could still see limited action.
This is why knowing how to store a chainsaw for the long-term (several months to years) is necessary.
You can choose to store the saw with some gas mixture left in it. If so, place some StaBil in the premix and run it through the engine. This will help keep the gas fresh for when you are ready to use the saw again. However, if you are planning to store the saw long-term, then not leaving fuel in the engine or reservoir is best.
Steps to take before long-term chainsaw storage:
Drain the fuel reservoir and run the engine dry.
Remove the air filter.
Apply oil to all metal parts, gaskets, and carbuerator.
Replace the air filter, fuel line, spark plug, and fuel lines.
Drop a little bit of oil into the metal fuel tank and shake it to make a thin coating.
Is It Bad To Leave Gas In A Chainsaw?
Yes, and No. This all depends on how long the chainsaw will be sitting unused. If it is only a short time (days or weeks) then it is OK to leave gas in a chainsaw. However, if it is stored for months or years between uses, then the gas should be drained prior.
What Position Should A Chainsaw Be Stored?
Chainsaws can be stored in different positions, including:
On the floor, in a corner sitting on its base with the handle facing upwards.
Hanging from a hook with the handle facing forward.
The best places to store a chainsaw will be locked in its case, sitting away from flammable liquids, sparks, open flame, direct sunlight, and anyone that may pass by and be injured by it.
In Closing
Chainsaws are rugged tools that can handle tough conditions, but they are not invincible. Storing a chainsaw properly is one way to keep them working for a long time, as well as preventing any unnecessary injuries to their owners.