Reciprocating saws are generally safe to use when used properly. However, like all hand-held power tools, they can cause injury. Follow these safety steps to best protect yourself when operating one.
Reciprocating Saw Safety Tips
A reciprocating saw can be dangerous, but if you follow these safety tips, you can avoid injuring yourself:
Start by putting on safety gear, especially gloves, glasses, and hearing protection.
Select the correct blade for the material you are intending to cut.
Keep the power cord away from the blade at all times.
Do not squeeze the trigger too fast and tight.
Keep the airflow vent clear of your hand or debris.
Check the blade to make sure it is secure in the saw chuck before cutting.
Engage the saw shoe against the material you are cutting.
Do not place your hands near the operating blade.
Unplug the saw and let the blade cool down before replacing it.
Also, since a reciprocating saw has the ability to cut very quickly, always pay attention to the task at hand and avoid adding unnessary distractions while you use one.
Are Reciprocating Saws Dangerous?
Yes, reciprocating saws can be dangerous. However, they are generally safe when following certain precautions.
Power tools are by nature dangerous because they will magnify every each movement with power supplied by an electric or gas motor. Accidents happen, and no one is perfect, so making a mistake with a power tool such as a reprocating saw can have serious consequences.
Highly Rated Reciprocating Saws
BLACK+DECKER 20V MAX* Cordless Reciprocating Saw Kit
RYOBI 18-Volt ONE+ Cordless Reciprocating Saw
Skil 9206-02 7.5-Amp Variable Speed Reciprocating Saw
Reciprocating Saw Dangers
Some reciprocating saw dangers include cuts, lacerations, bruises, and even electrocution (though improbable). These saws can also cause serious damage to the limbs and fingers. This is why it is important to have a clear work area and wear gloves and safety glasses.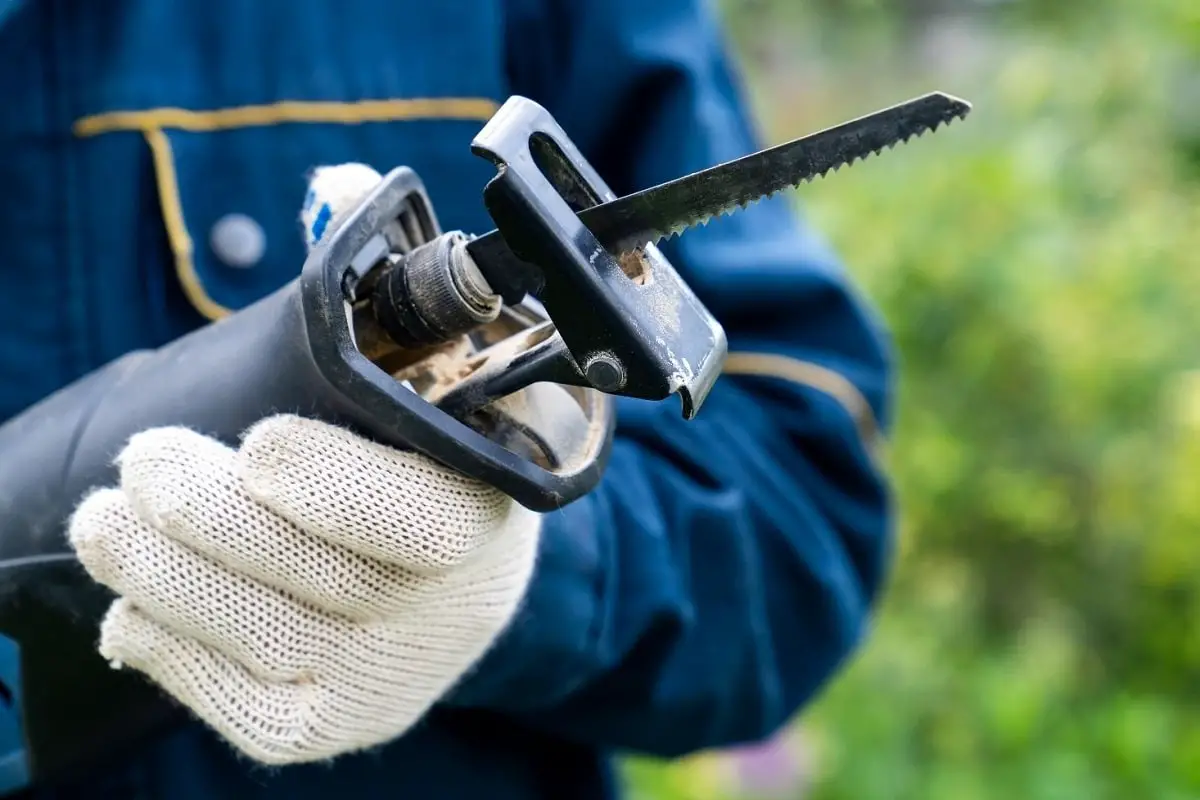 Can A Reciprocating Saw Catch Fire?
Not likely. It is possible, however, that the motor or blade can overheat when not given a break. This could cause burning to the skin if touched.
Today's reciprocating saws are cord or battery powered, so do not have the risk of igniting internally stored gasoline. Gasoline can be quite flammable after all.
If the saw is being used in a confined area or attached to a generator that's running outside then there might be a risk of fire. Electrical fires are possible at the point of connection to the outlet.
It is possible, however, that using a reciprocating saw near dry brush in intense summertime heat could spark a fire.
Reciprocating Saw Injuries
Reciprocating saws can cause a number of injuries. In the course of working with a reciprocating saw, you might accidentally cut yourself. In addition, if you're cleaning a reciprocating saw , it can easily switch on and cause serious injury by cutting your hands or other body parts.
All powertools that have bits or blades attached can cause injuries. Utmost care needs to be taken when handling them. Never touch the blade of a reciprocating saw right after it has been used because it could be hot. Let it cool down first. It is best to wear safety gloves when handling a reciprocating saw.
The saw itself may not be the cause of an injury, but actually the material or object being cut. Dust particles or shards of metal or concrete can be inhaled or enter the eyes and cause serious irritation.
Electrocuted By A Reciprocating Saw
Is it possible to be electrocuted by a reciprocating saw? Can you die by falling off a ladder? The answers are no and maybe.
You can be electrocuted by a reciprocating saw, but it is very unlikely. You can't intentionally shock yourself with the saw because the power switch has either an upper or lower lockout position to prevent that from happening.
Keep Reciprocating Saw Safety In Mind
Its important to always keep safety in mind when using a reciprocating saw. Users can often get too comfortable with them and forget they are using a powerful cutting tool.
Reciprocating saw are designed for light duty cutting and demolition work. This means the user will need to be present in rough conditions with physically dangerous objects nearby, such as rebar, chunks of concrete, wires, bricks, and loose wallboard. There is always the chance of tripping over somethign while using a reciprocating saw.
In Closing
Reciprocating saws are one of the most popular power tools in use today. They're lightweight, powerful, and versatile. For DIYers and pros alike, they are an essential tool for common tasks, such as cutting wood or metal or pruning branches.