Dremels are a flexible and effective tool for drilling and cutting. But each task requires a certain bit. So, what type of dremel bit do you need? Find out below.
Dremel Bits
Dremel, and 3rd party manufacturers make a wide variety of bits and attachments for dremel rotary tools, including:
Dremel Tool Cutting Discs
Dremel cutting discs are made for cutting metal, wood, plastic, and stone. These can be diamond coated to cut hard materials. They are circular shaped discs that rotate at high speeds.
Dremel Tool Cut Off Wheels
Good dremel cut off wheels are fiberglass reinforced, and are often made of resin. These wear down as they are used and eventually are replaced.
Dremel Tool Metal Cutting Blade
Dremel and 3rd parties make metal cutting blades that are made of resin and are circular with sharp teeth.
Dremel cutting blades are made of steel, are fiberglass-reinforced, and can have diamond particles applied to them for extra strength and durability.
Can Dremels Cut Glass?
The answer is Yes, but only if you use the right bit. There are certain diamond bits designed specifically for cutting glass, and they do a very nice job. In fact you can even get a headless saw with a diamond blade very similar to ones used in the circular saws that you might have around the shop. It doesn't turn at very high rpms but it does a good job.
Attaching tape to the glass and marking the cut out region with a pencil or marker on the tape will help keep your cut on the right line.
Dremel Tool Glass Cutting Bit
Dremel glass cutting bits include:
Dremel Fiber Bit – good for engraving glass.
663DR, 1/4″ or 1/8″ glass drill bit – good for drilling holes in glass.
545 diamond wheel, 22.2 mm diameter – good for cutting straight lines through glass.
When using a dremel to cut glass, always wear safety glasses and gloves. Small glass shards can easily cut you or get into your eyes. Also, clean up the workspace afterwards to remove glass bits laying from surfaces.
Can Dremels Cut Plastic?
Yes, dremels can cut plastic using certain bits. Dremel is a brand of rotary tools which mostly consist of cutting metal bits. However, there are some dremel models that come with cutting plastic bits. These bits can be used to shape and cut platic. Dremel is known for its rotary tool technology which has allowed it to manufacture other products like polishing machines and??
Dremels can cut plastics up to about 1 inch in thickness, regardless of the type of bit used.
Types of plastics dremels can cut include:
Toy plastics
PVC
Plexiglass
Vinyl
Fiberglass
Dremel Tool Plastic Cutting Bit
Dremel bits used to cut plastic include:
Dremel EZ476 1 1/2-Inch EZ Lock Rotary Tool Cut-Off Wheels For Plastic
Dremel EZ409 1-1/2-Inch EZ Lock Thin Cut
Plastic Cutting Wheel #SC476
Reinforced Cutting Wheel #SC456
The Smaller Cutting Wheels #409 and #420
Spiral Multipurpose Cutting Bit #561
An additional attachment to help with plastic cutting tasks is the Dremel 575 Right Angle Attachment
Can Dremel Tool Bits Cut Metal?
Yes, Dremels can cut metal. This is because dremels are a rotary cutting tool that has a cutter accessory that allows the user to cut metal.
Types of metal dremels can cut:
Galvanized or stainless steel (sheets, pipe, tubes, etc.)
Aluminum
Copper
Brass
Dremel Cutting Bits For Metal
Dremel bits needed to cut metal include:
Dremel 456 reinforced rotary tool cut-off wheel
Dremel EZ406-02 fiberglass reinforced cut-off wheels
Dremel 9933 structured tooth tungsten carbide cutter
Dremel EZ688-01 EZ lock rotary tool cutting discs accessory kit, cut-off wheels
Can A Dremel Cut Wood?
A dremel can definately cut wood, nearly all types of wood.
Dremel Cutting Bits For Wood
Dremel bits needed to cut wood include:
YXGOOD tungsten carbide double cut rotary burrs
125 high speed cutter
Dremel 134 carving bit
409 15/16″ cutting wheels
561 multiPurpose cutting bit
You can also use sanding drums, v-carving bits, and ball grinding stones to cut wood.
Can A Dremel Cut Tile?
Yes, Dremels can cut tile, using tile cutting bits. This takes an extra bit of care because tile can be brittle and produce shards and dust.
Dremel Tile Cutting Bit
Dremel bits used to cut tile include:
562 tile cutting bit.
1/8 in. rotary tool steel tile cutting bit for ceramic tile.
XMIS 5 inch super thin diamond cutting blade for porcelain tile and granite.
Dremel SM540 3-inch tile diamond wheel.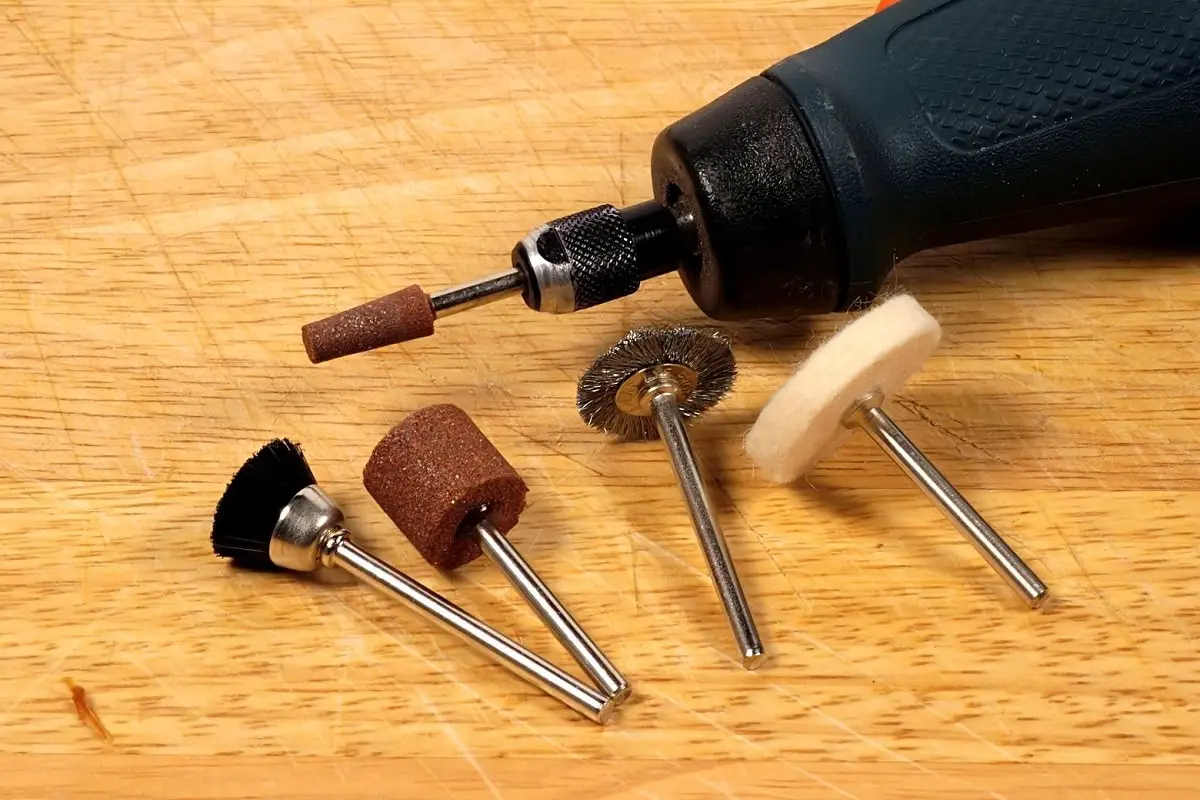 Dremel Bit Safety Gear
When using a dremel, regardless of the bit or material you are cutting, always use the following PPE:
Safety glasses or goggles
Work gloves with vibration resistance
Ear protection
Long pants or a shop apron
Full feet covering (shoes, boots, etc.)
Dust mask, face mask, or respirator
To Conclude
Choosing the right dremel bit is not difficult. Most dremels come with several bits, each for different tasks. Just make sure that when you are ready to use the dremel have a clear workspace and keep safety in mind to prevent any injuries.