A dremel is a rotary power tool that comes in many different types, each with its own uses. Dremels are very versatile tools and can be used for several purposes. The type of dremel one needs depends on the specific job they will use it for. In this article you can learn more about what type of dremel is best for you.
Battery Powered Dremel
A battery powered dremel uses batteries instead of a power cord. They have a variable speed control and ergonomic design.
Battery powered dremels are ideal for use in small areas or indoors, where they can be used without the worry of a power cord getting in the way. They use lithium ion batteries that require recharging, which makes them easy to handle, but limits their run time.
A battery powered dremel battery will last up to 18 months of semi-continuous use and each recharge takes about 2 hours using a USB adapter or wall outlet.
Dremel Cord
Do you buy a dremel with a cord, or a one that uses only a battery?
Corded dremels are very good at providing power when you need it. You do not have to wait for a battery to charge, or the power to drop as the battery drains. Corded dremels are also able to produce more power than cordless ones. Most cordless dremels have a speed control, but most of them cannot do not go below 20,000 RPM.
Dremel power cords are often in the range of 6 feet in length. Corded Dremels have many advantages over battery powered versions, including:
Rotates at higher RPMs than those powered by batteries.
The battery will never die.
Great for more difficult cutting tasks on harder materials.
Less expensive than cordless dremels.
Cordless dremels are perfect for someone who requires convenience and mobility. You can take your drill with you wherever you want, and never have to look for an outlet to plug in. However, the battery will need recharging, whereas a corded dremel will always run as long as it is plugged in.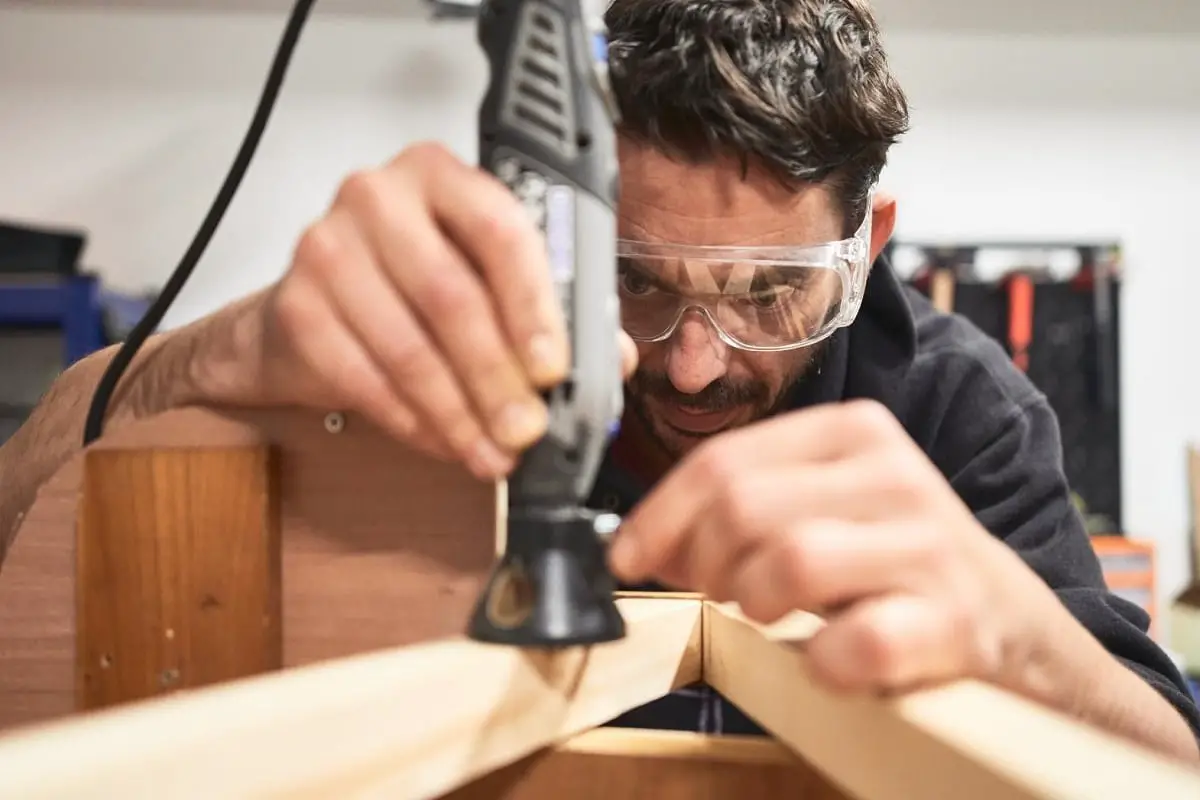 Dremel Hobby Tool
Dremels are excellent hobby tools. Any type of dremel hand tool can be used for hobbies. If you are a hobbyist, dremel is your one stop tool.
Basically any dremel can be used as a hobby tool, whether they are battery or cord powered. However, battery powered dremels often are better suited to hobbies because they spin at lower RPMs, meaning they are less likely to damage the material.
Dremel Rotary Cutting Tool
Dremel rotary cutting tools use rotary motion in the main cylinder that holds the bit or attachment. This high speed rotation in RPMs (rotations per minute) is what gives the dremel its effectiveness. The rotary cutting tool is often recommended for quick wood cutting, metal cutting, grinding, sanding and polishing.
Dremel rotary cutting tools are general purpose tools that are adapted to the task using specific bits and attachments.
Dremel Vibrating Cutting Tool
A dremel oscillating cutting tool cuts and scrapes using a forward blade and vibrating head. It is used to cut through wood, glass, plastic and drywall. This type of dremel can also be attached to a cutter.
One example is the Dremel MM50 which is smaller than comparable oscillating tools. This means it can fit into tight spaces to make cuts that other cutters cannot reach. The smaller size also means it gives better control.
Dremel Circle Cutting Tool
A dremel circle cutting tool is great for making routing or straight line cuts. Circle cutting bits come in different sizes and you can buy them at any hardware store.
A dremel circle cutting tool attaches to a Dremel rotary tool to make perfect circles ranging from 3/4″ to 12″ in diameter. The cutting depth can also be adjusted to fit them the thickness of the material.
Dremel Cut Out Tool
Unfortunately, Dremel does not make a dedicated cut out tool.
However, a cut out tool or a dremel rotary tool can be used for cutting holes in drywall. A cut out tool that is sometimes called a Dremel Rotary Tool is also used to drill into glass, tile and metal.
Dremel Rotary Tool Cutting Kit
Dremel rotary tools often come with kits of select bits and a handy wrench. These kits can vary in size. For example, the Dremel 8220 comes with a tool and 15 pieces of useful accessories. Each accessory is designed to be used for a specific task and help expand the capabilities of the dremel tool. If you already own a dremel rotary tool, then purchasing an accessory kit will give you many more options on how you can???
Dremel For Cutting
Dremels are excellent for cutting. Using a number of different bits, any sized dremel rotary tool can cut materials, ranging from wood to stone.
Dremel are also great for engraving. Using a dremel for engravings is an easy task, just choose the appropriate bit and get started.
Dremel bits come in many shapes and sizes, allowing you to make simple designs or deep grooves. With enough practice, even intricate pictures can be engraved with this a dremel rotary tool.
Dremel For Drilling
Dremels are designed for drilling. They can drill through many different materials, up to a limited depth or thickness. They are particularly good for finishing surfaces by slowly refining the shape of a hole or carving out bits of material in varying degrees of detail.???
Dremel For Grinding
Dremels hand cutters also double as grinders when using the right bits. Dremel grinding bits cut through tile, stone and porcelain with ease thanks to its diamond abrasive material. A dremel can be used to grind the edge of the material after cutting to make it smooth.
Dremel Grinder
Dremels can be used to sand as well as grind using one of the included sanding heads or by attaching a different accessory for that purpose.
Dremels are useful when it comes to grinding away excess material rapidly, or shaping parts that aren't easily accessible with other tools.
In Closing
Dremels are flexible hand tool that serve many purposes. Choosing the right dremel often means selecting the right bits and attachments. Different dremels have different sized motors and power supply. Just make sure to always wear safety gear when using the dremel you choose.