According to the U.S. Fire Administration (USFA), the USA has around 130,000 fires annually, resulting in more than 3000 deaths. In the face of such danger, often time our first line of defense is a fire extinguisher. 
There have been dreadful stories about people grabbing their fire extinguishers only to discover that it had expired, the agent leaked, or the parts were damaged. This is why maintaining and inspecting fire extinguishers is crucial.
This article will touch upon the National Fire Protection Association (NFPA) standards of fire extinguisher inspection, the frequency and cost of the inspections, and the persons qualified to inspect them. 
NFPA Fire Extinguisher Inspection Requirements
The NFPA 10 standards on the installation of portable fire extinguisher requirements can be broken down into:
Inspection
Maintenance
Testing 
Each of these three steps has its own procedure and requires a qualified and trained professional to perform the task. Inspection, maintenance, and testing phases also need to be documented. 
Inspection Tips for a Fire Extinguisher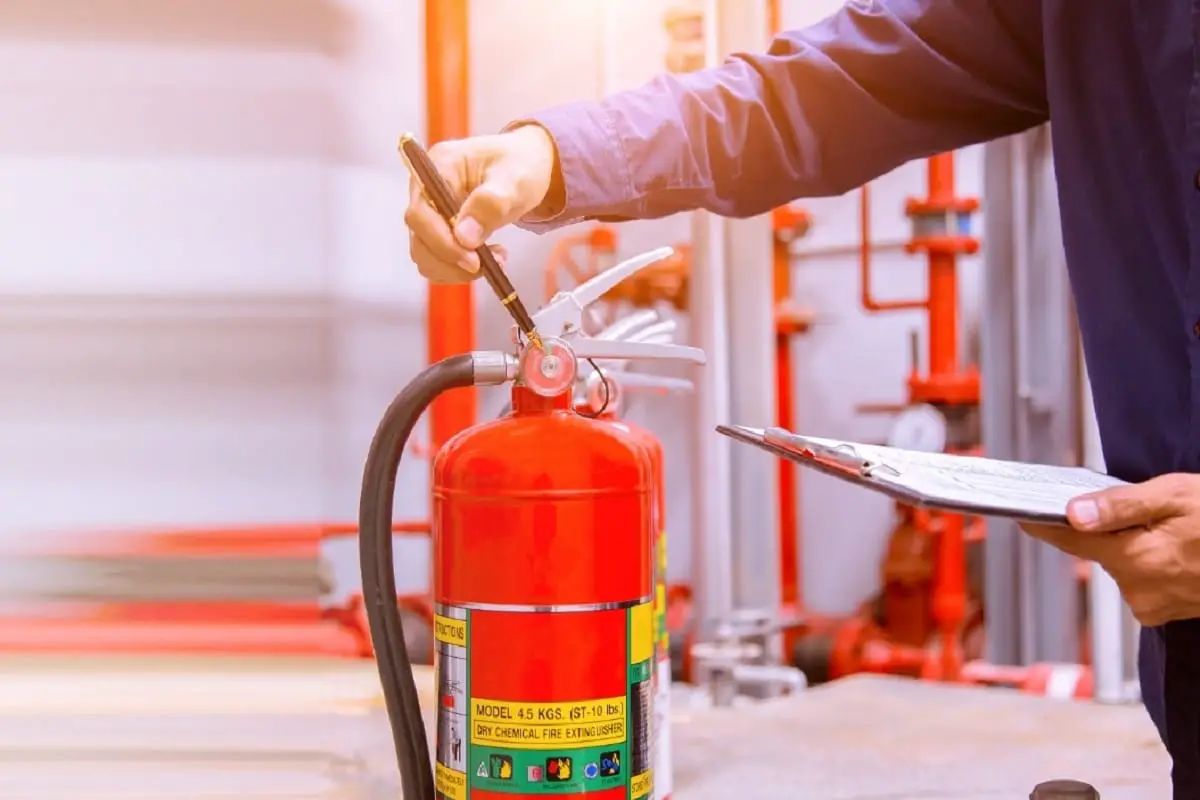 Inspecting a fire extinguisher is the easiest of all steps, and you can DIY it. Here are a few tips you need to know:
Make sure the pressure gauge indicates the needle to be in the green zone. 
Weigh the extinguisher to make sure it's full
If it's a wheeled extinguisher, check the condition of the external parts like the wheels, carriage, hose, and nozzles
If it's a non-rechargeable extinguisher, make sure that the push-to-test indicators are working 
Make sure the extinguishers are in a designated place, and nothing is blocking their access or visibility 
Hang it up so that the nameplate is legible and visible
Examine for apparent damage, leakage, clogging, and rusting.
Another requirement by the NFPA when inspecting a fire extinguisher is that it needs to happen every month, and the examiner is supposed to keep a record.
Other Fire Extinguisher Inspection Requirements
Maintenance of Fire Extinguishers
Thorough annual maintenance of a fire extinguisher includes inspecting all of its parts, external and internal. These are:
The mechanical parts – the nozzle, body, handle, pin and seal, lever, and dip tube
The extinguishing agent
The propellant
Pressure gauge or indicator
The details of how to examine each part are in the fire extinguisher service manual that comes along with it. While anyone can do fire extinguisher inspection, maintenance requires the presence of a certified person who takes a test acceptable to the AHJ and is familiar with all the NFPA 10 requirements. 
Testing of Fire Extinguishers 
Hydrostatic testing of fire extinguisher is an annual external and internal exam conducted alongside the maintenance. Hydrostatic testing requires the fire extinguisher to be:
Stripped down to only the shell and hose.
Filled with water for a specific amount of time and at a certain pressure and dried after
Reassembled and recharged
If there is water leakage, the container is damaged, and the inspector will replace it. 
Who Is Qualified To Inspect Fire Extinguishers?
While maintenance and testing of fire extinguishers require a professional hand, any knowledgeable and competent person can do an inspection. A fire extinguisher instruction manual gives you a rundown of all the parts and how to thoroughly inspect them.
What Needs To Be Inspected On a Fire Extinguisher?
Here's a checklist of things that you'll need to inspect on a fire extinguisher during the monthly examination procedure: 
Is the extinguisher label visible and legible?
Is the extinguisher in a designated and unobstructed location?
Is the locking pin intact? 
Is the tamper seal unbroken?
Are there any obvious signs of physical damage, corrosion, or leakage?
Is the pressure gauge in the green zone?
Are the operating instructions facing outwards?
Is the professional service date on the tag longer than 12 months?
Are there initiates and a date at the back of the tag?
If the service tag is expired or missing or any component is damaged, report to your fire extinguisher service provider immediately.
How Often Should a Fire Extinguisher Be Inspected?
According to the NFPA 10, fire extinguisher inspection should occur at least once a month. If a fire extinguisher is in an area where it may rust or get damaged, like a laundry room with higher moisture content in the air, it should be inspected more frequently.
Does OSHA Require Monthly Fire Extinguisher Inspections?
Yes, according to the Occupational Safety & Health Administration (OSHA) requirements, employers are mandated to perform a visual fire extinguisher inspection every month. OSHA also obligates employers to:
Locate and mount the fire extinguisher in a visible and unobstructed location
Ensure that the extinguisher is fully charged, maintained, and operational. 
How Much Does It Cost To Inspect a Fire Extinguisher?
The NFPA has some price suggestions for fire extinguisher inspections, but most of the time, inspectors have their own price ranges depending on each unit's size and type. 
A typical fire extinguisher involves any or all of the following steps: 
Checking for physical damage 
Cleaning the extinguisher
Ensuring ease of access
Checking the pressure gauge
Three out of four of these steps can be done by any person. Cleaning may require a professional service, and that costs up to $15 to $20. Many companies offer a discounted annual inspection fee as well. 
Does a New Fire Extinguisher Need To Be Inspected?
Yes. A new fire extinguisher should be inspected immediately after its installed and then every month after the installation. 
Does The Fire Department Inspect Fire Extinguishers?
Fire departments do not service or engage in inspecting fire extinguishers. Fire extinguisher inspections should ideally be performed by a professional fire protection company with the right tools to prevent hazardous situations and the training to ensure NFPA compliance. 
Fire Extinguisher Proof of Inspection Tags
Fire extinguisher tags provide write-on surfaces for two NFPA mandated documentation requirements of fire extinguisher inspections:
Initials of the person inspecting 
Date of inspection 
Jotting down the date and initials is vital for future reference because fire extinguishers need to be inspected an exact month after the date last written on the inspection tag. 
Can I Inspect My Own Fire Extinguisher?
Yes, you can very efficiently conduct your own fire extinguisher inspections. Usually, the process involves an examination of external and internal parts by 
Weighing the extinguisher
Making sure it's facing the right direction
Checking the pressure gauge 
Unless the fire extinguisher requires maintenance and testing, any person can check and examine it for damage provided they have the right information and have read the inspection guideline manual.
To Conclude
We hope the information we provided about fire extinguisher inspection was helpful. With the right information, you can ensure that your fire extinguisher is fully operational in case of emergencies and hopefully avoid any major mishaps and losses.