Before we determine if fire extinguishers require a sign in your location we need to identify the rules. The governing authority for fire extinguisher signs in the U.S. is the Occupational Safety and Health Administration (OSHA). So we need to look to OSHA regulations for our answer.
Fire extinguisher sign requirements arise under two cases:
OSHA requires the employer to provide portable fire extinguishers
The employer chooses, on their own, to install portable fire extinguishers
You will learn more about sign requirements as you read further.
Fire Extinguisher Sign Requirements
As a fundamental guideline, OSHA in their Standard 1910.157(c)(1) states:
"The employer shall provide portable fire extinguishers and shall mount, locate and identify them so that they are readily accessible to employees without subjecting the employees to possible injury."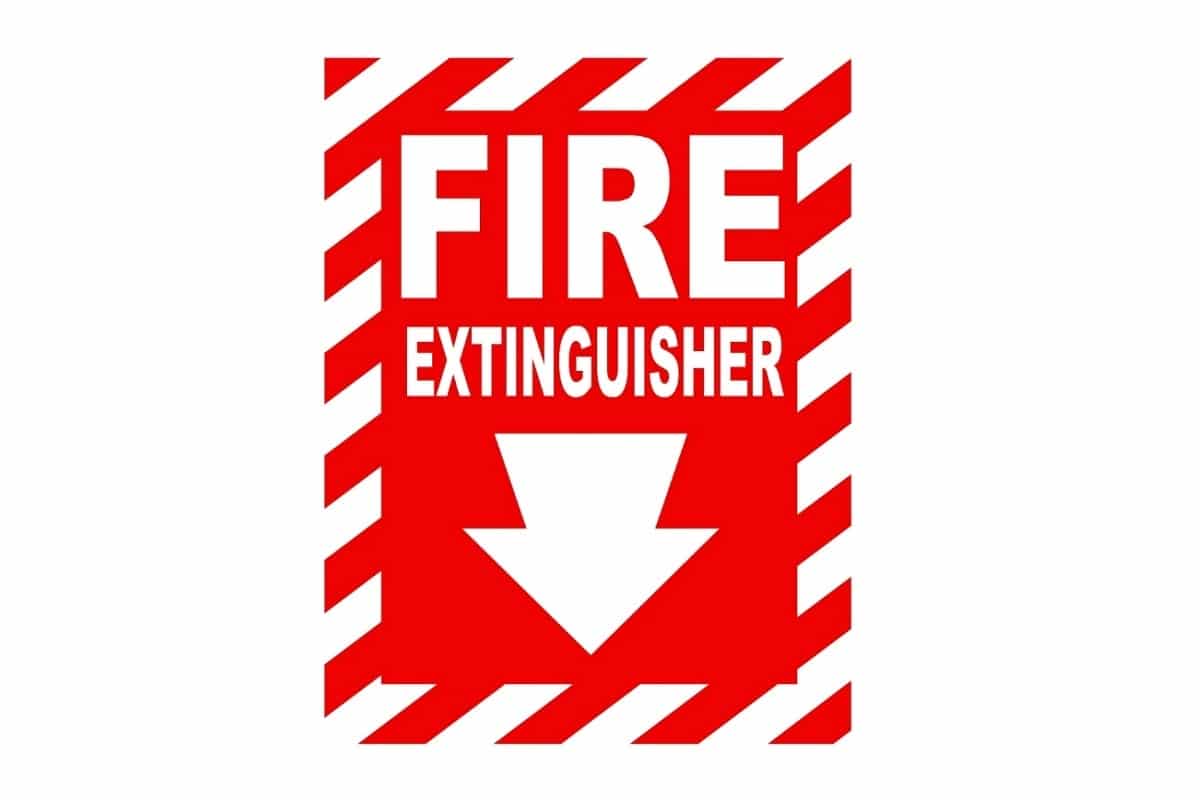 From the rule stated above, it's clear that employers must provide fire extinguishers in accessible places to their employees at all times.
The OSHA regs do not specify signage requirements in black and white, but the underlying rule from the above Standard is that extinguishers need to be easy to identify.
Signage is the best way to ensure portable extinguishers can be found in an emergency situation. Hence, signs must be large enough, clear enough and placed in a visible location close to a fire extinguisher.
Fire extinguisher Sign Laws
By establishing fire extinguisher standards and regulations, OSHA aims to maximize employee safety under work conditions. But there is nothing specific from OSHA whatsoever about what those signs need to look like or say. 
OSHA's Standard number 1910.157 – Portable fire extinguishers enlists all laws concerning portable fire extinguishers. That is where all fire extinguisher sign protocols come from. 
Fire Extinguisher Sign Location
OSHA's guidelines for portable fire extinguishers emphasize the general visibility of these extinguishers. However, OSHA does not indicate a particular location for extinguisher signs in clear terms.
But we can get a better idea by relying on National Fire Protection Association (NFPA) guidelines which provide further clarity on sign locations.
According to NFPA Standards, you need to "conspicuously mark" fire extinguishers mounting locations so that they are highly visible even from a distance. NFPA further explains that for large spaces and rooms where visibility issues exist, "means shall be provided to indicate the extinguisher location."  
Fire Extinguisher Sign Height
Generally, you want to mount your fire extinguisher signs at or above head-high (5-7 feet) for a typical adult.
However, in heavy smoke or in a warehouse with stacked goods, you may not be able to see a fire extinguisher sign at head hight even when there are multiple extinguishers in the area. Such a situation is likely to happen when the area is crowded or rows of shelves have goods stacked up high, making it impossible to see the walls or pillars of the building.
In locations with limited visibility it is best to install two signs for each fire extinguisher — the first right above it that people nearby can see, and a second sign somewhere high up near the ceiling where it can be seen from far away above any sight line blockers.
In their guidelines for fire exinguisher inspections the Federal OSHA regulation 1910.157(c(1) does not specify a particular height requirement for sign placement. Yet again, the only requirement OSHA states is that these signs be identifiable. 
Fire Extinguisher Sign Size
All fire extinguisher signs should be placed to maximize their visibility and swift discovery in workplace emergencies. This means large sizes, bold colors and placement which minimizes visual obstructions. 
The layout of a given worksite is critical to fire extinguisher sign size.
An office building with small offices and hallways requires small signs, such a 9 to 12 inches.
Medium-sized signs such as 12 to 16 inches may work well for a hospital's fire extinguishers located in hallways and emergency rooms with minimal obstructions.
A giant power plant with heavy machinery or a large warehouse with high stacks of boxes require large signs, even 20 to 30 inches wide.
Outdoor locations that span big areas where lots of crowds gather also require large signs. An example is a fairground or outdoor market where hundreds of people gather around exhibitors. In these cases, fire extinguisher signs need to be large and located at the top of poles or hanging from the roof so they can be seen easily.
Signs with lighting increase visibility, especially inside dark warehouses and at night.
In a nutshell, keep the area's dimensions, layout and traffic conditions in mind while determining the size of your extinguisher's signs. 
Fire Extinguisher Sign Quantity
Common sense means you need the same or more signs as you have portable fire extinguishers on the worksite. That means a minimum of one sign per fire extinguisher.
If sight lines are blocked, then you may need two signs per extinguisher — one next to the extinguisher, and one up high that can be seen from a distance. Multiple signs also helps visibility if there is a lot of smoke.  
It's a bad idea to try to use one sign for two or more extinguishers. Each sign needs to be right above or next to the extinguisher it's identifying. This is the only way to find one quickly in an emergency. Therefore, the best estimate of extinguisher-sign quantity is the same number as the portable fire extinguishers' an employer chooses to install. 
Fire Extinguisher Sign Design (Colors, Font, etc.)
While you can customize extinguisher signs, the design, color, and font must all increase identifiability.
The color, font, and overall design should maximize visibility as follows:
Font size and style must enhance legibility, especially for people standing at a significant distance from the fire extinguisher's location. 
The color scheme has to be thoroughly conspicuous. Bright and bold colors are the best choice — red and white, black and white, black and bright yellow are all good.
Some Good Fire Extinguisher Signs
Here are some good fire extinguisher signs to choose from:
Fire Extinguisher Sticker Signs – 12 Pack – 4″ X 12″
Hillman White and Red Aluminum Fire Extinguisher Sign with Arrow 4″ x 18″
Accuform Fire Extinguisher (Arrow Down) 3D Projection Sign – 12″ x 4″
As an Amazon Associate, SelectSafety earns commissions from qualifying purchases made through links in this post.
Final Thoughts
Fighting a fire with portable fire extinguishers calls for a sound plan and installation of an ample number of fire extinguishers and signs. Signage fulfills that need when you design and position your fire extinguisher signs so they are highly visible and legible, regardless of where you are standing. As a responsible employer, we hope these guidelines on fire extinguisher signs prove helpful.