Many people use firearms for sports and leisure purposes, such as hunting, shooting practice, or marksmanship competitions. If you're also one of them, then you'd be aware of the importance of eye protection whenever you're going to engage in shooting, mainly because of the recoil that most guns have.
There are various models of shooting glasses out there, each with a different safety rating. Let's have a look at all of the safety standards and see what they mean.
OSHA Eye Protection Standards
OSHA refers to the Occupational Safety and Health Administration, and it's a part of the United States Department of Labor. It was created as part of the OSH Act of 1970 to ensure that every working man and woman has access to safe and healthy working conditions.
In short, OSHA's mission is to maintain safety and health standards at the workplace while keeping a record of any job-related injuries or illnesses. Moreover, they also provide training programs to make workers aware of occupational safety and health. 
1910.133 of the OSHA Standards covers Eye and Face Protection. It states that it's the employer's responsibility to provide eye or face protection to their employees when they're in direct contact with machinery that can cause flying particles, harmful gases, liquids, or vapors. Moreover, if any employee wears prescription glasses, the employer must provide them with safety glasses fitted with prescription lenses. 
OSHA Safety Standard 1910.133(a)(2) requires impact-resistant lens and "eye protection that provides side protection when there is a hazard from flying objects." This standard holds true for shooting glasses because you're always at a risk of being hit by flying shrapnel or a shell casing that gets ejected when you pull the trigger.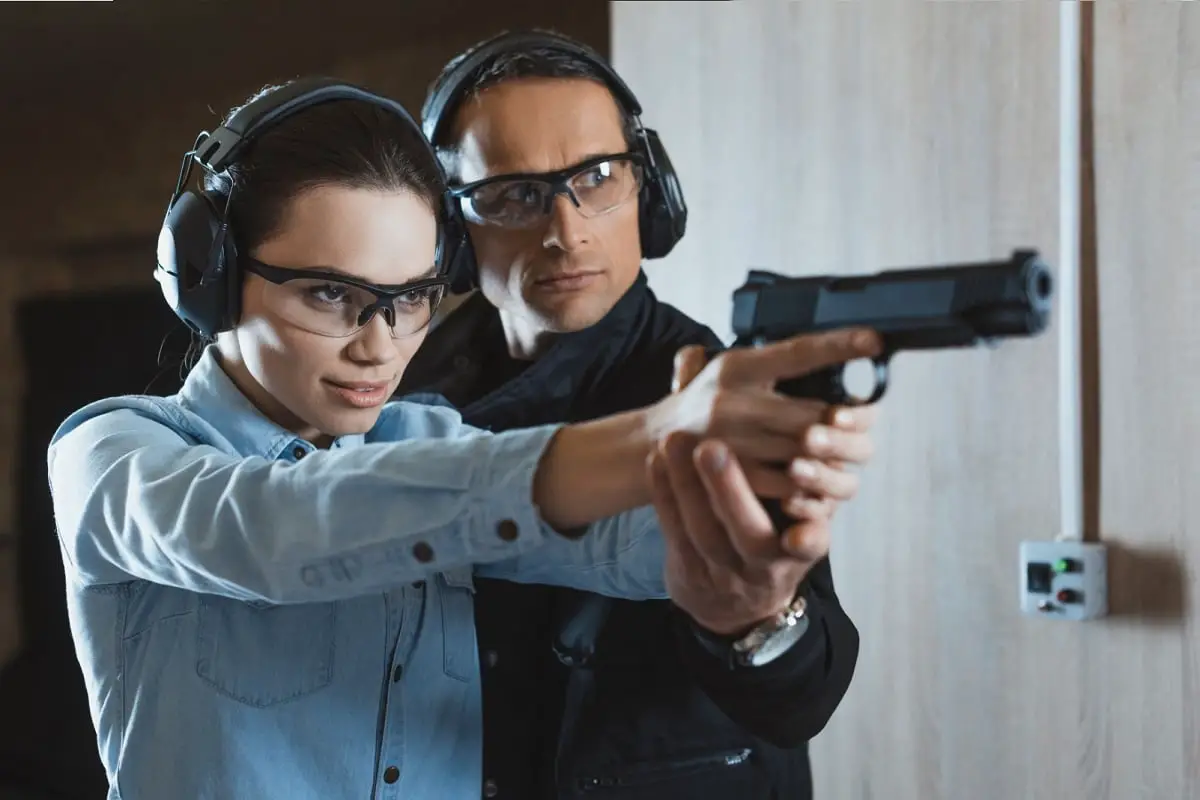 ANSI Eye Protection Standards
The American National Standards Institute, or ANSI, is a non-profit organization that promotes conformity standards across various industries. The foundation of its operations is to ascertain that different manufacturers comply with the same quality and safety standards in their products.
When you're buying shooting glasses, most of the good ones comply with specific ANSI standards. You will notice the Z87+ marking on most shooting and safety glasses. This label refers to the ANSI Z87.1 standard, which means that the glasses have been tested for high impact.
Some shooting glasses also have the ANSI/ISEA Z87.1 industrial safety standard for eye protection.
Shooting glasses with prescription lenses should be marked with Z87-2+, the safety standard for impact-rated prescription lenses.
Although ANSI standards are voluntary, most agencies enforce some of these standards. For instance, even the OSHA safety regulations include some of the ANSI standards, such as the ANSI Z535-2011(R2017). ANSI is also the official representative of the United States in the International Organization for Standardization (ISO), responsible for the development of international safety standards.
ISEA Standards
ISEA is the International Safety Equipment Association tasked with ensuring the efficiency and usefulness of safety equipment and systems built to protect people working in hazardous environments. The association has been around for many decades in the U.S., and it also liaises with government agencies to make industry-affecting policies.
As mentioned in the previous section, eyewear with the ANSI/ISEA Z87.1 rating is required to work in industrial environments where there is always a risk of flying particles, molten metal, harmful liquids, or gases that can affect your eyes. Most manufacturers build glasses that comply with these safety standards. Although ISEA standards are for industrial workers, companies that design and build shooting glasses also use them.
ANSI/ISEA Safety Standards
You might've read about ANSI/ISEA safety standards in the sections above. As you already know, ANSI deals with conformity standards, whereas ISEA is responsible for ensuring the efficiency of safety equipment. Combining these two gives you ANSI/ISEA, which refers to the American National Standard for Conformity Assessment of Safety and Personal Protective Equipment.
The current safety standard for shooting glasses is the ANSI/ISEA Z87.1-2020, which is also known as the American National Standard for Occupational and Educational Personal Eye and Face Protection Devices. It's used by shooting glasses manufacturers to ensure that their products protect the eyes from all sorts of injuries, including the impact from flying shell casing, shrapnel, or even the recoil of a firearm.
Shooting glasses that comply with the ANSI/ISEA Z87.1-2020 standard are made to undergo extensive testing to ensure that they offer maximum protection. The tests include high-impact testing, exposure to non-ionizing radiation and chemicals, and also against flammables and corrosion. This ensures that the final product is strong, durable, and protective.
Recommended Shooting Glasses
Shooter's Edge ANSI-Z87.1 Safety Shooting Glasses Clear Lens Semi-Rimless
Allen Company Keen Shooting Safety Glasses, Yellow Lenses, ANSI Z87.1+ & CE Rated
Howard Leight by Honeywell A700 Sharp-Shooter Shooting Glasses, Clear Lens
U.S. MIL-PRF
U.S. MIL-PRF is one of many standards developed and used by the U.S. Department of Defense. This standard is uniquely aimed at setting and measuring required performance limits of military equipment.
MIL-PRF has guidelines for how a piece of equipment or item should function, where it should be used, and its interchangeability with other items or equipment.
In relation to shooting glasses, the following MIL-PRF standards apply:
These standards cover high velocity impact requirements of military shooting glasses and eyewear.
OSHA Approved Shooting Glasses
Safety and shooting glasses are covered under Part Number 1910 of the OSHA safety regulations, which deals with eye and face protection. Therefore, manufacturers take great care of delivering products that comply with these government-enforced safety standards. Since safety glasses and shooting glasses look the same, they're made to comply with these regulations.
So, most of the shooting glasses you'll find are OSHA-compliant. They're also rated for safety standards enforced by other organizations, such as the ANSI/ISEA Z87.1-2020 standard, which provides you with maximum safety when you're discharging a firearm.
EN Standards
EN Standards refer to the European Standards, documents that have been ratified by any one of the European Committee for Standardization, European Committee for Electrotechnical Standardization, or European Telecommunications Standards Institute. EN Standards are followed and enforced throughout the European market across various industries.
EN166 refers to the Personal Eye Protection Standard, which is designed to protect workers exposed to various hazards in industrial environments. Eyewear manufacturers use this standard to produce safety glasses for employees to wear when working.
EN170 is the european standard that covers the filtering of ultraviolet light for safety glasses. However, this does not cover protection directly or indirectly from electric arc due to welding.
CSA Standards
The Canadian Standards Association, or CSA, is a Canadian organization that develops and enforces safety regulations in 57 areas. Any product with the CSA-registered or approved label shows that it has undergone extensive testing and meets the safety standards set by the CSA.
The CSA Eyewear Standard, Z94.3.1-02, requires the selection of proper protective eyewear according to the level of hazard you're exposed to. Moreover, it requires the manufacturer to produce eyewear that ensures the lens doesn't push through the frame, has side protection, and fulfills the standard dimension requirements.
Shooting Glasses Safety Ratings
When purchasing shooting glasses, they may be advertised to meet protection ratings as mentioned above. These include:
ANSI Z87.1+
CSA Z94.3
U.S. MIL-PRF-32432A 4.8.4
EN166, EN170
It is highly recommended to not use any shooting glasses, or other safety glasses for that matter that do not meet or exceed these standards when shooting a rifle or handgun.
Conclusion
That's all you need to know about the various shooting glasses safety standards enforced in various parts of the world. Always remember that shooting glasses aren't just a decorative accessory that you can choose to neglect. You never know when you can be hit with a shell casing or the butt of your firearm as you shoot. Therefore, ensuring personal safety is mandatory.