What are the ANSI Visibility Classes for Safety Vests? 
There are three main classifications of ANSI visibility Standards. The class of high-visibility safety vest you choose depends on the intended use of the vest.
ANSI Class 1 Safety Vests
Class 1 safety vests are ideal for wearers who work in locations other than a roadway with moving traffic. Class 1 offers the minimum amount of high-visibility materials to differentiate a wearer when working in non-complex environments. 
Despite the low-risk that people working in such environments are exposed to, it is still advisable to wear safety vests to offer protection from moving vehicles and equipment. According to ANSI visibility standards, vests in Class 1 are required for workers such as parking assistants, warehouse personnel, and delivery truck drivers.
ANSI Class 2 Safety Vests
ANSI Visibility Standards Class 2 safety vests are ideal for people working in environments that pose greater risks. For example, if you work on roads where the traffic speed is less than 50mph, a Class 2 vest has greater reflective area and provides better protection from errant motorists than a Class 1 vest.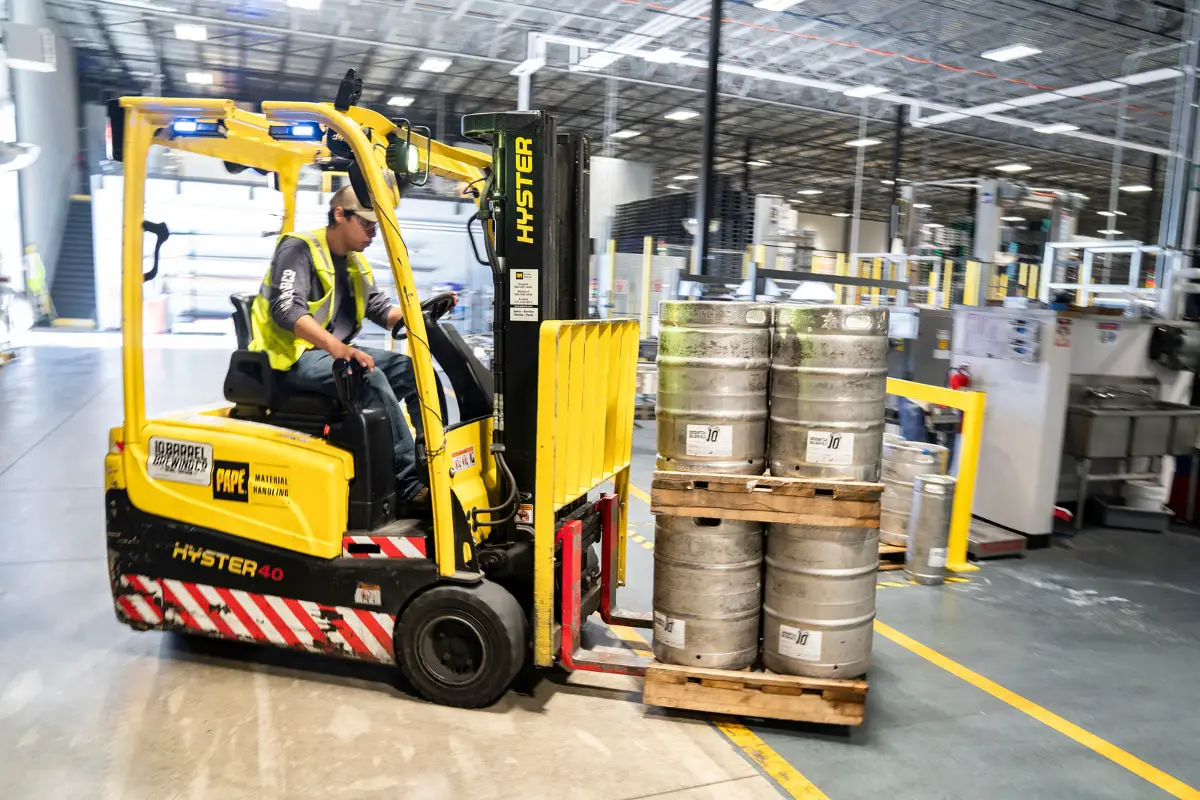 ANSI Class 3 Safety Vests
Class 3 safety vess are recommended for people who work in highly dangerous environments. Visibility is a priority for workers in such environments. For example, roadways where the traffic speed exceeds 50 mph are required to wear Class 3 vests.
For more details on ANSI 207 and how safety vests are rated check out this article on the different types of safety vests.
How a Safety Vest Meets ANSI Visibility Standards
Flourescent Material
High-visibility safety vests are made from fluorescent materials. When the ultraviolet rays from the sun react with the fluorescent materials, a glowing appearance is created. The glowing is more visible when there is low light, during dawn, and dusk. High-visibility safety vests can also produce a glowing appearance when exposed to other sources of light, including car headlamps.
Reflective Tape
These vests also have reflective tape (aka "micro-prismatic tape") in a specified pattern and area of the vest. This reflective tape helps to improve visibility of the wearer by shining back light at an advancing motorist or equipment operator.
The reflective tape is typically sewn to the vest in 2 or 3 strips for Class 1 and 2 vests, and 5 or more strips for Class 3 vests.
FAQs About ANSI Visibility Standards for Safety Vests
What Are Common Colors for High-Visibility Vests?
Some of the common colors for high-visibility vests include red, pink, green, and blue. However, some of the colors that are considered more effective when it comes to safety are yellow and orange. 
What Reflective Materials Are Used To Construct Safety Vests?
Micro-prismatic tape. This tape is made of plastic vinyl with many prism shapes sealed inside the tape. The prisms inside the material bounce the light from different sources around and then straight back.  Advantages of micro-prismatic tape include durability, holographic effect, and availability in a wide range of colors and shapes. However, this type of tape is costly compared to other materials. 
Glass bead reflective tape. Yellow high-visibility vests have grey reflective bands, which are known as glass bead tape. When the glass beads are exposed to light at night, they produce a bright white color. Two of the main reasons for the popularity of glass bead reflective tape is affordability and the ease of adding them to garments. 
Why Are ANSI Visibility Standards Important for Safety Vests?
There are numerous benefits of wearing high-visibility vests for professionals in different sectors. The main benefit of ANSI required safety vests is safety of workers.
Safety vests are worn by people in construction, traffic departments, waste collection, utilities, airports, search & rescue, warehouses and many other jobs. 
ANSI visibility standards define the minimum level of protection and reflectivity of a safety vest. The three ANSI classes are designed to guide companies and workers to use the vest which offers the right amount of reflectivity for the conditions.
Both OSHA and the FHWA require ANSI certified safety vests to meet occupational safety regulations.
The safety of workers is crucial for every business, irrespective of the size. Employers are required by the law to put in place safety regulations and preventive measures.  That's why ANSI visibility standards are an essential element of solid safety vest design.
If you are looking to buy safety vests for yourself or your workers, we highly recommend reading our High-Visibility Safety Vest Buying Guide.
UP NEXT: What Does Hi-Vis Mean?