Safety vests, also known as reflective or hi-vis vests, are designed to increase the visibility of a worker in hazardous environments. Below we describe the types of safety vests available and what they're best used for.
Construction, firefighting, security, traffic control and other jobs expose workers to signficant risk from moving vehicles and equipment. Safety measures such as hi-visibility vests are mandated to give workers a larger safety buffer.
Standards for Safety Vests
ANSI/ISEA 207-2011 American National Standard For High-Visibility Public Safety Vests is the main safety vest standards classification scheme in the United States. The Occupational Safety and Health Administration (OSHA) and the Federal Highway Administration (FHWA) require safety vests meeting ANSI/ISEA 207.
Safety Vest Types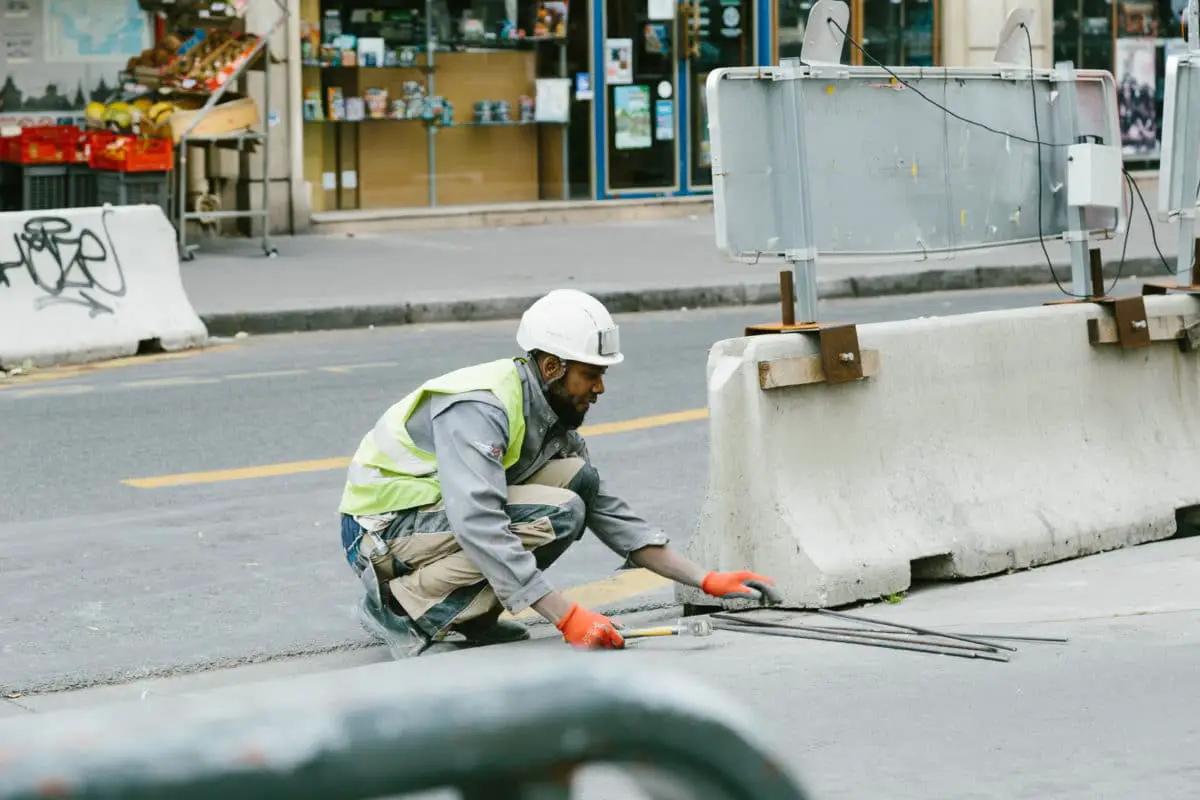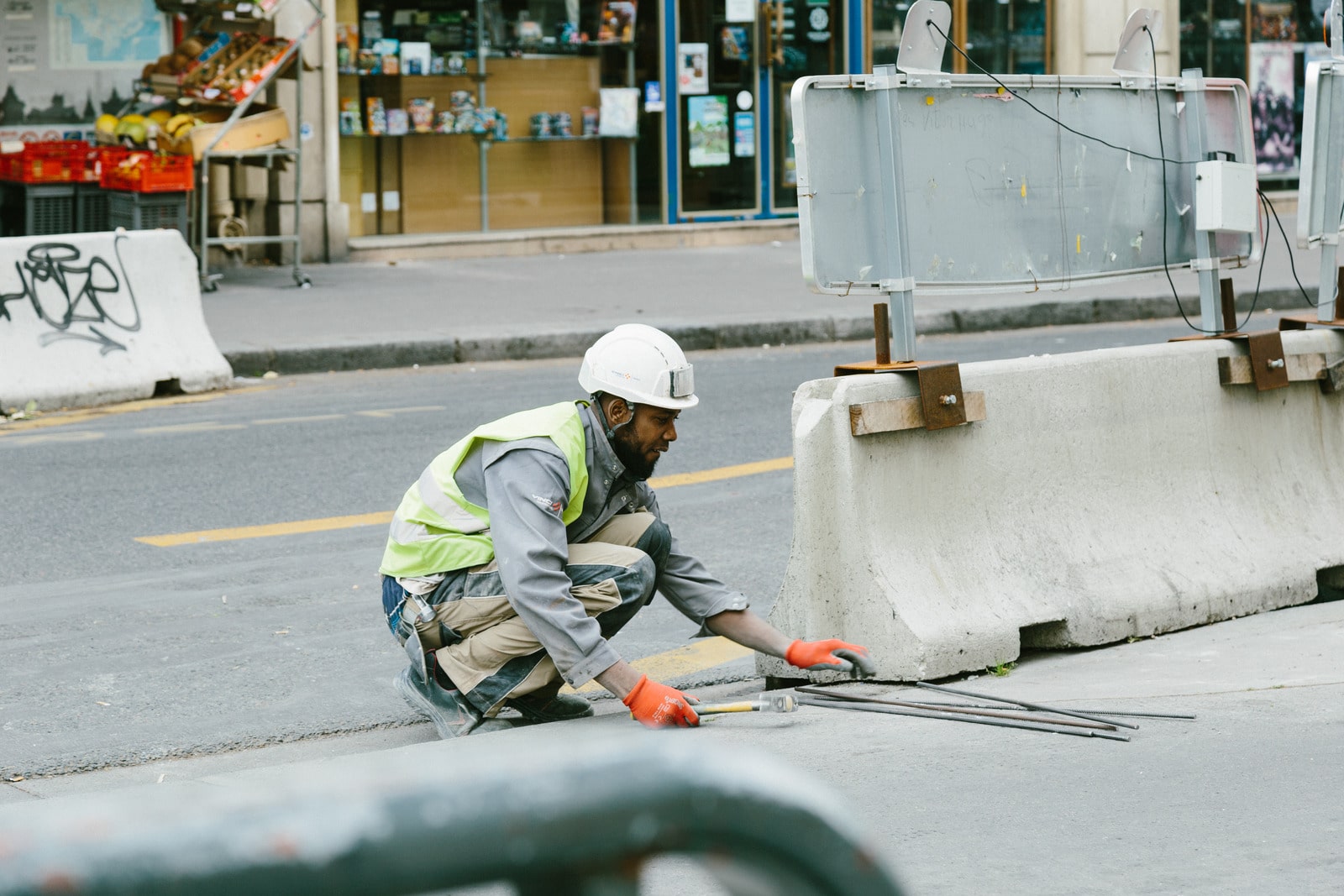 Type O Off-Road: These vests are for off-road environments with no exposure to road traffic or vehicular rights of way. Type O vests must be worn by:
Workers retreiving shopping carts
Oil & Gas workers
Refinery workers
Mining workers
Type R Roadway: These vests are for road environments with moving traffic. Type R vests must be worn by:
Road Construction workers
Parking Lot workers
Toll Gate attendants
School Crossing Guards
Tow Truck Operators
Airport Baggage Handlers
Airport Ground Crew
Type P Public Safety: These vests are for public safety workers and first responders. Type P vests must be worn by:
Accident site responders / investigators
Law Enforcement personnel
Emergency Response (EMS) personnel
Firefighters and Firefighting personnel
Traffic / Road closure personnel
Highly Rated Safety Vests
Ergodyne Public Safety Reflective Vest, High Visibility, ANSI Compliant, Breakaway, 6XL/7XL, Ergodyne GloWear
Dasher High Visibility Safety Vest – ANSI Class 2 Vest, 5 Pockets, Adjustable
Dib Safety Vest Reflective ANSI Class 2, High Visibility Vest with Pockets and Zipper, Construction Work Vest Hi Vis Yellow
Safety Vest Performance Classes
Class 1 (Type O) Safety Vests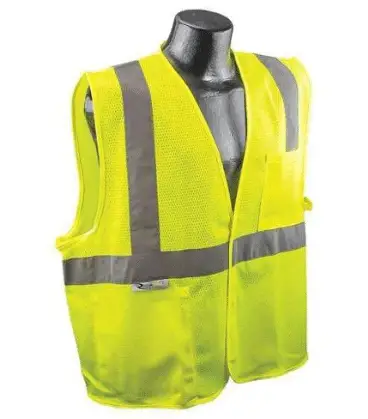 Class 1 safety vest meet the basic standards for enhanced visibility in low speed / low impact areas. Class 1 safety vests are used by workers doing low-risk jobs on off-road (Type O) locations, parking lots, events (concerts, marathons, etc.) and delivery routes.
Class 1 vests require a minimum of 155 sq. in. of reflective tape and 217 sq. in. of background fabric
These vests are lightweight and often considered disposable. They include a small area of reflectivity to enhance visibility in non-complex environments.
Class 2 (Type R or P) Safety Vests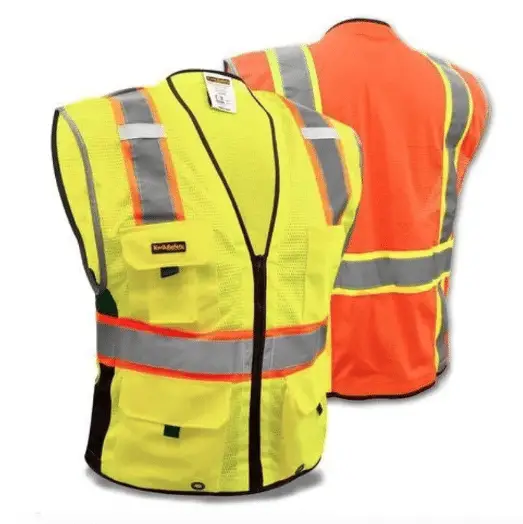 Class 2 safety vests are required for workers in construction, utilities, surveying, forestry, school crossing guards, airport baggage control, and parking lots. Law enforcement personnel and field engineers generally wear Class 2 vests. Class 2 vests include signficantly more high-visibility reflective area than Class 1 vests.
Class 2 vests require a minimum of 201 sq. in. of reflective tape and 450 sq. in. (Type P) or 775 sq. in. (Type R) of background fabric
They are generally manufactured with breathable polyester mesh and silver reflective tape in a pattern specified by ANSI. Most Class 2 vests are worn for long periods, so they are often more durable and include pockets for gadgets and gear. To deal with high heat they are designed to be breathable and lightweight.
Class 3 (Type R or P) Safety Vests
Class 3 safety vests are mandated for the highest-risk work environments, such as high-speed freeways, accident sites, railways, ambulances, road surveyors, mines and power lines.
Class 3 vests require a minimum of 310 sq. in. of reflective tape and 775 sq. in. (Type P) or 1240 sq. in. (Type R) of background fabric
Class 3 vests have a significantly larger reflective area, requiring added sleeves in most cases. These vests also tend to be worn over the top of other jackets or equipment, requiring them to be larger size and/or have specialized cutouts.
Specialized Safety Vests
Certain applications require specialized types of safety vests. For example:
Runners and Bicyclists wear Class 1 safety vests that resemble X-shaped harnesses.
Children can wear small Class 1 safety vests for visibility at large events, or to designate their sports team.
Break-Away Safety Vests utilize velcro closures, instead of zippers or snaps. This ensures that the vest will easily break away from the wearer's body if caught on a piece of equipment or moving vehicle.
Police Safety Vests usually have a cutout at the hip to access a weapon. They have navy blue or black material on the upper chest and back area to identify the wearer as a police officer. "Police" lettering is required.
Fire Safety Vests are worn over the top of a fire jacket, and are much larger than a typical safety vest. They have red material on the upper chest and back area to identify the wearer as a firefighter. "Fire" lettering is required.
EMS Safety Vests have green material on the upper chest and back area to identify the wearer as an EMS responder. "EMS" lettering is required. They usually have a cutout area to accomodate an equipment belt.
Military / DoD Survival Vests must meet SRU-21/P standard. They generally have a large number of pockets and are not hi-vis. These vests are designed to be worn with body armor and parachute gear. These vests are often called AIRSAVE (Aircrew Integrated Recovery Survival, Armor, Vest and Equipment).
If you're in the process of deciding what types of safety vests meet your needs, then this article should provide useful direction.
UP NEXT: Jobs That Require a Safety Vest
If you are shopping for safety vests for your employees, we recommend reading our High-Visibility Safety Vest Buying Guide.