The cut-resistant gloves of today can withstand many cuts and abrasions without tearing or ripping. The materials used today are much stronger than in the past. Many glove designs feature some advanced technology and protection properties.
With all of these new features, just how long do cut-resistant gloves last? We discuss the answer here.
How Long They Last Depends On the Glove's Materials
Metal Mesh, Leather or Canvas Cut Resistant Gloves
Cut-resistant gloves are made of different materials depending on the task and needs of the wearer. Metal mesh, canvas, or leather gloves provide protection against cuts and burns. Leather or canvas can also protect against long-lasting high temperatures. OSHA goes further discusses these types of gloves on pg. 23 of its PPE manual.
For more information on materials used in cut-resistant gloves, see our post Materials Used In Cut Resistant Gloves.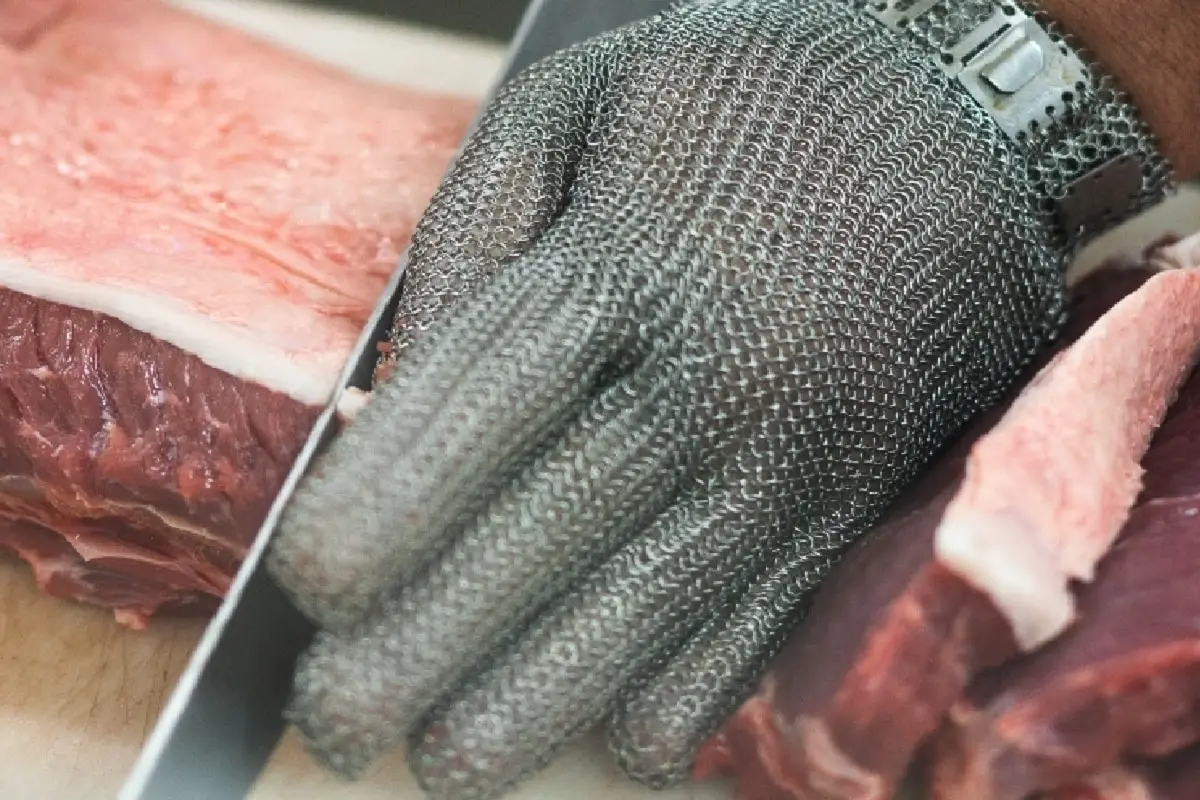 Aluminized Cut Resistant gloves
Aluminized cut resistant gloves are outstanding for protecting against heat and cold. The synthetic materials they provide make them reflective and insulating. They often require a special insert to allow for this, however. And, an additional wool glove liner material provides comfort and additional warmth.
These types of cut-resistant gloves meet the  3 ANSI/ISEA Abrasion Level and are well suited for tasks that include exposure to heat, flames, and sparks. So, they are ideal for metalworking, blacksmithing, and especially work in industrial foundries.
Aramid Fiber Cut Resistant gloves
Aramid fiber cut resistant gloves offer great cut protection and also protect against heat and cold
They are abrasive-resistant and wear well. Aramid fibers provide exceptional heat resistance and will not ignite when exposed to flame. Some of these gloves can withstand very high temperatures (up to 900° F, 480° C). A well-known type of aramid fiber is Kevlar (by Dupont) and is said to have a strength that is 5x stronger than steel using the same weight of the materials.
Highly Rated Aramid Fiber Cut Resistant Gloves
Schwer Level A9 Cut Resistant Gloves Construction Cut Gloves with Fireproof Aramid Fiber for Safety Work
Ergodyne ProFlex 7042 Cut Resistant Work Gloves, ANSI A7, Contact Heat Resistant, Sandy Nitrile Coated Palms, 13g Aramid
MAGID Heat & Adhesive Resistant Cut Level A5 Work Gloves, 1 PR, 18-Gauge Aramid Shell
Leather Cut Resistant gloves
Leather cut-resistant are great for protecting against cuts and scrapes, but also protect against sparks and moderate heat. You might even try gloves with more exotic types of leather such as goatskin leather. In fact, goatskin leather cut-resistant gloves are known in the manufacturing industry as the strongest leather. It is very comfortable and has high dexterity while also being tough.
Certain types of Leather gloves can last a lifetime if properly cared for. However, cut-resistant leather work gloves will face wear and tear and come in contact with fluids that will eventually make them less effective. The stitching could start to break, holes and cracks could form in the leather.
Stainless Steel Cut Resistant Gloves (Metal Mesh)
Metal mesh gloves are well-suited for any task that can cut the hands and are most often found worn in a place where food is processed and cut. These types of gloves are often made of stainless steel alloy.
The metal structure of stainless steel alloy contains a minimum of 11% chromium. This allows for the formation of a chromium oxide protective film which helps stop rust. Even if damaged, this protective film will hold up and re-form. Adding nickel to the stainless steel alloy will also enhance the corrosion resistance of the gloves.
Stainless steel, however, can rust which is caused by two different corrosive effects that can decrease the lifespan of the glove. These include corrosion and oxidation:
Corrosions is due to an electrochemical reaction on its surface from exposure to acids, oxygen, and moisture.
Oxidation happens to all types of metals, except precious metals such as gold. This happens when exposed to oxygen and an electrolyte, such as moisture.
When steel corrodes, it is easily visible and can lead to loose pieces breaking off. Oxidation of steel will appear as a film of chromium oxide. This film, however, actually prevents further rust from forming.
Exposing Cut Resistant Gloves To Substances, such as moisture and chemicals plays a large part in causing them to degrade over time.
Advancements In Cut Resistant Gloves
Newer metal mesh cut resistant gloves may also include anti-cutting wires or cut resistant rope inserted into the metal links and fabric
The stainless steel glove is worn over the nylon glove!! The nylon glove could wear out sooner than the stainless steel outer glove, and vice versa.
New technologies are being tested every year to enhance cut-resistant glove strength. A more recent advancement is graphene technology that is slowly being included in a wide array of products in the economy.
Cut Resistant Glove Warranty Types
Limited Lifetime Warranty
Most cut-resistant gloves come with a limited lifetime warranty. This means that the cut resistant gloves can be replaced by the manufacturer if it does not function as advertised and is free of defects in material and workmanship.
However, if it sustains normal damage or wear and tear while using it, this is not likely covered. If the manufacturer stops making the cut-resistant gloves, they may not be replaceable.  An initial 30 day period is also usually offered to make the replacement process or refund easier for the purchaser of the gloves.
Malfunctioning Cut-Resistant Gloves
Make sure your cut resistant gloves are inspected before leaving the factory by the manufacturer. Also immediately check the gloves for any defects when you buy them or have them shipped to your home or business.
Malfunctioning gloves will not last long if the material comes apart at the seams, the stitching, or has fundamental flaws. Quality control is important for PPE in general as it ensures you will be safe while doing dangerous tasks.
Cut Resistant Glove Durability
Cut resistant gloves use dense tissue, which make them more durable than ordinary gloves. This means they will not tear or puncture easily, making them last longer. However, durability is difficult to test for, and there is no standard for it a cut resistant glove wearer can check. Only knowing the strength of the materials used in the gloves, and the specific tasks you will be wearing them for will give a good idea as to how long they are likely to last.
Unbound Layers in Cut Resistant Gloves
Gloves that have multiple layers make them both thicker, and more capable of withstanding wear and tear. However, cut-resistant gloves with bounded layers of material may not be as durable as those with unbound layers.
Common bounded layer gloves have a knit fabric and polymer coating that is securely bonded together. This limits the movement of the materials when faced with an outside force. Even with materials that are more flexible, the resistance to forces from bounded layers will decrease their durability.
The unbound layers allow any forces applied to the cut, or impact to be absorbed and dissipated when the layers move. The result is a cut resistant glove that lasts longer after repeated use in harsh conditions.
Stainless steel mesh gloves are a good example of unbounded layer cut resistant gloves. The separate nylon glove worn underneath is unbounded and allows them to absorb impacts better.
As researchers continue to develop new polymers and technologies over time, both bound and unbound layer gloves will become more durable.
Cut Resistant Glove Stitching and Seams
No stitched or glued fabrics stay together forever, as they are susceptible to wear and weakening due to time and use. This is true regardless of the type of PPE being worn.
Seams in the fabric where they are joined together are not guaranteed to hold over time and will need to be either repaired or replaced after damage. This is especially true if the size is a little bit too small and the person wearing them has to stretch the material to fit into the garment.
Do Cut-Resistant Gloves Expire?
Manufacturers of cut-resistant gloves usually do not offer expiration dates. It all depends on the type of materials used in the making of the glove and how they are stored.
Gloves still in their original packaging and not exposed to moisture will last longer.
To tell if a glove needs to be replaced, always visually inspect it for cracks, broken seams, or in the case of metal mesh gloves, rust, and corrosion.
If the gloves are still flexible and comfortable and fit the hands when stretched, they most likely are still ok to wear.
When To Replace Cut Resistant Gloves?
If you notice significant wear and tear, such as loose seams or holes forming, or the gloves have become damaged in a significant way, it is a good idea to immediately replace them.
In Conclusion
When you are shopping for high-quality cutting gloves, it is important to make sure that they are both durable and cut-resistant, but most of all, they should fit your hand comfortably.
When you are shopping for cut resistant gloves, it is important to note the thickness of the material and the quality of the manufacturing. Make sure that you buy the right type of gloves for the specific job at hand. Make sure the gloves fit comfortably and provide adequate coverage.