Woodworking safety glasses fall under the general category of workplace safety glasses. Each safety glasses must meet certain criteria to be regarded as safe for use.
ANSI Safety Glasses Requirements
The American National Standards Institute (ANSI) Standards for Safety Glasses give guidelines for how safety glasses should work and what they should protect against.
These guidelines cover the following for safety glasses in general:
Testing
Marking
Selection
Care
Protection from:
Impact protection
Non-ionizing radiation protection
Liquid splashes
Particles
Machinery
Welding, cutting, assembly operations
Chemical handling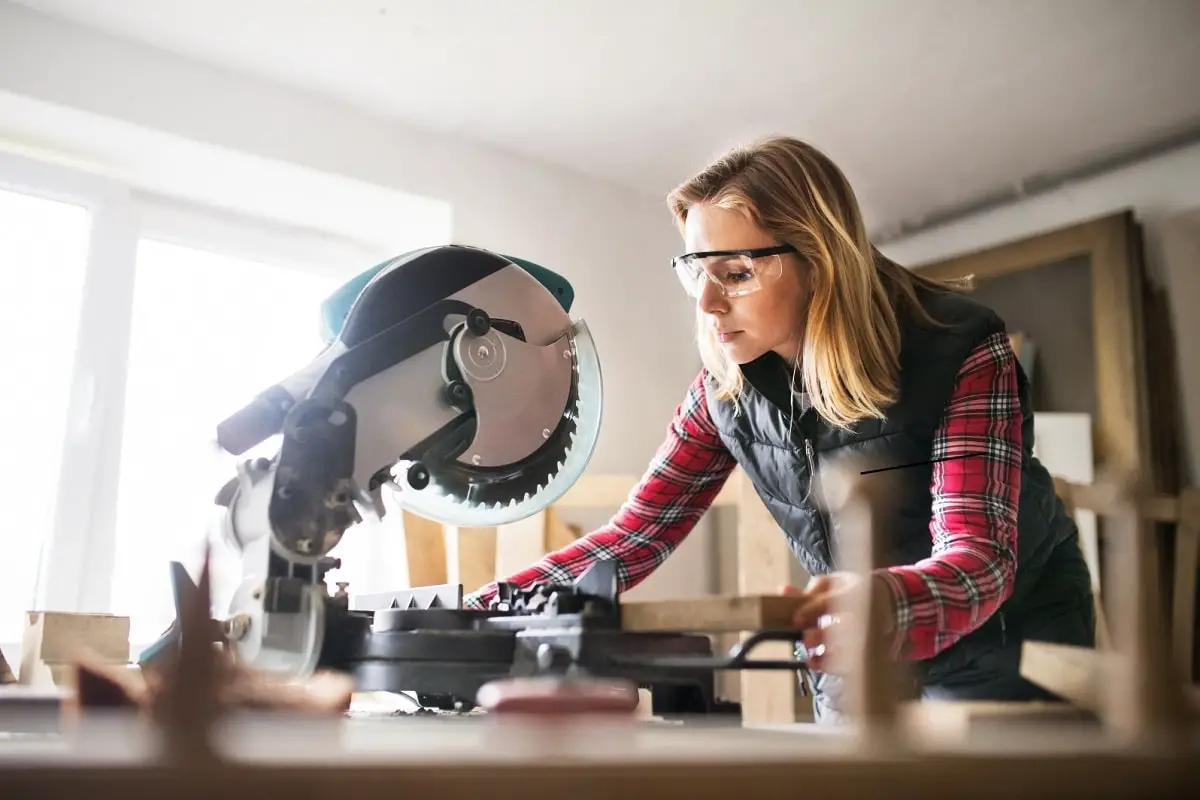 Additional requirements include:
Anti-fog lenses
Optics
Testing steps
ANSI works with the International Safety Equipment Association (ISEA) to develop standards related to Personal Protective Equipment (PPE). ISEA works closely with industry and experts to develop standards to keep workers safe worldwide.
You can find and purchase woodworking safety glasses that meet ANSI standards by looking online and reading product descriptions. Make sure your glasses are ANSI X# or X# rated to be sure you can be safe.
Good Safety Glasses For Woodworking
JDYYICZ Safety Glasses Over Prescription Goggles Lab Anti Fog Anti Scratch Eye Protection Glasses
Dewalt DPG54-1D Protector Clear High Performance Lightweight Protective Safety Glasses with Wraparound Frame
HQRP UV Protective Safety Goggles / Glasses for Yard work, Gardening, Wood working
ANSI Z87.1 UV Radiation Levels
ANSI Z87.1 considers UV radiation as electromagnetic energy with wavelengths between 200 and 380 nanometers.
These wavelengths are separated into the close and far away categories.
Far away ultraviolet is wavelengths of transmitting optical energy between 200 and 315 nanometers that can damage the cornea.
Close ultraviolet is wavelengths of transmitting optical energy between 315 and 380 nanometers.
ANSI UV Filter Allowances
The ANSI Z87.1 UV protection allowances range from U2 (least effective) to U6 (most effective). U6 will block up to 99.9% of all incoming close and far away UV radiation.
ANSI Z87.1 Required Lens and Frame Markings
The lens and frames of the safety glasses are required to show a special code indicating their protection levels. This code should start with the letter "Z" indicating ANSI Z87.1. The code should be 6-7 letters long and can be deciphered by following the ANSI Z87.1 code guidelines. Here is a list of letters and symbols you can find on the frames of safety glasses:
Z87 with + sign – rated for a high-velocity impact.
Z87-2 – Indicates prescription lenses.
D3 – Protection from splashes or droplets.
D4 – Protection from dust.
D5 – Protection from fine dust.
U – protection from UV light.
R – Protection from infrared light.
L – Filtering of visible light.
W – Welding protection
H – Eyewear fits smaller head sizes
S – A special tint is applied to the lens.
CSA Z94.3
Canada also has its own eyewear safety standards from the Canadian Standards Association (CSA)
These are very similar to the ANSI eyewear safety standards. You can look on the safety glasses packaging or online shopping to see if it meets either or both of these standards.
Safety Glasses Recommendations
Not All Brands Are Created Equal
If you are on the lookout for some woodworking safety glasses or safety goggles, then you need to be aware that not all brands, types, and designs are created equal. You should be sure to choose a pair of safety glasses or goggles that fits your personal needs in regard to your eyes. You should always ensure that your safety glasses fit well as this is very important and can potentially save your eyes from injury if an accident were to occur.
In addition to this, the size and shape of the lenses have a bearing on the level of comfort that you feel with your safety glasses or goggles during a working environment.
Amount To Spend On Safety Glasses
The amount of money that you pay for woodworking safety glasses will have a direct bearing on the type and quality of safety glasses or goggles that you will be using. It is likely worth it to pay more for a pair that is comfortable and offers enough protection, rather than one that can fail and lead to an eye injury.
Read the Packaging Fully
Always read the packaging or advertisement of the woodworking safety glasses fully before buying. Do not purchase or use safety glasses that do not clearly state they meet or exceed either the ANSI Z87.1 or CSA Z94.3 requirements.
See our post for more information on different types of woodworking safety glasses.