Woodworking Eye Dangers
Woodworking is dangerous to the body as well as the face and eyes. Saws and drills can cut and puncture the skin. They can also jam or jolt towards the body. Flying wood chips and dust shoots out of the drilling or cutting area and gets on clothes, in shoes or boots, and on the face. Woodworking presents significant dangers to the eyes that should not be underestimated.
Woodworking Safety Glasses Offer Significant Eye Protection
Woodworking safety glasses protect from flying wood chips, dust, tools, and shop debris. They are designed to prevent injury to the eyes and eye area.
The eyes are very delicate and people rely on good vision to function in normal life. Injuries to the eyes are serious and could lead to permanent disability. It is highly recommended to wear woodworking safety glasses or another ANSI rated safety glasses whenever you are in a risky environment.
What Are They Made Of?
Woodworking safety glasses are made of the following materials:
Hi-Vex
CR39 Plastic
Trivex
Glass
Rubber
Scratch-resistant and impact-resistant coating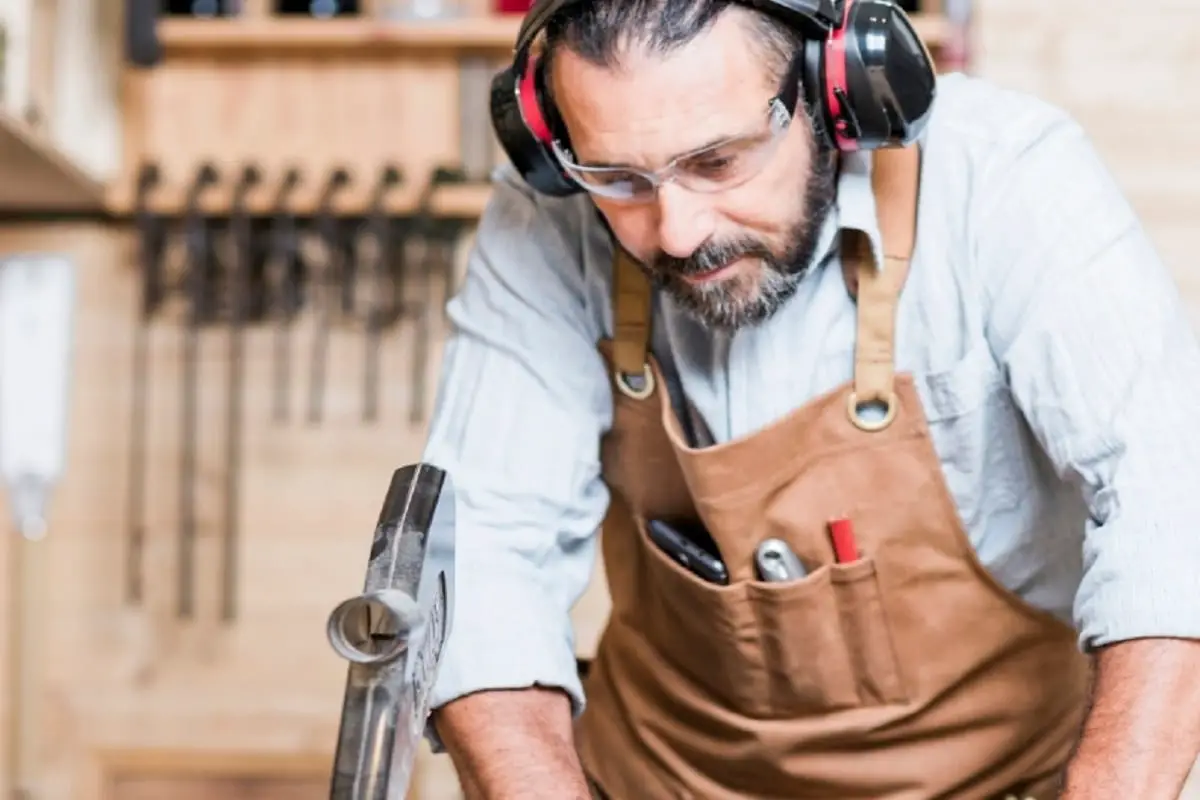 Most woodworking safety glasses are made using polycarbonate for the lenses.
Characteristics
Woodworking safety glasses have the following characteristics and protections:
Impact-resistant
Anti-fog
Side shields
Wrap around frame
Foam padding
Rubber temples
Fits over eyeglasses
Chemical splash-proof
UV protection
Universal fit, men's, or women's
Wrap around head straps
Wide field of vision
Soft nose piece
Polarized
No-slip grips
Adjustable temples
ANSI and CSA Ratings for Woodworking Safety Glasses
Make sure the woodworking safety glasses meet ANSI Z87.1+ and/or CSA Z94.3 safety standards. For more information about ratings for woodworking safety glasses, see our post >>
Compared to Sunglasses, Prescription Glasses, or Reading Glasses
Woodworking safety glasses will give you more eye protection than your regular pair of glasses. They often come with side protection to stop debris from entering through the temple area. Their lenses are built to withstand direct hits or scrapes from flying debris. You can also possibly wear your prescription glasses underneath woodworking safety glasses if you need enhanced vision, depending on their size.
Alternatives to Woodworking Safety Glasses
You can wear alternative eye protection while woodworking that includes:
General-purpose safety glasses
Medical safety glasses
Welding safety glasses
When to Wear Woodworking Safety Glasses
You can wear woodworking safety glasses at a jobsite, in the garage, or at home. Most eye injuries that happen at a job or construction site can be prevented by wearing adequate safety glasses. Knowing when you are most at risk of eye injury will help you decide when to wear them.
Woodworking tools, saws, and drills create the highest risk for an eye injury to anyone nearby. Even if you are working outside, wood debris can still fly into your eyes and face area, especially if there is a breeze. Carpenters, loggers, sawmill workers, and home-builders are all at risk of eye injury from wood particles.
When NOT to Wear Woodworking Safety Glasses
There are few places you should not wear woodworking safety glasses. They can be worn inside, outside, at home, or at work. Absolutely do not wear woodworking safety glasses while arc welding. Also, it is likely best to not wear woodworking safety glasses while driving a vehicle, especially if they are dirty or damaged. You should also switch them for sunglasses or shaded safety glasses when the sun is the brightest on a summer day.