The chainsaw is a tool that is as popular as it is dangerous, and for good reason! Chainsaws are used in a wide range of jobs that require tough work to be done, from clearing brush to cutting trees down. Read on for 11 occupations where a chainsaw can come in handy.
Logger
Using a chainsaw as a logger can be a dangerous job. Being able to use a chainsaw is necessary as a logger to cut the trees into rounds that are appropriate to the log mill.
Loggers use chainsaws for bucking when felling, limbing when removing branches from felled trees and for making notches in the trunk so they can be delimbed once it hits the deck.
A logger may also use a chainsaw for debarking when it is necessary. So, the chainsaw is a necessary tool for loggers to have when they are out doing their job.
Loggers usually only use gas-powered chainsaws with a minimum size of 50cc. The preferred chainsaw bar length for a logger ranges from 18-24 inches and the bar should extend atleast 2 inches past the wood being cut. These are the minimum preferred sizes and many chainsaws being used during logging operations exceed these.
Skidder
A skidder operator will need to use a chainsaw is necessary to clear the trail if a log gets jammed and in the way.
Skidder operators work to clear work areas by safely removing trees using crane boons, cable winches, and log grapples. A chainsaw may be needed at any time to assist in this process.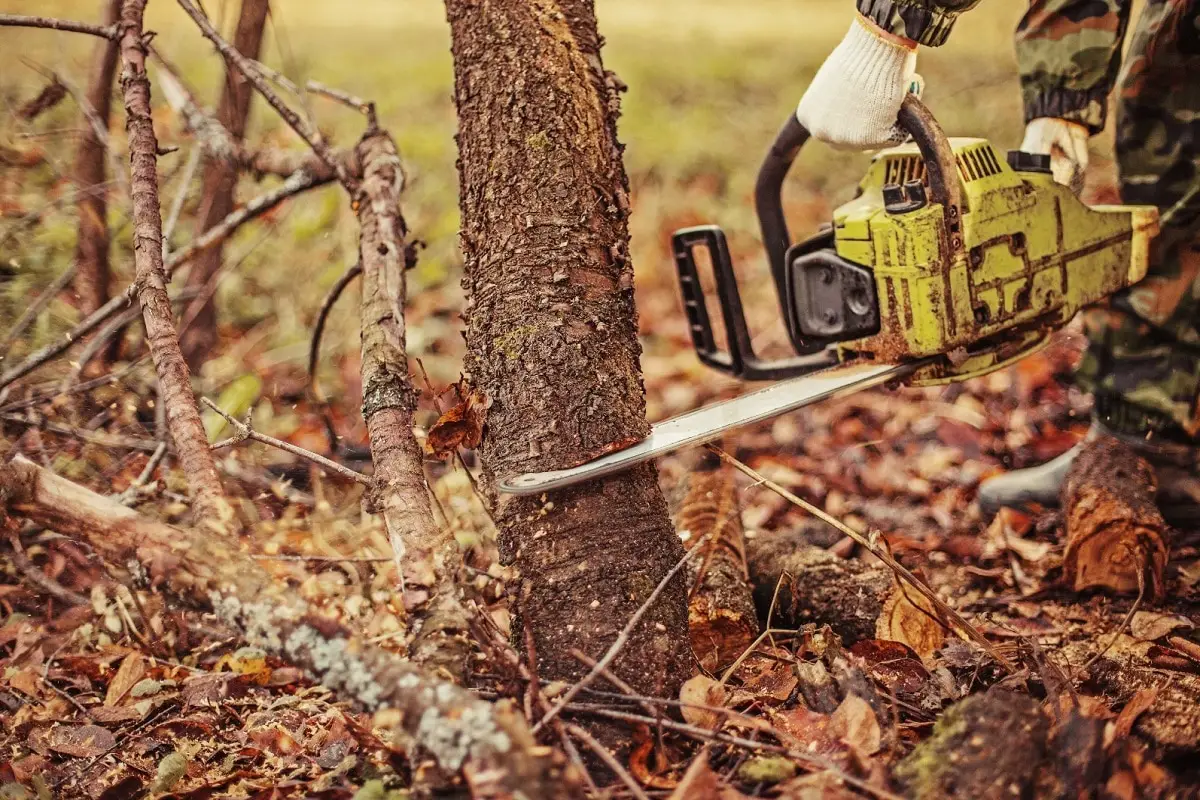 Skidder operator using a chainsaw is necessary for forestry work to get the trees in the right place. This work is often carried out by forestry workers but can also be done by others (e.g., foresters, forest machine operators, etc).
However, the skidder operator may not be able to do the chainsawing themselves. This is especially so during helicopter extraction, and using grapple skidders and forwarders. Other chainsaw operators will be needed to increase the productivity of logging operations in these cases.
Equipment operator
Heavy equipment operators may at any point in time need a chainsaw on the job site to clear trees and fallen logs in the way of operations.
A heavy equipment operator has a variety of tasks and machines they need to be able to operate depending on the job. Examples of heavy equipment include excavators, bulldozers, loaders, and backhoes. 
Heavy equipment operators most commonly work in construction, pipelines (oil and gas), and logging.
Besides the top skills needed to be a heavy equipment operator, such as proper driver's licences, experience with loaders and backhoes, and meeting OSHA standards, being capable of operating a chainsaw is also very important depending on region one is working in (forest, parklands, etc.).
Chainsaw artist
A chainsaw artist uses a chainsaw to make large and magnificent works of art for the public to enjoy.
Chainsaw art is becoming increasingly popular around the world, with chainsaw sculptures – also known as 'chainsaw wood carvings' – appearing in town squares, in parks and even along roadways. Chainsaws can be used to create everything from statues to intricate works of art.
Chainsaw artists often choose specific carving chainsaws available on the market. These are usually smaller and lighter than other chainsaws and allow for detailed carving with low vibration levels. The precision cuts these saws can make exceed those of other chainsaws. One example of this type of chainsaw is the Stihl MS 151 C-E Carving chainsaw.
Chainsaws are a powerful and unique tool for artists to use if and when they are so inclined, and must be able to use them safely.
Fireman
Firemen can use chainsaws to clear debris on a fire site to put the fire out or get to someone who needs rescuing. chainsaws are useful tools in the hands of a fireman because they can quickly clear fallen trees and branches in a way that reduces risk to firefighters and anyone else nearby.
Chainsaws also work well in cutting down standing trees when a firefighter might need to get around them or check what is behind them for victims, be it a human or animal.
Chainsaws can also be used to cut through doors, walls, or fallen beams in a building. In short, chainsaws very much come in handy to firemen who need a fast and powerful cutting tool in an emergency situation.
Park ranger
It goes without saying that park rangers often come in contact with trees, brush, and fallen debris. Many national parks are forested areas and cutting trees and tree materials is a necessary part of the job.
Park rangers use chainsaws when needed in the forest to clear paths for hikers and campers. Depending on the park density, chainsaws may be carried by park rangers who regularly patrol trails and check for signs of human activity.
Rangers can keep a chainsaw in their vehicle (usually a pickup truck) to use at their own convenience. Emergency situations may also present themselves, such as needing to assist fire services in clearing debris from roads during a forest fire. This is where chainsaws really come in handy for park rangers.
Highway Maintenence Worker
Highway maintenence workers may need to use a chainsaw to clear fallen trees from roads and freeways.
Especially in regions such as the pacific northwest and mountainous areas that have many forests and areas with trees. Trees fall down from time to time, especially in windy or stormy weather and can block necessary travel. A fallen tree is a danger to vehicles who may not see them as they come around a bend.
Although using a chainsaw is not the primary skill a highway maintence worker will need, they do assist in clearing an area and keeping traffic and commerce flowing.
Groundsman
Groudsmen that take care of property sometimes need to use a chainsaw to clear fallen trees and branches that are blocking an area. Chainsaws are used by groundmen in all branches of work, including private sector and government jobs.
Chainsaws are perfect for groundsmen because they are able to cut down logs without too much trouble. A groundsman can also become skilled at sharpening their own chainsaw using tools they have available.
A fully equiped groundsman will likely have one or two chainsaws around when they need them which can be stored on the property.
Gardener
You might be surprised, but just like groundsmen, gardener's often use chainsaws to make areas clear of tree and large plant material.
Gardeners, sometimes called 'landscape architects', may need a chainsaw to remove a tree that is in the way of their grand designs. Sometimes they decide a tree they had previously planted no longer is serving the right purpose. It may even be obstructing the sprinkler or drainage system. This is when a chainsaw can be useful to a gardener.
Sawyer
A sawyer does most of his/her cutting using powered circular or abrasive saws and bandsaws to cut lumber or other materials.
However, accidents in the loading area may require the use of a chainsaw to remove damaged lumber to keep operations moving. This is when having a chainsaw nearby will come with great benefit.
Chainsaw Operator
A chainsaw operator uses a chainsaw to cut many different materials. This job title is self-explanatory and may involve working on ranches, construction sites, forestry management, or in parks. A chainsaw operator may work on-call or be contracted to clear an area of trees and debris.
Chainsaw operators must be skilled in the workings and operations of various types and sizes of chainsaws as well as maintenence and their safe use.
Chainsaws can be used in a wide variety of occupations because of their flexibility and ability to cut materials fast when needed. However, they must be used safely while wearing proper protective gear at all times.
Recommended Chainsaws
DEWALT 20V MAX* XR Chainsaw, 12-Inch
BLACK+DECKER Electric Chainsaw, 18-Inch, 15-Amp, Corded