If you are new to the sport of cycling, one of the most important things you need to do is invest in a good pair of cycling glasses. This will help you see better and keep your eyes protected while riding on the road or trail. But how do they compare to other types of glasses? Find out below.
Cycling Glasses vs Regular Sunglasses
Similarities Between Cycling Glasses and Regular Sunglasses
Sunglasses and cycling glasses have many things in common. This includes comfort, frame shape, UV protection, durability, and aesthetics. Both sunglasses and cycling glasses can be photochromatic and impact resistant.
Differences Between Cycling Glasses and Regular Sunglasses
Unlike many types of sunglasses, cycling glasses are specifically designed to be aerodynamic in shape to not slow down the rider. Cycling glasses lenses are made to be anti-fog and anti-glare to decrease the chances that the rider is affected by these. It is recommended that cyclists choose cycling glasses over regular sunglasses while riding as they can enhance safety.
Cycling Glasses vs Mountain Bike Goggles
Similarities Between Cycling Glasses and Mountain Bike Goggles
Both cycling glasses and mountain bike goggles do a good job of protecting the rider's eyes and keeping dust and debris out of the eye area. They both also feature vision-enhancing capabilities such as photochromatic lenses and full UV protection. Both also offer a wide field of view for the wearer. Both are made of polycarbonate lenses and have anti-fog coatings.
Differences Between Cycling Glasses and Mountain Bike Goggles
Mountain bike goggles are different than cycling glasses because they are, well, goggles. These types of goggles may include a foam face liner to keep sweat from dripping onto the eye area and allow controlled ventilation. Mountain bike goggles, unlike cycling glasses, will fully cover the eye area on the top and bottom from debris or dust. Cycling glasses will still have small openings around the rim of the glasses.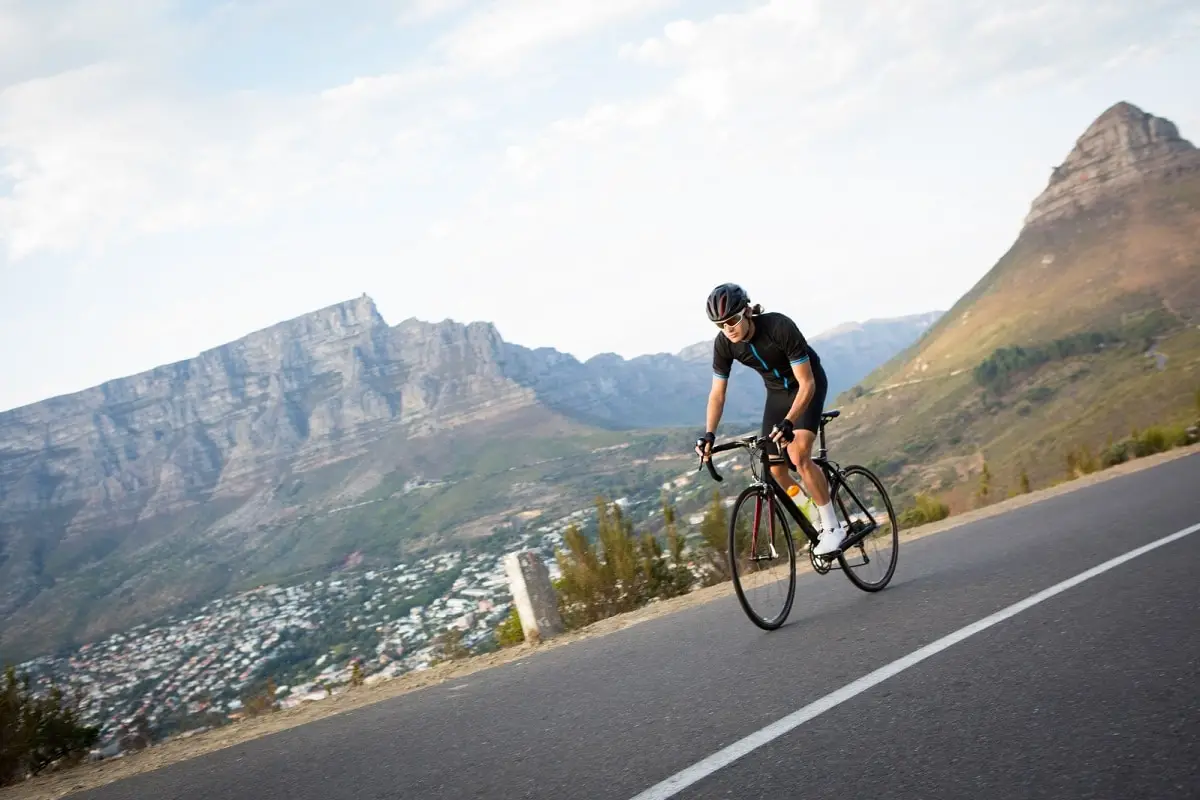 Recommended Cycling Glasses
Oakley Men's Oo9454 Evzero Blades Rectangular Sunglasses
Torege Polarized Sports Sunglasses With 3 Interchangeable Lenes for Men & Women Cycling Running
Cycling Glasses vs Work Safety Glasses
Similarities Between Cycling Glasses and Work Safety Glasses
Safety glasses and cycling glasses both protect the eyes from debris and impact. Safety glasses can be worn as cycling glasses. And, cycling glasses if they are impact and scratch-resistant, can under certain circumstances, serve as safety glasses.
High-definition anti-fog field of vision: double-layer coating, strong hardness, and abrasion resistance, high-tech lens without fogging, high-definition transparency of UV lens, wide-angle vision with humanity design of optical glasses. It also has anti-dust, anti-pollen, and anti-allergic functions. It can reduce ultraviolet rays and block glare, protect eyes from harmful light, and have an anti-splash function to protect eyes from strong impact.
Differences Between Cycling Glasses and Work Safety Glasses
Safety glasses must meet or exceed ANSI Z87 and / or CSA Z94.3-2007 impact requirements to be considered safe for use. Cycling glasses, however, may not meet these standards and are not required to be worn by riders.
Cycling glasses are also designed to be aerodynamic, and many are color tinted. Safety glasses are not necessarily aerodynamic in any way and do not have to be unless they are general purpose safety glasses that can be used as cycling glasses. Safety glasses are also often unisex, whereas cycling glasses are usually for one gender or the other.
Do You Need Cycling Glasses?
You do not necessarily need cycling glasses to protect your eyes when you ride a bicycle. Sunglasses with headbands, safety glasses, and prescription glasses with UV protection can serve this purpose. This is especially true for occasional bicyclists. However, if you are a regular bike rider and spend a decent amount of time out on the bike path, then getting a dedicated pair of cycling glasses will keep your eyes and face safer. Kids can definately benefit from wearing cycling glasses while they ride to keep their eyes protected.
How Should Cycling Glasses Fit?
Cycling glasses should fit snuggly around the temple and over the ear. Many cycling glasses include a rubber temple tip cover to hold against the backside of the ear and the head. Also wearing cycling glasses head straps will help keep them from falling off. It is important to measure the size of your head and match this to the size of the cycling glasses before purchasing them.
Cycling Glasses For Eyeglass and Contact Lens Wearers
Can you wear cycling glasses over prescription glasses? This may not provide a good fit if it fits at all underneath the cycling glasses. But there are options, including prescription cycling glasses, contacts, or prescription inserts.
Prescription Cycling Glasses
You can purchase prescription cycling glasses from your optometrist, depending on whether they offer these types of frames. But what if you don't want to pay the expense to get a dedicated pair of prescription cycling glasses?
You can also try wearing contacts instead of prescription glasses while cycling. Another option is wearing riding goggles, or "fit over glasses" that are also worn when riding all-terrain vehicles, off-road-motorcycles, street motorcycles, or in this case road cycling. These work well because they completely protect the eyes from UV rays, wind, dust, and impacts. However, it is important to get the right size riding goggles because if they are too small they could press up against the frame of your prescription glasses.
Going with a flatter frame will allow thicker lenses to be used without causing rim distortion. However, the limitations here include weaker wind protection.
Keeping cycling glasses lightweight is important and adding prescription lenses will increase this. So, the key here is choosing a lightweight frame at the beginning.
Bifocal Cycling Glasses
You can purchase bifocal cycling glasses, and these are often multi-use glasses (reading, cycling, sunglasses, sport). They will have a wrap-around frame and be made of similar materials as regular cycling glasses. However, they will have the benefit of
Cycling Glasses for Decathlons
Competition cyclists and riders in decathlons should wear cycling glasses that offer a good amount of contrast in the lens coloring. This will enhance the rider's ability to spot details on the road or course which could keep them safe and save time. If you choose a colored tint for your cycling glasses, consider not using grey. Better colors to enhance contrast are copper or rose tints which will allow you to pick out the details of the course. This can keep you safe and also perhaps give you an edge over your opponents.
Cycling Glasses Prescription Inserts
You may be able to connect prescription lens inserts to the nose bridge of your cycling glasses. These are worn inside the glasses and should allow the rider to have vision correction comparable to regular prescription lenses. However, some prescription inserts only fit certain brands or designs of cycling glasses.
Prescription inserts work better than prescription cycling glasses the higher your prescription goes. This is due to the "fishbowl effect" that happens when the outer rim of the lenses becomes distorted. This happens mostly with wraparound frames, which is why clip-on inserts work well.
Cycling Glasses With Attached Side Mirrors
Riding a bicycle on the side of the road amongst passing traffic is dangerous. So, being able to see cars or other cyclists coming up behind you makes you a bit safer. Fortunately, you can buy a side mirror attachment for your cycling glasses. These are clip-on or slide-on metal mirror pieces that allow for an adjustable wide-angle rearview. They can also include horizontal and vertical adjustments, just like car rearview mirrors. The attachments are usually 3 prongs that fit over the temple arm of the cycling glasses.
Choosing the right kind of glasses for cycling is very important for safety and comfort. As you can see, you need to have cycling glasses to be able to see what is happening on the road ahead, and you should choose a pair that has been specifically designed for cycling use. These are just a few things to consider when you are looking at cycling glasses vs. other glasses, but hopefully, this post will help you make a more informed decision.